How to Add Character to an All-White Bathroom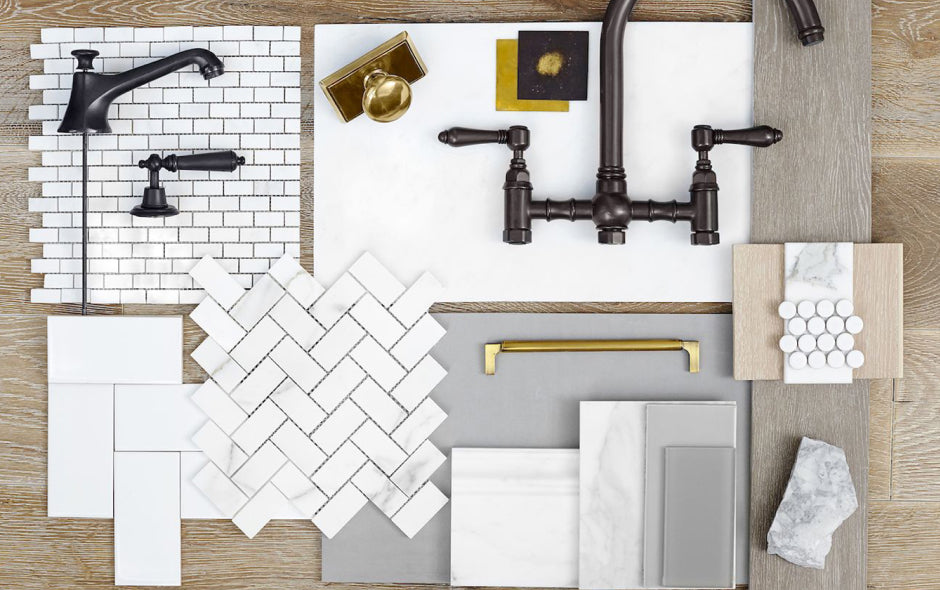 In case you haven't heard, the all-white bathrooms you dreamt about mere years ago are now a major interior design faux pa. Regardless of whether you embraced all-white everything or added a splash of miserable millennial grey, it's time to step outside your comfort zone and try something new. The good news? You can't get a better blank canvas than an all-white bathroom. So, today we're sharing five ways you can infuse your washed-out bathroom with a bit of colour, texture, and character.
Create Contrast with Paint and Pattern
As per usual, paint is going to be the easiest and most affordable solution to your white bathroom woes. Whether you choose to paint a bold feature wall or colour-drench your entire bathroom, a bit of colour goes a long way. If you're looking for vibrancy and depth opt for a bold hue like a deep moody green. When combined with white fixtures, a deep, vibrant colour will create the contrast your all-white bathroom has been missing. Of course, not everyone can handle bold, so we have a more conservative alternative too. Warm pastels (like soft pinks or blues) and earthy tones (like terracotta or sage green) provide a softer contrast while creating a welcoming and warm atmosphere.
Layering in the pattern can also breathe life into a monotonous white bathroom. Incorporate patterned wallpaper or mosaic tiles with nature-inspired or geometric patterns. Regardless of how small or large you decide to go, the pattern will create the visual interest your all-white bathroom has been missing. So, don't be afraid to mix it up!
Bring in Warmth with Organic Materials
As much as we love the sparkle of a clean white bathroom, it can look a bit clinical. But inviting nature in can fix all that. Organic materials like wood, stone, and bamboo will instantly rid your bathroom of any sterile vibes while ushering in a lived-in hominess.
For wood options, consider anything from a wooden-framed mirror to wood cabinetry or even floating shelves. Using distressed or reclaimed wood can layer in even more character while being budget and environmentally friendly. To add a luxurious element to your white-washed bathroom, consider using a natural stone for your countertops or create a statement wall in your shower. We've personally been loving the warmth that vertically installed natural stone brings to a space, but you also can't go wrong with a marble option.
Now if you're on a budget you can still bring in the warmth and texture of nature with bamboo or rattan accessories. Small items like storage baskets, towel holders, or standalone stools will provide an organic touch that softens the overall aesthetic of your bathroom.
Prioritize Texture and Comfort
Do you know what's not cozy or luxurious? Stark and sterile all-white bathrooms. So, to achieve the opposite, you'll need to channel all things cozy and plush. Think, luxuriously soft towels, plush bathmats, or even a high-end towel warmer. Basically, anything that feels like a reassuring hug from an old friend. Window treatments can also help you achieve this cozy aesthetic. Consider replacing your existing blinds with a more romantic fabric option.
Just imagine stepping out of your next shower onto a plush bathmat and wrapping yourself in a warm towel while a cool summer breeze billows through your curtains. It's giving major fairy-tale vibes if we do say so ourselves!
Set the tone with a Focal Point
Whether it's an eye-catching tile pattern, a unique vanity, or a statement bathtub, creating a singular focal point can transform a boring bathroom into a captivating sanctuary. While floor-to-ceiling tiled feature walls may be the norm, you can create just as much visual interest with a small tile inlay. This can be as simple as a small tile border in a contrasting colour or as intricate as a mosaic art piece. 
Unable or unwilling to swap out your recently installed white tile? Then switching out your vanity might be a better option. For an earthy vibe, consider a chunky floating vanity made of natural stone. Or convert a vintage dresser into a one-of-a-kind vanity for a more transitional vibe. Remember, this will set the tone for the whole space, so be sure to choose a style that speaks to you.
At the end of the day, how you style your home is a personal choice. So, if you're all-in on all-white, you do you. But, if you do want to add a bit of warmth and character, these design tips will help you get there.