Father's Day Gifting Made Easy: 5 Products He's Sure to Love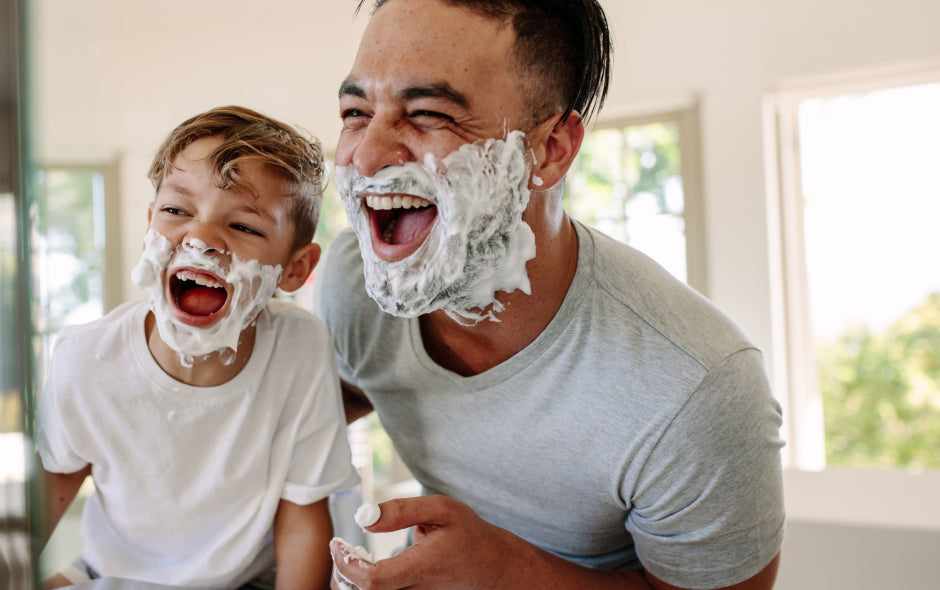 With Father's Day just around the corner, it's time to tackle the challenge of finding the perfect gift. Admittedly, the dads in our lives can be pretty tricky to shop for. When asked what they want as a gift, you'll typically get a less than helpful answer. On one end of the spectrum, dads will say all they want is a round of golf followed by a family BBQ — no gift idea included. While dads on the other end of the spectrum will jokingly ask for something insanely extravagant like a new fishing boat or car.
Whichever end of the spectrum your dad lands on, you'll be left without any helpful hints as to what you can actually get him. Fortunately, we've got your back with a few functional (and affordable) gift ideas that your dad will use every single day. So, as our dads would say, let's get on with it!
The Ultimate Toilet Tissue Dispenser:
We all know dads like to take their sweet time in the bathroom, so why not upgrade their experience with our OVO toilet caddy? Not only will your dad appreciate its durable steel tube construction, but the matte black finish won't mess up the existing bathroom décor, so you'll be sure to keep your mom happy too. Perhaps even more importantly, this model has an integrated tray with an anti-slip rubber pad that can safely store your dad's favourite bathroom companion, his phone. Alternatively, the shelf can be used to store personal wipes or matches within reach — you know, just in case.
To ensure your dad never runs out of toilet paper this model also stores two additional tissue rolls, so you won't have to worry about him calling for backup. The perks of which cannot be overstated.
Stylish and Rust-Free Shower Caddy:
Now, if your dad is a collector of personal hygiene items, our VENUS 3 Tier Shower Caddy will be an organizational game-changer. This model has three spacious tiers and multiple accessory hooks and hangers to store all his shower essentials. Frugal dads will particularly love the integrated bottle holders that squeeze every last drop out of their favourite shower products.
Made from anodized aluminum with revolutionary welding technology this model's enhanced strength and durability are sure to impress! It even comes with a rust-free guarantee so you can happily avoid having the "things aren't made like they used to" conversation.
Double Sided Grooming Mirror:
Whether your dad shaves daily or maintains an impressive beard, our DOPPIO Double Sided Shower Mirror will simplify his grooming routine. This modern and simplistic mirror features a fog-resistant and shatter-proof acrylic design, ensuring clarity even in the steamiest showers. With one side offering 3X magnification and the other side providing true scale, achieving a precise shave has never been easier. This model even comes with stainless-steel hooks so your dad can conveniently store his razor exactly where he needs it — simplicity at its finest!
Functional and Stylish Organization:
Stylish and edgy, the geometric design of our FACET 2 Hook Set will help your dad keep all his shower essentials exactly where he needs them. Made of rust-resistant, polished stainless steel, this multi-functional set comes with one single hook and one double hook. The single hook easily holds a towel or bathrobe, while the double hook is perfectly designed to store a razor.
With their superior waterproof tape (included with purchase), these hooks can be securely mounted on flat, finished surfaces, both in and out of the shower. Installation is so easy, you could even surprise your dad and do it yourself!
Hygienic and Hands-Free Foam Dispenser:
Last but not least, is our FOAMA Touchless Soap Dispenser, which brings hygienic functionality to any bathroom or kitchen. With its responsive, sensor-activated operation, your dad can easily wash his hands without touching a thing. So regardless of how dirty he gets in the yard, garage, or kitchen, he can wash up without leaving a single fingerprint behind.
Since this model works with both pre-formulated foaming soaps and regular diluted soap, your dad can continue to use his favourite brand (which can be very important for the stubborn dads out there). With both a 'Drop to Stop' function and adjustable soap levels, this provides an option for both the tech-savvy and tech-adverse — so say goodbye to messy (and hairy) soap bars and hello to hygienic hands-free technology.
Whether your dad enjoys a refreshing shower after a long day, unusually long bathroom breaks, or a well-organized space, these functional gifts will show him who truly knows him best – and help you maintain your spot as dad's favourite.