How to Create a Spa-Like Experience with At-Home Hydrotherapy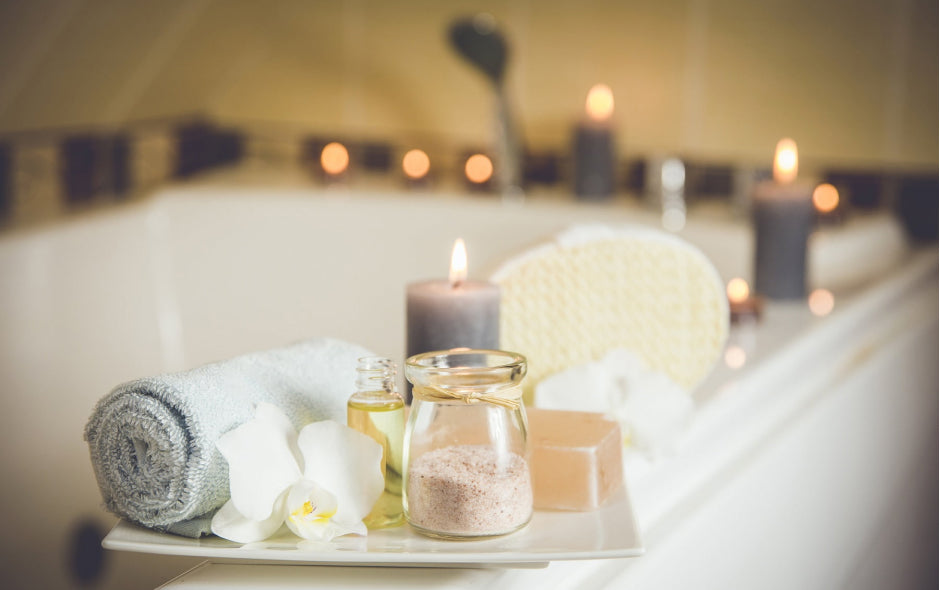 Whether you spend your days running after your kids, slouched over in front of a computer, or performing manual labour, by the end of the day your body probably doesn't feel its best. And while a luxurious spa day would certainly help, that's not always in the cards. The good news? You can use at-home hydrotherapy techniques to create a spa-like experience, for less. What exactly is hydrotherapy, you ask? Well, it's essentially any water-based therapy that promotes mental and physical well-being. Think, hot tubs, steam rooms, and even sensory deprivation tanks. Basically, all the things that create the ultimate spa day.
Today, we're sharing a few hydrotherapy techniques you can use in the comfort of your own home — so you can have a spa day every day of the week!
Hot and Cold Showers: If you've been intrigued by the cold plunge trend, but don't have a bathtub to make it happen, a hot and cold shower could provide you with similar benefits. Alternating between hot and cold water has been shown to stimulate blood circulation, boost the immune system, and invigorate the body.
Start with a warm shower and gradually increase the temperature until it's hot. Then, after a few minutes, switch to cold water. Try your best to stay under the cold water for at least 30 seconds. Bonus points for anyone with the mental strength to make it a full minute. Repeat this cycle several times, always ending with cold water.
Soaking Baths: While soaking in a bath isn't exactly revolutionary, it's still one of the most relaxing ways to unwind at home, especially with the right add-ons. As you wait for your tub to fill up with water, toss in a cup of Epsom salts for added muscle relaxation and stress relief. To take your relaxation even further, add a few drops of a soothing essential oil like lavender, chamomile, or ylang-ylang.
For a truly immersive spa-like experience you can also incorporate aromatherapy with essential oil diffusers or your favourite scented candle. Don't forget to dim the lights and lock the door before hopping in, so you can enjoy your at-home hydrotherapy session in peace.
Whirlpool or Jacuzzi Tubs: Now, if you're lucky enough to have access to a whirlpool or Jacuzzi tub, you basically have your own personal hydrotherapy station. As the jets release pressurized streams of water that massage your body, you'll feel the muscle tension quickly melt away — allowing you to fully relax and release the stress of the day before crawling into bed.
Foot Soaks: Don't feel like putting too much effort in but still want the benefits of hydrotherapy? Treat your feet to a relaxing foot soak in a basin filled with warm water and Epsom salts! Not only are foot soaks great for soothing tired feet, improving circulation, and relieving stress, but they feel absolutely amazing. For added relaxation or invigoration, add essential oils like lavender or peppermint. Don't forget to grab a book or pop on your comfort show before sinking into all the glorious goodness.
Steam Showers: Aside from their ultra-relaxing treatments, our favourite spa experience has got to be sauna hopping. Although there are at-home saunas available, we recognize that they aren't within most budgets. Fortunately, a steamy shower can create a similar feel for a whole lot less.
Before you get started, be sure to close your bathroom door and windows and turn on your bathroom vent. We want it to get steamy, but we definitely don't want to cause any damage, so don't forget that step. Then turn your shower on full blast and crank the heat as hot as you can stand (without burning yourself). The humid environment will open up your pores, detoxify your skin, and promote relaxation.
Layer in aromatherapy by placing several drops of eucalyptus oil at the bottom of your shower. As the water runs, the scent will disperse throughout the bathroom to create all the spa ambiance you crave. Just remember, to open the windows once you're done to allow your bathroom to dry out quickly.
Creating a spa-like experience at home doesn't require a fancy spa or a big budget. With these tips, you can create your own hydrotherapy sessions and indulge in some well-deserved self-care without stepping outside your front door.