Bright Ideas: Maximizing Natural Light in Your Bathroom as Daylight Wanes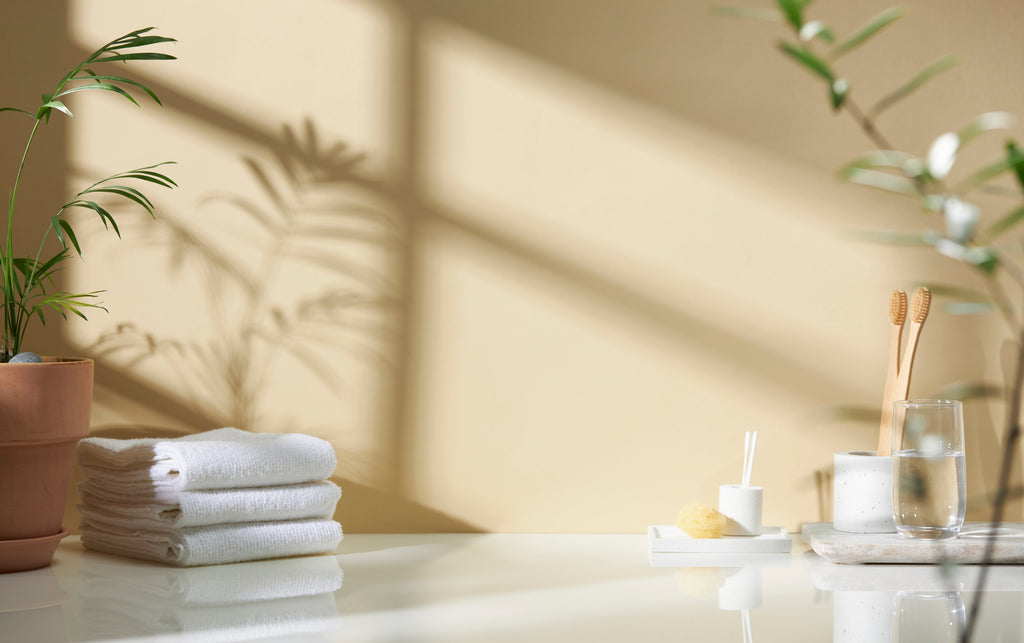 As many of us bid farewell to Daylight Saving Time and prepare to "fall back" into Standard Time this month, it's important to prepare our homes for the shorter and darker days ahead. Maintaining well-lit spaces throughout the day is not only vital for productivity but also for supporting our mental well-being. So today, we're sharing tips to help you harness the morning sun and ensure your bathroom remains bright and functional during those particularly dark winter evenings. From strategic window treatments to the reflective magic of mirrors, we've got all the bright ideas you need to create a radiant, welcoming bathroom space that keeps your home illuminated all winter long.
Choosing the Right Window Treatments:
With brighter mornings and darker evenings, privacy is still a priority for many of us. However, this doesn't mean you have to compromise on natural light. When choosing window treatments, consider materials that allow natural light to filter in while preserving your privacy, especially during those dim afternoon and evening hours. Whether you prefer the elegance of Roman shades or the simplicity of sheer roller blinds, the key is to find treatments that enhance your bathroom's aesthetic while maximizing natural light and maintaining your privacy.
Now, if you prefer to leave your blinds open during the day for optimal sunlight, just remember to close them an hour earlier starting November 9th —otherwise, you might run the risk of becoming your neighbourhood's newest naked neighbour.
Reflective Surfaces and Mirrors:
One of our all-time favourite ways to brighten up a room is with strategically placed reflective surfaces and mirrors. These elements bounce natural light around, creating a sense of spaciousness and brightness, which is essential when the sun starts setting before 5 p.m.
To amplify natural light during the darker hours, consider incorporating mirrors into your bathroom decor. Place them in positions that reflect artificial lighting and available natural light deeper into the space. This simple trick not only brightens the room but also adds a touch of elegance, creating a welcoming environment. Reflective surfaces, such as glass and metallic finishes on fixtures and accessories, also capture and magnify available light during the dimmer hours —helping you infuse your bathroom with a summer glow all winter long.
Paint and Colour Selection:
While dark cocooning colours may be trending, light colours are better suited for maximizing natural light during those dark winter months. Much like mirrors and reflective surfaces, light colours bounce light back into the room, making it appear airier (even as daylight wanes). Soft shades of white, pale blue, or pastel tones will create a bright, light-filled atmosphere during the day and a serene ambiance in the evening.
Artificial Lighting Complements:
While our focus is on maximizing available natural light, we can't ignore the importance of artificial lighting, especially during dark afternoons and evenings. For the best results, invest in light fixtures and bulbs designed to mimic natural daylight. These fixtures offer a white, bright light that closely resembles the warmth of afternoon and evening sunlight.
If you find bright lights particularly offensive in the morning, consider installing dimmer switches to control the intensity. Set the dimmer low in the mornings to protect those sleepy eyes, crank it up as the day goes on to keep your energy going, and wind it back down for your nightly skincare routine. Although artificial light doesn't provide the same health benefits as natural sunlight, mimicking the rise and fall of the sun will help your body naturally adjust to the change in daylight without the need to stand outside on those cold winter mornings.
As we adapt to the "fall back" into Standard Time, it's crucial that we take full advantage of the available sunlight and make changes to keep our homes bright during the darker winter months. Incorporating these thoughtful changes may seem small, but their impact is far from insignificant. With the sun setting earlier each day, your well-illuminated bathroom will be there to offer the brightness and warmth you need to get through the cold, dark months ahead.