6 Inexpensive Design Upgrades for Your Bathroom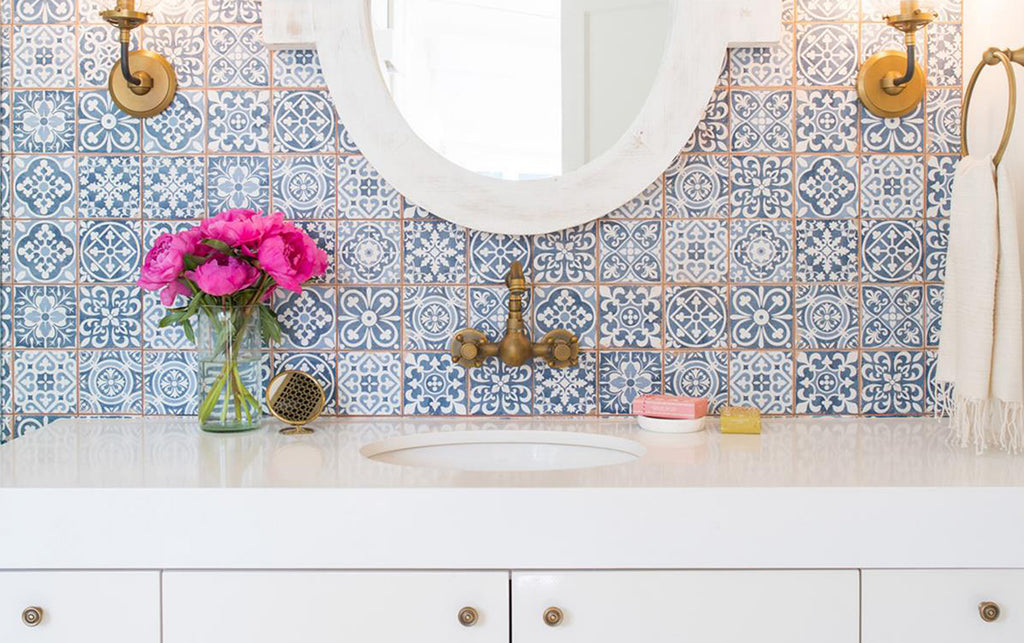 As the holiday season draws near, many of us feel the urge to spruce up our bathrooms before welcoming guests. But with inflation rates at an all-time high and costs on the rise, those dreams of an extravagant bathroom renovation may be out of reach this year. The good news? Frugality is in and we have the insider tips that will help you transform your bathroom without breaking the bank. Whether you're working with a tight budget of $20 or have a little more wiggle room with $200, we've gathered a range of cost-effective design upgrades that will breathe new life into your bathroom space.
Upgrade Fixtures and Hardware:
Swapping out your cabinet knobs and pulls is like giving your bathroom a facelift without the surgery. Start by determining the style you're hoping to achieve. If you're looking to modernize an outdated bathroom, matte black or chrome hardware is the way to go. On the flip side, if you're drawn to a more vintage aesthetic, keep an eye out for designs with intricate, classic details.
Don't limit yourself to hardware upgrades (budget-permitting of course). Consider replacing key bathroom fixtures like your faucets, showerheads, and towel bars. Amazon offers numerous affordable options that can elevate both the aesthetics and functionality of your bathroom. So, get rid of that finicky fixture that annoys you daily (we know we have a few) and replace it with something you love. Beyond the aesthetic improvements, a new showerhead can work wonders, creating the illusion of a high-end spa bathroom, all without breaking the bank.
Vinyl Floor Decals:
While vinyl was once an inexpensive flooring option suitable for daycares and craft rooms, the affordable material has much more to offer than that. So, before you start judging vinyl, take a look at what's out there. From realistic tile patterns to creative geometric shapes, these peel-and-stick options provide an affordable way to refresh your flooring without the hassle or expense of tearing up your existing flooring.
Furniture Repurposing:
Do you happen to have unused furniture tucked away in your basement or garage that could find a new purpose in your bathroom? In addition to being budget-friendly, repurposing old furniture is an environmentally conscious and creative way to infuse your bathroom decor with a distinctive flair.
For example, imagine taking an aged side table and giving it a fresh lease of life with a vibrant coat of paint. This transformed piece can serve as a chic towel rack or a practical storage solution, introducing a unique character and a touch of history to your bathroom. What's truly appealing is that this approach allows you to fashion a bathroom fixture that stands as a one-of-a-kind creation, setting your space apart from the typical store-bought items.
Peel-and-Stick Backsplash:
For those wanting to add a trendy touch to their bathroom walls without the need for professional installation, peel-and-stick backsplash tiles might just be your new best friend. With a vast palette of colors and patterns, these adhesive tiles allow you to curate a customized look without the commitment or cost of traditional tile backsplash. The best part? Installation is a breeze so whether you're a DIY novice or simply short on time, peel-and-stick backsplash gives you the ability to completely transform your bathroom in as little as an hour.
Upcycled Decor:
Now this one is for all you thrift-store-loving, flea-market hunters! Using upcycled items that may not traditionally belong in a bathroom will help you create a unique design that's distinctly yours. Consider using vintage frames to create a gallery of artwork or photographs that speak to your style and give your bathroom a distinct personality. Or repurpose glass jars into stylish storage containers for a practical and eco-friendly way to store commonly used items like cotton balls or bath salts. Don't be afraid to get creative with this one!
With these inexpensive design upgrades at the ready, you're just a few steps away from transforming your bathroom into a space that feels new, stylish, and exclusively yours. So, roll up your sleeves, let your creativity flow, and embark on your DIY journey to rejuvenate your bathroom. It's time to make your dream bathroom a reality without breaking the bank!