Renting? How to Use Hooks to Expand Your Bathroom Space!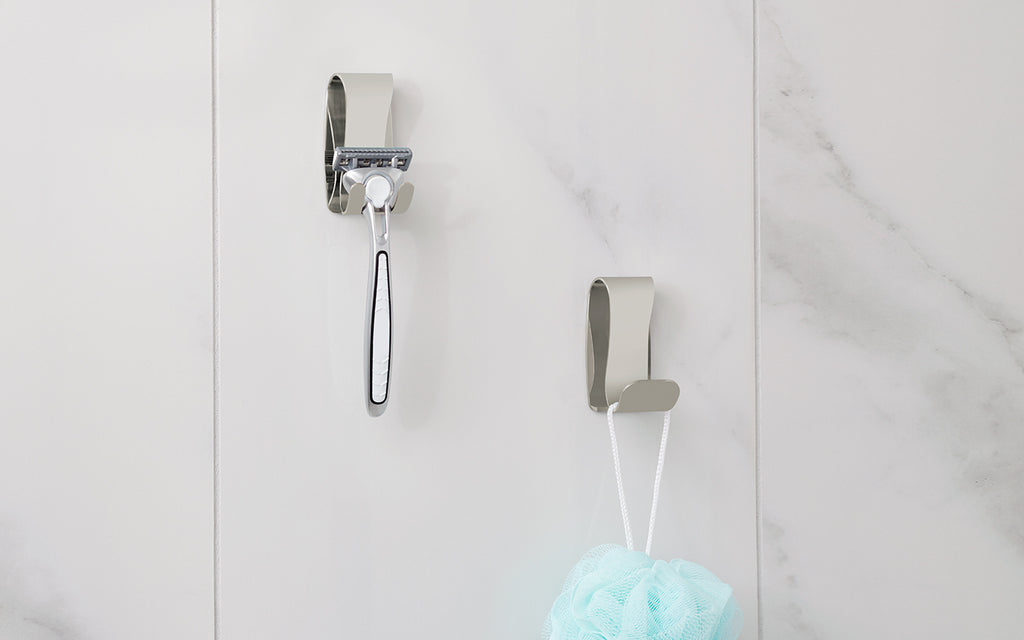 The reality of being a renter is storage space comes at a premium. Luckily, you don't have to put up with stuffed drawers and overflowing cabinets. Get clever with hooks, and viola! You open up a new window of possibilities to a well-organized space.
Tips for using suction hooks
Suction hooks are great in the bathroom. They adhere and stay put on most smooth, hard surfaces, and eliminate the need for drilling.
Before you hang anything, check the maximum weight your hook can withstand.
Protect your deposit and test an inconspicuous area to make sure the suction will not damage the wall surface. Hooks by Better Living are always a safe and easy solution to organize your home.
Make sure the surface is completely clean and dry before you apply the hook.
Swap out the towel bar
If you're like most renters, that single towel bar is woefully inadequate to meet everyone's towel needs. Replace it with a series of hooks, so each person has a place to put their own bath towel.
Organize your shower
Smaller suction hooks in the shower stick fast to tile or shelving to organize razors, loofahs and more.
Bathroom counter space
Hooks are perfect for customizing your get-ready space. Place on the wall, the outside of the vanity or the back of the cabinet door to organize your:
Toothbrush
Hand towels
Electronic devices (use to hold these in place on the wall, so you can charge or stream videos)
Hair styling tools
Brushes
Alternative ways to hang
Use hooks to hold a wood dowel to hang jewelry and scarves
Hang tote bags of various sizes (especially if they have a cool graphic element) for easy, portable storage
Check out Better Living's selection of attractive but durable no-damage hooks to conquer cluttered spaces in the bathroom. Find more inspired ideas and tips in the Better Living lifestyle blog.