Pull Off A Graphic, Bold Look In The Bath In A Single Weekend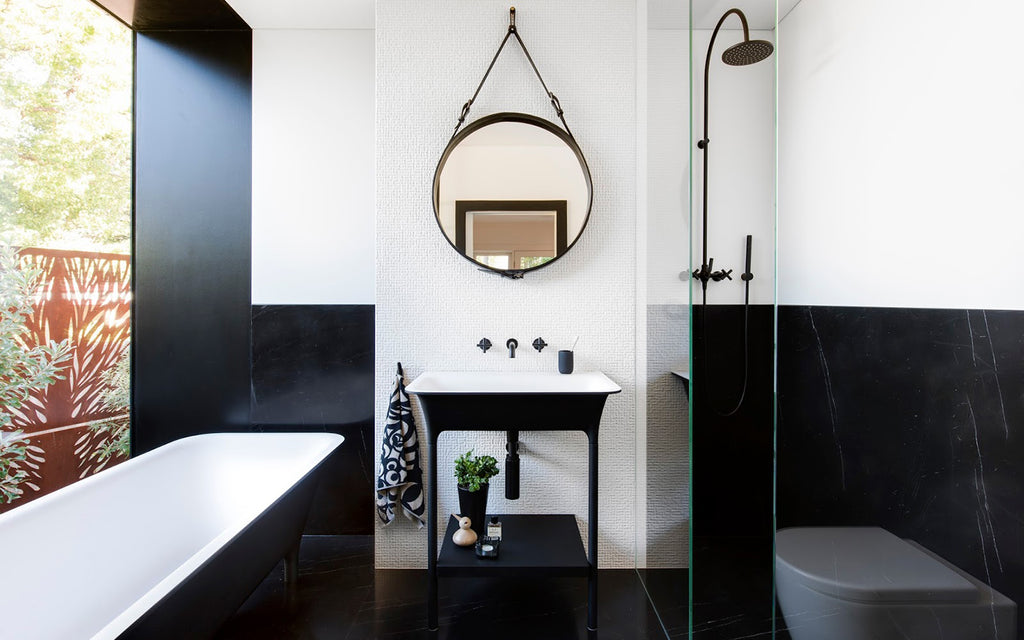 Tiling and fixtures rendered in white offer a clean and classic look to any bathroom. But white space sometimes needs a little contrast and texture to make an impact. Try these super-simple designer tips to transform the bath from drab to lively in just one weekend.
Strike a contrast: Inserting a bold, contrasting color is always a smart strategy, plus it's a callback to the ultimate classic, the black-and-white checkered floor. Keep the project simple with a coat of paint.
Black or deep green are colors that will instantly update your vanity.
Paint the walls or even a single wall in a supersaturated color, like cobalt blue or deep turquoise.
If you have a laser level and lots of patience, create the ultimate statement with painter's tape. You can use it to help you add a simple bold stripe that encircles the room. Or you can treat the wall as your canvas and design colorful, high-impact geometric shapes.
Mix in metallics: Metallic options will stand out against white. Bath fixtures and drawer pulls rendered in black, brass, gunmetal or gold are all chic options.
Stylish storage: Conquer clutter with sleek, high-quality tools. The TWIST Toilet Caddy from Better Living combines a modern metallic finish and a sculptural design to keep spare toilet rolls organized and easy to find.