Our Favourite Countertop and Wall-Mounted Soap Dispensers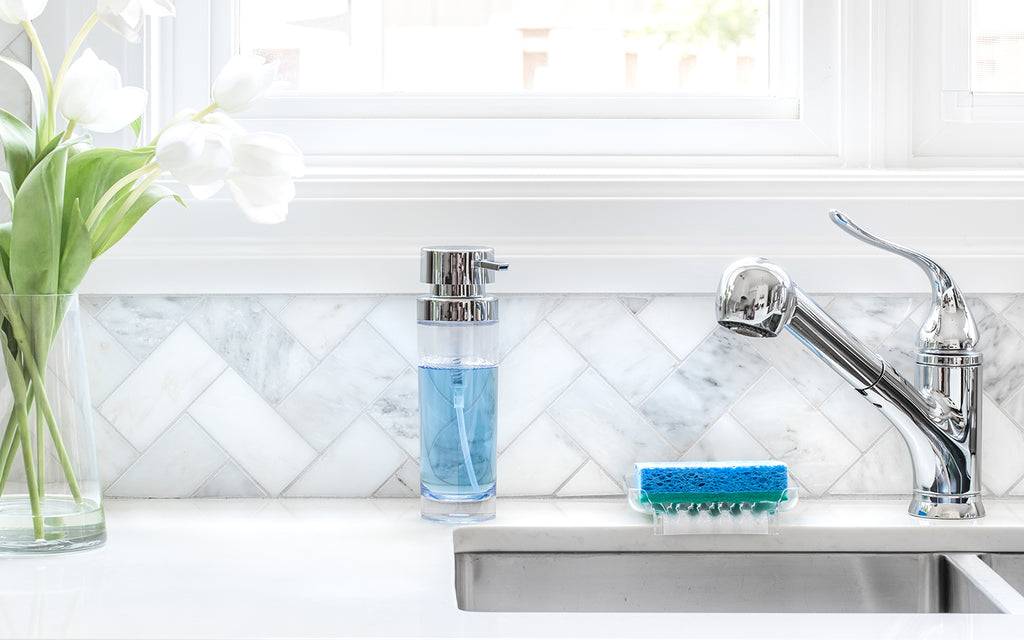 It probably comes as no surprise that we have a thing for soap dispensers here at Better Living. We wholeheartedly believe that the drug store packaging of most products takes away from the carefully curated aesthetic of our beloved bathrooms. It just seems like a shame to spend so much time and money making your bathroom as beautiful as it can be only to ruin it with a family-size bottle of Herbal Essences or Dial hand soap. Does ensuring our favourite products are in beautiful dispensers make us a bit too meticulous? Maybe to some. But, in our experience, once you make the switch to dispensers it's impossible to go back. So, whether you like the ease of countertop dispensers or the counterspace-saving attributes of wall-mounted ones, we've rounded up a few of our favourites just for you.
CLEVER Soap Dispenser (Single, Double, or Triple): Our CLEVER Dispenser model is one of our most popular items. Available as a single, double, or triple dispenser this beauty can be used anywhere. Utilize the triple model in your shower to dispense your shampoo, conditioner, and body wash or use the single model as your hand soap dispenser. It even works with approved gel hand sanitizers, making it perfect to install in your mudroom to ensure everyone has clean hands before entering your home. Don't let the word "installation" scare you off, you don't need any tools to install this bad boy, just the double-sided tape and waterproof silicone glue included with your purchase. Each chamber can hold up to 500ml of product and dispenses the perfect amount every time, which means you don't have to worry about wasting your beloved products.
LINEA Luxury Soap Dispenser (Single, Double, or Triple): For those of you with a more minimalist style, the LINEA Luxury Dispenser is the model for you. Inspired by contemporary perfume bottles and crafted of crystal-like elements, LINEA Dispensers are as beautiful as they are functional. Available in single, double, or triple 12 oz chambers, the LINEA is perfect for bathroom, kitchen, or laundry room use. Just like the CLEVER line, the LINEA does not require tools for installation and pumps a pre-measured amount every time. We don't like to play favourites, but this streamlined, practical, and easy-to-use line is hard to beat.
FOAMING Soap Dispenser: Our FOAMING Soap Dispenser is a great choice for the most frequently used sinks in your home. This compact countertop model works with any liquid soap to create a luxurious handwashing experience. Simply add 60% water to 20% soap and watch the magic happen. Available in black, grey, or white, our FOAMING Soap Dispenser uses up to 70% less soap and saves you money, which makes it good for the environment and your budget. It's also easy to clean and resists pesky fingerprints, making it ideal for sticky kiddy fingers.
CLARA Foaming Soap Dispenser (Medium/Large): If you love the idea of a foamy soap but prefer a sleeker model, look no further than the CLARA Foaming Soap Dispenser. Its glass-like modern appearance makes it perfect for bathrooms, kitchens, laundry rooms, or even office use. Available in medium (200ml) or large (250ml), its ergonomic pump creates a rich foam while using a fraction of the soap of a regular dispenser. When you purchase the CLARA Foaming Soap Dispenser you're saying 'yes' to saving money and the environment by simply using less soap. It's a win-win-win.
TOUCHLESS Soap Dispenser: Don't worry, we haven't forgotten about those of you who prefer a touchless soap dispenser. Our stainless steel TOUCHLESS Soap Dispenser utilizes hands-free infrared technology to minimize the risk of spreading germs. While this countertop model is perfect for the bathroom, we also love it in the kitchen for minimizing the risk of contaminating surfaces with traces of raw meat. Simply place your hand in front of the sensor and a pre-selected amount of soap will be dispensed – no contact required. All you need is 4 AAA batteries, some liquid soap and you're good to go!
Whether you prefer your soap dispenser to be wall-mounted or free-standing, our sleek and modern models will instantly elevate the aesthetic of your bathroom, kitchen or mudroom. It's a small switch, but it makes a huge difference. Go ahead and give it a try in your home, we promise you won't regret it!