5 Tips for a Pet-Friendly Bathroom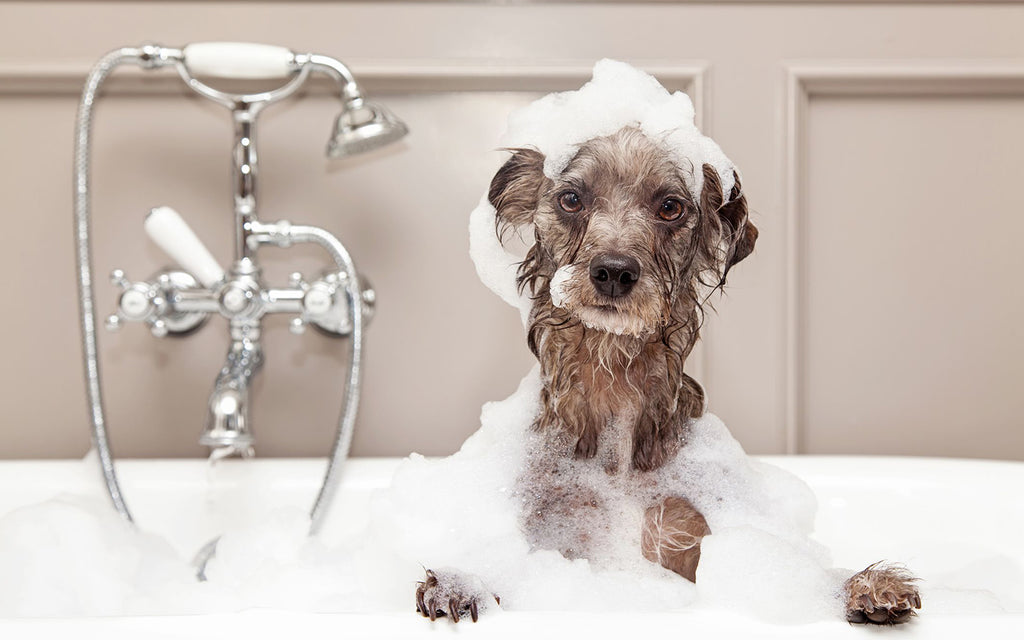 Every pet-parent knows that our furry friends are so much more than pets, they're family. That means our homes should be just as comfortable and safe for them as the rest of the household. Although pets are experts at making themselves comfortable in nearly any environment, there is one room in the house that is almost universally disliked, the bathroom. Our beloved pets will do just about anything to avoid having a bath and although a lot of this has a lot to do with simply getting wet, your bathroom could be making the process even more stressful on them. It all comes down to ease of use and most bathrooms simply aren't built with pets in mind. If you have to awkwardly pick up your pet to get them into your bathtub, use buckets of water to rinse them off, and release them only to slip across the bathroom floor, this article is for you. These simple tips can make your bathroom safer and more comfortable for your pet without sacrificing style.
1. Easy-entry Shower: For those of us with medium to large dog breeds, an easy-entry shower is an absolute must. Dogs don't like to be picked up at the best of times, let alone when they know they're about to have a bath. A walk-in shower allows them to walk in (or be guided) without the stress of being picked up. It also makes it easier on those of us who struggle with picking up our pups while aligning with the minimalistic bathroom trend, making it a win for the entire family.
2. Detachable Showerhead: A detachable showerhead is a necessity for every pet owner. A bucket or pitcher simply cannot compare to the ease of rinsing off your pet with a detachable showerhead. It allows you to more evenly rinse off mud and shampoo (especially on their belly) and feels a lot better than getting bombarded by a bucket of water. Detachable shower heads also make clean up a breeze, in the very likely case that your furry friend shakes mud all over the shower before you've had a chance to rinse them off! Just make sure that you buy a shower head with a long enough attachment to reach underneath your pet. That means someone with a tiny Chihuahua or cat will need a much longer attachment than someone with a Great Dane.
3. Shower Squeegees: Mildew, water spots and other build-up can end up making your shower look dingy. After giving your furry friend a bath, you can cut back on scrubbing time by swiping your shower clean with a Squeegee. Check out our range of Squeegees that will ensure you won't miss a spot.  
4. Non-Slip Coating: Every pet owner knows that their furry friend doesn't particularly like bath time all that much. More often than not, it's a battle of the wills and we're not afraid to admit that sometimes we lose. If you have a squirmer on your hands (especially a large one), you may want to look into adding a non-slip coating to your floors. Unfortunately, dogs have a hard time gripping tile or hardwood even while completely dry, add in a bit of water and there's an accident waiting to happen. A non-slip coating or textured material in the bathroom will prevent your pet from experiencing any anxiety-inducing bath time injuries, keeping them safe and happy.
5. Durable Flooring: When remodeling your bathroom with your pet in mind, it's crucial to pick a durable flooring. There's enough going on during bath time without the added worry of your pet ruining your new floors. A few of our favorite pet-friendly materials include vinyl, engineered tile, porcelain, and ceramic tiles. They're all water and scratch-resistant and are available in a wide range of styles, so you won't have to sacrifice your style for the sake of your pet – although they'd definitely be worth it!
Regardless of whether you're a cat or dog person, every pet owner would agree they'd do almost anything to keep them safe. If you ask us, keeping them in mind during household renovations is the least we can do to pay them back for their constant love and affection.