Our 2022 Holiday Gift Guide: Santa's Favourites Edition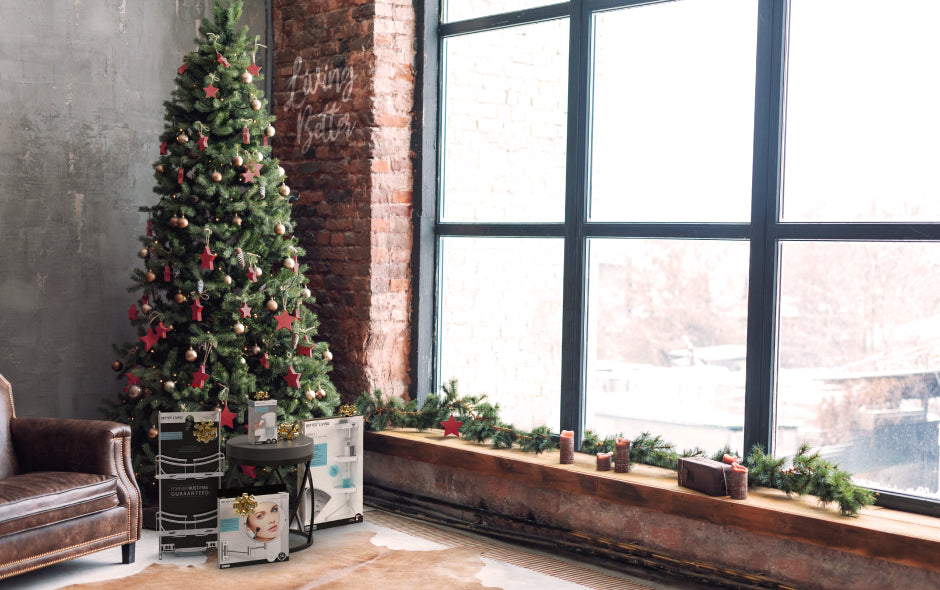 With Halloween officially behind us, the holiday season is in full swing! If last year's shipping delays taught us anything, it's that it's always best to start your holiday shopping early. So even if you prefer to hold off on decorating until December, you should start shopping earlier to avoid disappointment. At Better Living, we welcome the holiday season as early as possible and this year it really paid off! Our team even snagged a consultation with the big guy himself to get his input on our holiday gift guide. So, without further ado, here are Santa's favourite Better Living picks for the 2022 holiday season!
Santa's Favourite Shower Caddies: As the head of the biggest toy factory in the world, Santa knows a thing or two about reducing clutter by ensuring everything has a place. For the shower, nothing does this as well as a good ole' shower caddy. Always one for inclusivity, he shared two favourites to ensure everyone would have an option that worked for them.
His favourite hanging option is our ARIES 3 Tier Shower Caddy, which securely hangs over your shower head for convenient access to all your shower essentials. It comes fully equipped with three shelves, integrated hangers, and a rust-free guarantee, so you can store all your necessities for years to come.
Not to be outdone, our HiRISE 4 Tension Shower Caddy with Mirror is Santa's favourite tension rod option. With four large adjustable baskets and inverted bottle holders, this model provides unbeatable storage and helps you get every last drop out of your beloved products. Santa is also particularly fond of its integrated fog-resistant mirror that makes his in-shower beard maintenance easier than ever!
Santa's Favourite Dispensers: Since he travels the globe each year, Santa has seen firsthand how quickly our landscapes have changed. Naturally, he's become a bit of a stickler for sustainability, which is why he's a big fan of reusable soap dispensers. It took some convincing, but we eventually got him to reveal his favourite options by promising that we'd share the news in the hopes of reducing single-use plastic holiday purchases.
Unsurprisingly, his favourite countertop model, is our most kid-friendly option, the FOAMA Touchless Foaming Dispenser. With its splash-resistant design and sensor-activated operation, kids can easily use it themselves without making a mess. Parents can even lock in a preferred volume setting to ensure their kids are using the perfect amount of soap each and every time. It's a win-win for parents and kids alike, so we can definitely see why Santa picked it as one of his favourites.
Next up, is Santa's favourite wall-mounted option, the CLEVER Double Dispenser. Its modern dual-chamber design and convenient lever buttons provide an easy-to-use and aesthetically pleasing way to store and dispense your shampoo and conditioner. This model even comes with two storage hooks to keep your loofa and razor within arm's reach, no bending required.
If you're worried that you're on the cusp of 'Naughty' and 'Nice', giving yourself a reusable gift just might get Santa to place you firmly on the 'Nice' side. And, just in case it's not enough, here are a few tips from the man himself. Parents feel free to share these with your kiddos too!
Santa's Tips for Making the Nice List:
 Tip #1: Remember to squeegee the shower after every use. With our ALTO Extendable Shower Squeegee, even the littlest of arms can help out with this one. Trust us, it's a small task that will be appreciated by your parents for weeks to come (which might even lead to more presents).
 Tip #2: Don't forget to hang up your wet towels. They get stinky! Parents, you can help out with this one by installing a few of our hooks at their height, so they can do it by themselves while you're busy wrapping all their extra 'nice' gifts.
Tip #3: Always flush the toilet and restock the toilet paper. Leaving the toilet roll empty for the next person is the definition of naughty. Luckily with the right toilet caddy, you won't have to do it very often because they'll be plenty of rolls to spare.
Tip #4: Let your mom sit down for more than 30 seconds. Moms are extra busy during the holidays trying to get the perfect gift for everyone on their list. So, be extra nice and don't ask her to sit down once she's gotten comfy. Or be even nicer and gift her a comfy and stylish place to sit while she does something for herself like an at-home facial. Remember, a relaxed mom is a happy (and generous) mom!
 With a few gift ideas and tips to make the nice list, Santa gave us all a pretty good head start to the holiday season. So, take a page out of his book and give yourself the gift of a stress-free holiday season by starting your shopping early — like, right this second!