4 Quick Powder Room Upgrades You Can Pull Off Before the Holidays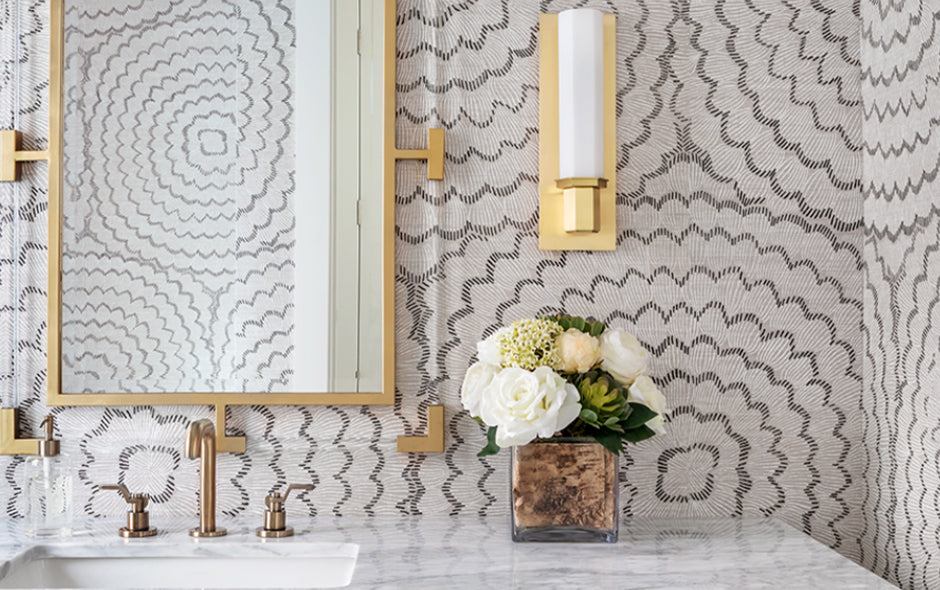 As we adjust to our dark and cold winter nights, many of us turn our attention inward for the warmth we so desperately crave. That's why we eagerly deck our homes in twinkle lights, pull out our coziest knit blankets, and light holiday candles before December has even begun. While our main living spaces usually get the majority of the holiday treatment, upgrading your bathroom will ensure your guests feel all the coziness of the holiday season in every room they enter. With that said, the holidays are definitely not an ideal time to commit to a major renovation, so we're sharing a few upgrades you can pull off this weekend to ensure your bathroom is holiday-ready well before your first guest walks through the door.
Paint: Paint has always been and will always be one of the easiest and most affordable ways to upgrade your home. So, if you're looking for a quick way to update your powder room before welcoming your guests this holiday season, a simple coat or two of paint will do the trick! But, before you head out to your local paint store for swatches, take a peek at the frontrunners for 2023 colour of the year. Whether you're a fan of light and airy neutrals or rich moody hues, there's an on-trend colour perfectly suited for your bathroom refresh. We're personally swooning over the cozy warmth of the blush-beige shade, Redend Point by Sherwin Williams. But we also love the idea of going bold in the powder room with a rich midnight hue like Everglade Deck by Valspar. Regardless of your colour preferences, this is an upgrade that can easily be completed in a weekend — with the help of pizza delivery and your adult beverage of choice.
DIY Wall Treatments: If you just cannot be bothered to paint or want a more unique look, perhaps a DIY wall treatment is more up your alley. While wallpaper is an obvious solution, DIY millwork can make just as much of a difference without being quite as loud. One of the easiest DIY ways to incorporate a bit of millwork is to install a beadboard part way up the wall. This treatment will instantly warm up your powder room and create a welcoming feel for all your holiday guests. For the more advanced DIYers out there, we also love the traditional elegance of wainscotting.  Both options will elevate the design of your powder room, without the risk of bold colours or patterns. So, if you're someone who tires of bold colours quickly, a DIY wall treatment is a safer upgrade that you'll be sure to love for years to come.
Update Your Fixtures: Because powder rooms are small, simply upgrading the fixtures can drastically change the look and feel of your space and the vanity is a great place to start. While you can absolutely purchase something new, updating your existing vanity will be more affordable (and fun). A fresh coat of paint, a new countertop, and/or a statement tile backsplash will give your vanity a fresh new vibe. For a complete vanity overhaul, don't forget to replace the hardware, lighting fixtures, and faucet too!
Layer in Warmth: If all of these upgrades simply seem like too much work ahead of the busy holiday season, then accessorizing is about to become your new best friend. With a focus on layering in warmth, you can create a new vibe in your space without lifting a single paintbrush or hammer. To emulate the trending Nordic Christmas vibe, add a faux fur rug, candles, and some earthy accents like wood bead garland or a sparse mini fir tree. By focusing on a vibe rather than a style, you can create the feeling of a new space without any of the hard labour — which is a major win in our books!
While it's tempting to hunker down with a movie marathon on cold winter weekends, you'll never regret getting your hands dirty to make your house a home. So, if your bathroom needs a bit of love ahead of the holiday season, make plans with your local hardware store this weekend — we promise, your couch will still be there when you're done.