How to Spruce Up Your Bathroom for Spring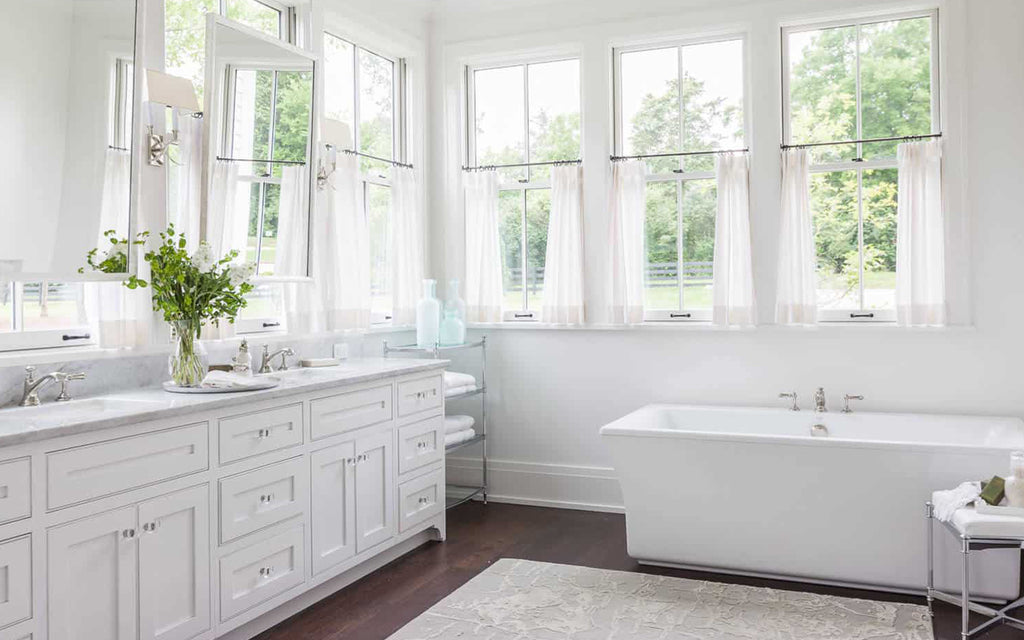 Now that the weather has finally started to warm up (even if it's temporary) and the sun is shining long into the night, we can finally embrace all that Spring has to offer. That means enjoying more time outdoors, relishing the warmth of the sun on our skin, and enjoying an added pep in our step. While we fully endorse spending as much time as possible outside, Spring weather can be a bit unpredictable. To keep the magic of the season alive (even on days when we get hit by an unexpected snowstorm), try out these simple ways to spruce up your bathroom for Spring.

Start with a Deep Clean: Before you get carried away with new décor, start with a Spring cleaning. Go through your products and toss anything that has expired or hasn't been used in the past six months. Next, take stock of your towels by giving them a good ol' sniff. If they're clean but smell a bit musty, it's time to upgrade. Once you've decluttered, it's time for the deep clean. This means getting down and dirty with the areas of your bathroom that don't make it on your weekly cleaning schedule. We're talking about snaking your drains, deep cleaning your faucet heads, and getting into all the nooks and crannies in your shower. If you're having a hard time finding the motivation to clean, keep in mind that once you're done the fun part begins – accessorizing!

Grab Some Greenery: Nothing says Spring quite like fresh greenery and florals. Bringing a bit of nature into your bathroom instantly makes the room feel fresh and spa-like. While we love a spring Tulip, make sure to select plants that will flourish in an environment that is often warm and humid. It's also important to select plants based on their sunlight needs. That means if your bathroom doesn't have a window, you'll need to look for plants that don't require direct sunlight to flourish. 

Pick Out a Spring Scent: One of the best (and most cost-effective) ways to give you all the fresh Spring vibes is to swap out your winter scents for a fresh new one. The obvious scent for Spring is floral, but if floral is a bit much for your nose, a crisp citrusy or herbal scent is also a great choice. These scents can be introduced as hand soap, candles, air freshener, or all of the above — it's always good to have options!

Switch Out Your Linens: If your budget allows, we love having two sets of bathroom linens to mimic the change in seasons — one set for Fall and Winter and another for Spring and Summer. Of course, the easiest way to add a pop of Spring is by selecting brighter colours like yellows and pinks, but even a new set of white towels can add the freshness you've been missing. Another less common but super impactful way to switch up your bathroom design is by swapping out your shower curtain. For less than $50, you can upgrade to a trendy new option. Trust us, this unexpected swap can make a massive difference in the overall feel of your bathroom.

Brighten the Space: Last but not least, focus on the lighting. Each year as Winter slowly turns to Spring, we welcome the warm sun and longer daylight, so why not emulate that shift in your bathroom? To replicate the brightness of Spring, try adding in another mirror, which will reflect light and make your bathroom feel brighter and bigger. To go one step further, pair your new mirror with some modern light fixtures for maximum brightness. You might even trick yourself into thinking you have a new outdoor bathroom – a girl can dream, right?

After a long, cold winter it feels particularly refreshing to (finally) welcome a new season. Make the most of it by applying these design tips to your bathroom and enjoy all those breezy Spring vibes.