Here's Why You'll Love Our New Hands-Free Soap Dispenser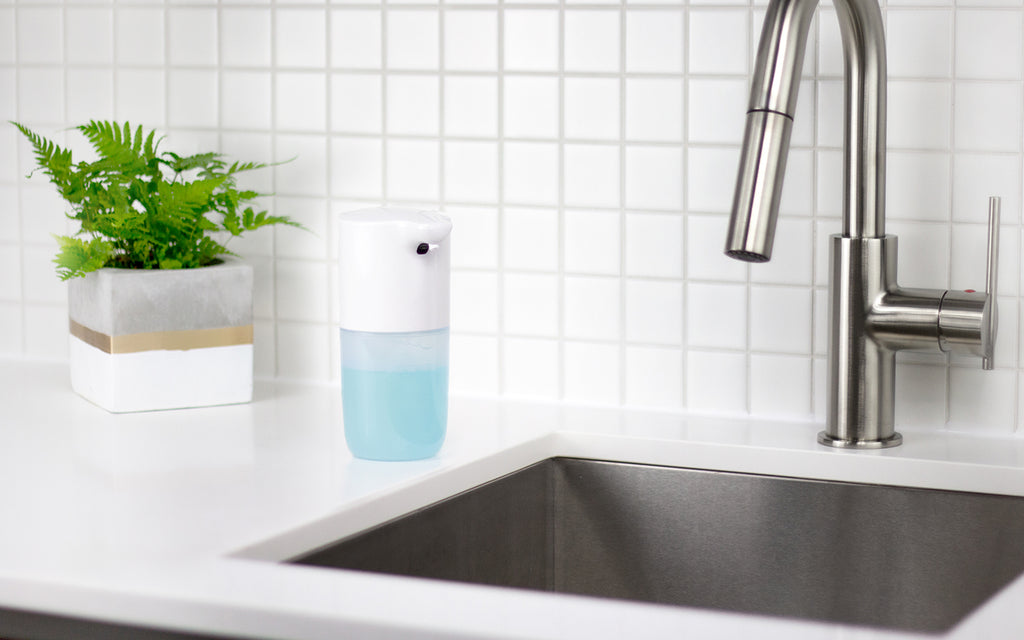 If you haven't already 'met' our new
FOAMA Touchless Soap Dispenser
, you're in for a real treat! This beauty truly has it all, contemporary design, clean lines, and customizable hands-free technology. So, whether you are looking for a new dispenser for your bathroom, kitchen, or laundry room – the FOAMA is the perfect choice. While we don't condone playing favourites, we'll admit that we have fallen head over heels for this new model, and here are five reasons that you're likely to feel the same!
1) It's Hands-Free:
Let's start with the most obvious perk first, it's hands-free! The FOAMA has a responsive sensor that quickly dispenses soap with no contact required. That means you and your family can wash your hands without worrying about spreading additional germs on the pump. Oh, and it also means that is one less surface for you to routinely sanitize – talk about a win-win!
2) Multiple Dispensing Features:
We knew our FOAMA Touchless Foaming Soap Dispenser was so versatile that our customers would want to use it all around the house. Since different spaces often require different amounts of soap, we made sure to include three adjustable volume levels and a 'Drop to Stop' motion-sensing function to dispense the perfect amount. So, whether you need a little bit of hand soap in the bathroom or a lot of dish soap in the kitchen, the FOAMA has you covered with just the right about of lather!
3) Settings Lock:
Although everyone likes having options, sometimes it is best to keep things just the way you like them. This is particularly true if you have little ones who like to press buttons, you know just for the fun of it. To ensure your volume settings are protected from overzealous kiddie fingers, our FOAMA model has a settings lock so your preferred settings stay locked in place.
4) Double Tap Option:
While we are huge fans of hands-free, pre-measured dispensing, in some instances you need a bit more wiggle room. For this reason, we included the double tap option to manually dispense soap wherever it's needed. So, if you want to add a bunch of soap to your crusty roasting pan before letting it soak, all you have to do is double-tap – it's as simple as that!
5) Mix Your Own Foam:
Another major perk of our FOAMA Touchless Foaming Soap Dispenser is that you can use whichever soap you like, and that isn't restricted to exclusively foaming soaps. You can actually create your own foaming soap by diluting any liquid soap. Not only does this save you money on refills, but it also allows you to choose your own scents and switch it up with the seasons – something we wholeheartedly endorse!
Whether you are a long-time Better Living fan or considering purchasing a dispenser for the first time, the FOAMA certainly won't disappoint. Its crisp white design will compliment any home décor while keeping your hands clean and your family safe.