5 Ways to Make Your Bathroom More Kid-Friendly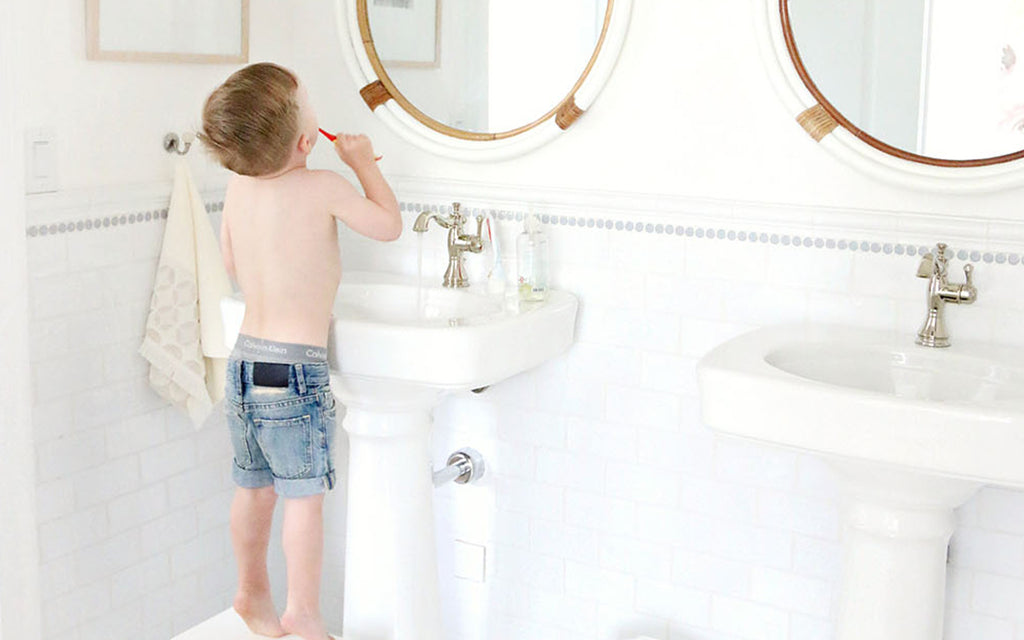 Whether you share a bathroom with your children, or they have one all to themselves it's important to ensure it's designed with them in mind. While children should never be left unsupervised, as they get older they can be given more freedom to do things on their own. Implementing these five tips will allow your kids to (safely) perform daily tasks without your help, improving their independence and giving you an extra five minutes to enjoy your morning coffee while it's hot!
1) Make it More Accessible:
It's no secret that kids need help reaching stuff and this is often the main barrier preventing them from doing daily tasks independently. To free up your own time and help your children gain the confidence to perform everyday tasks on their own, make your bathroom more accessible. For starters, keep a
small step stool
near the sink so they can brush their teeth and wash their hands without a boost from Mom and Dad. We also love the idea of free-standing towel stands as they allow children to reach and easily hang up their own towels. One small step for your kids, one giant leap for a very tired parent.
2) Make it Safe:
Along the same lines as accessibility is safety. We want to ensure our bathrooms are as safe as possible for our children. The best place to start is in the shower or bathtub by installing anti-slip stickers. These make it easier to get in and out of the tub without slipping. To take this one step further, consider stickable grab bars in the shower. Most of these can be repositioned as your child grows, so they will always have a nearby handle to grab in case things get a bit too slippery. Lastly, always unplug and put away bathroom appliances after use. Kids don't always understand the danger of electricity and water, so it's always best to err on the side of caution and put them away and out of reach.
3) Introduce Some Colour-Coordination:
If you have more than one child then you know that most sibling arguments revolve around someone using the other person's things. To eliminate this source of contention (and figure out which child keeps leaving their towel on the floor) give each child their own colour. Once each child has a designated colour that they like (which can be a battle of its own), make all of their essential items that colour. So, if your daughter's favourite colour is yellow, she'll get a yellow towel, yellow toothbrush, and so on. Keep in mind these don't need to be primary colours, even a different shade of the same colour will work as long as it's different enough for your kiddos to tell apart!
4) Make it Fun:
While many of us would love to live in a magazine-worthy world where even our kids' bathroom is expertly designed and clutter-free, we live in the real world. Instead of fighting the inevitable, embrace it and make your kids' bathroom fun. Pick out accessories that your kids will love (and ultimately love using). Think, colourful bathmats, a fun shower curtain, or even a little bathroom toy that reminds your kids to wash their hands. Remember, while you may prefer a monotone bathroom, your kids are only young once – embrace the colourful chaos!
5) But, Keep it Tidy:
Although we are proponents of making the bathroom fun and kid-friendly, we are also minimalists at heart. So, aside from bathtub toys that make bath time a bit more fun, we think it's best to keep your children's toys out of the bathroom. It's all too easy (and oddly common) for toys to end up in the toilet or somewhere else they shouldn't, so less is more really applies here.
We hope these tips will help keep your kiddos safe while empowering them to be a bit more independent in the bathroom – because, let's be honest, we could all use a bit more 'me' time in the morning.