How to Make Your Bathroom Spooky for Halloween: Design Elements to Set the Mood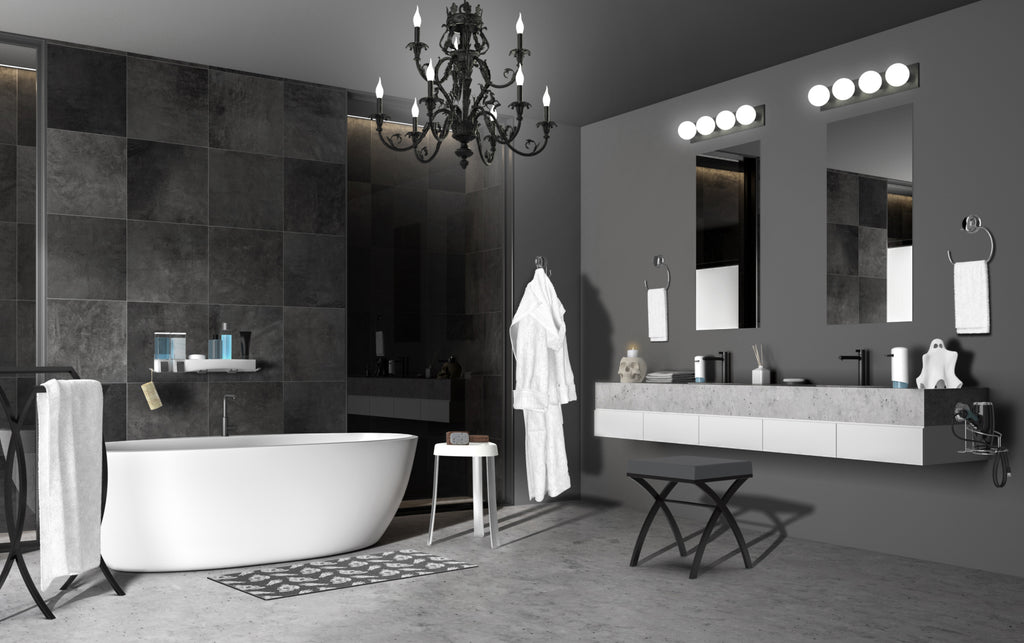 Whether Halloween ranks as your all-time favourite holiday or you're on the hunt for imaginative ways to infuse an extra dose of spine-tingling delight into this enchanting season, home decor is the skeleton key that opens the door to even more Halloween magic. While outdoor decorations certainly set the stage, the indoor spaces are where you truly dwell. So, let's step into the mystical realm of your home and conjure an eerie, enchanting spirit with these Halloween-inspired design insights.
Ambient Lighting: Creating a spooky ambiance in your bathroom starts with lighting. After all, a haunted house wouldn't be quite so scary with the lights on. To replicate that eerie Halloween atmosphere, swap your usual light bulbs for hauntingly green or orange ones. Now, if coloured light bulbs will disrupt your morning routine a bit too much, there's an equally enchanting alternative. Flickering LED candles cast haunting shadows that magically transform your bathroom into a mysterious and spooky sanctuary.
Creepy Mirrors: Whether you're a horror movie buff or not, you've likely noticed that mirrors play a particularly special role in suspenseful and spine-tingling scenes. Filmmakers harness this unique power to create intoxicatingly spellbinding moments and hair-raising scenes that make you jump out of your seat. You can amplify this creepiness in your own bathroom without compromising the mirror's practicality. Use decorative cobwebs, eerie decals, or ghostly silhouettes to create an enticingly eerie feel and an element of intrigue to your space.
Dark Colours: To achieve a dramatic Halloween-themed bathroom transformation, consider immersing the space in dark, moody colours like deep purples, inky blacks, or charcoal grays. While these rich velvety hues conjure an aura of mystery, balancing these dark colours is essential to prevent the space from feeling overly gloomy. To ensure you don't sacrifice functionality for spookiness, balance out dark Halloween accents like seasonal towels and shower curtains with lighter accessories — remember, ghosts are scary too!
Subtle Accessories: For those who prefer a more subtle approach to Halloween decor, themed accessories will allow you to embrace the season without overwhelming your space. Consider swapping your regular hand towel for one embroidered with Halloween motifs, add a couple of decorative pumpkins to your countertop, or artfully arrange thrifted potion bottles and faux spell books. Keep in mind that less is more here, so limit yourself to a few festive pieces to avoid going overboard.
Halloween-Themed Art: Another subtle yet effective way to spookify your bathroom is by adding Halloween-themed artwork. Look for vintage-inspired prints or paintings featuring haunted houses, eerie forests, or spooky witches. These small artful additions will tie the whole space together without taking away from your modern bathroom design.
Spooky Senses: For optimal spookiness, try to incorporate elements that appeal to a variety of senses. Since most of the decorative elements we've covered so far are visual, let's focus on scent next. Adding a fall-scented candle like pumpkin spice, apple cider, or cinnamon will create the cozy fall vibes that accompany Halloween each year. With sight and scent covered, it's time for the audio component. Sync up your Bluetooth speakers and play a carefully curated playlist featuring classics like "Monster Mash" and "Thriller." By engaging these three senses, you'll achieve a holistic ambiance that rivals the allure of your favourite haunted houses and Halloween movies. 
With these Halloween-inspired design tips, your bathroom will become a haven of spookiness, setting the stage for the enchantment of Halloween. The eerie lighting, bewitching mirrors, intoxicating scents, and spooky sounds work together like a perfectly cast spell, creating a haunting atmosphere worthy of the season. So go ahead, have some spooky fun transforming your bathroom, and enjoy the enchantment of Halloween throughout your home!