The Art of Upcycling: Creative Tips for Repurposing Bathroom Fixtures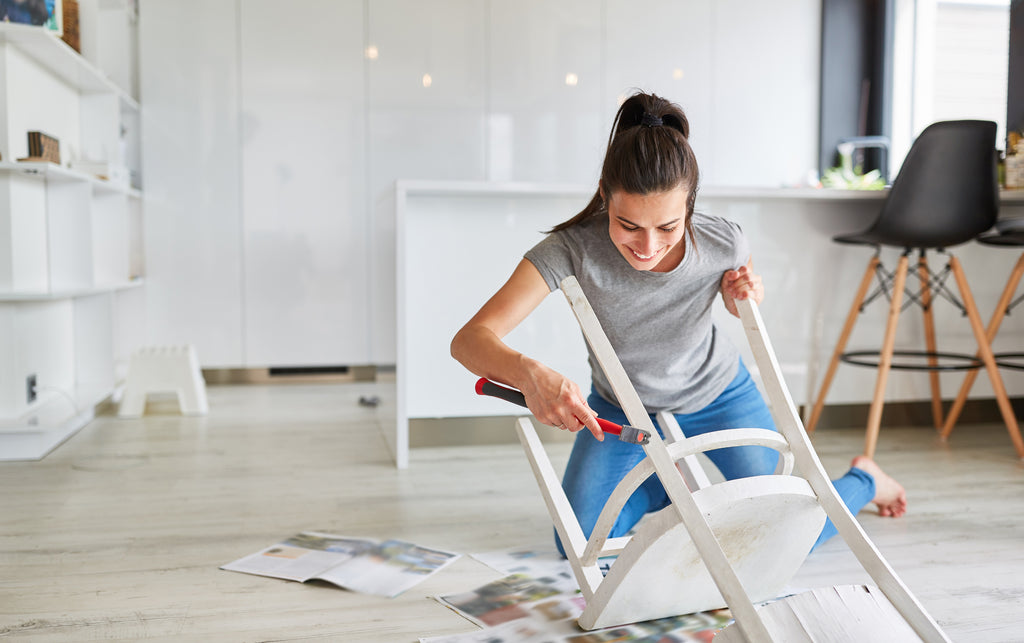 Like it or not, when it comes to bathroom renovations, environmental considerations tend to take a back seat. And while it may be for the greater good of interior design, that doesn't always sit well with our eco-conscious sensibilities. But luckily, there's a silver lining. With a bit of creativity, you can give your old bathroom fixtures a second life far beyond what the landfill could provide. So, if you're gearing up for a bathroom renovation and feeling a pang of guilt about its environmental impact, we've got you. We're sharing four ingenious ways to give outdated or old bathroom fixtures a remarkable second life — allowing you to create the bathroom of your dreams while remaining steadfast in your commitment to sustainability.
Transform Your Vanity into a Functional Workspace:
As much as you may have grown to loathe your old bathroom vanity, you might want to think twice before taking it to the dump. Why? Well, when it comes to upcycling, bathroom vanities have limitless potential. With a little imagination, you can turn this piece into a desk, pet grooming station, dresser, or even a kitchen island. Admittedly, this may sound a bit far-fetched, but because the bones of the project are already there for you, this upcycling project doesn't need to be complicated. Start by removing the sink and plumbing fixtures (don't worry, with a little help from YouTube, even novice DIYers will be able to figure this out). Then, sand down any rough edges and add a fresh coat of paint. Once your paint has dried, it's time to replace the countertop. Although the material you select will vary depending on the project, you really can't go wrong with quartz or butcher block. Once you've secured your new countertop, pop in your re-painted drawers, install new hardware, and enjoy your sustainable "new" piece!
Repurpose Your Sink Basin for Garden Use:
Now, if you were wondering how you can repurpose the sink basins that you removed from your old vanity, this project is for you. Sink basins are the perfect way to add a bit of quirky charm to your outdoor garden and the best part is it doesn't even require any alterations. Simply place the basin in your garden, fill it with soil, and plant your favourite flowers or herbs. Of course, you could paint the exterior a fun bright colour, but this is entirely optional. So, if you're an artist at heart, have at it, but if the thought of painting throws you off, skip it! Either way, you'll end up with a unique garden focal point that adds a touch of vintage charm to your outdoor space.
Get Creative with Old Faucet Handles and Hooks:
Even if you haven't done a major bathroom renovation yet, chances are you've made some minor changes like swapping out hardware or light fixtures. Maybe you even have a few new ones left over. New or old, it doesn't matter. What does matter is how easily your unused faucet handles and hooks can be upcycled into charming coat hooks. All you have to do is attach the handles (or hooks) to a piece of material like reclaimed wood and mount it on your wall. Use it as functional storage in your bathroom, laundry room, garage, or kids' rooms for coats, bags, or towels. Remember, upcycling doesn't need to be complicated to be useful!
Give Your Mirrored Medicine Cabinet a Second Life:
While mirrored medicine cabinets may have reached peak popularity in the 90s, they're no longer as coveted as they once were. And while we personally think it's a shame to remove functional storage from your bathroom, we can get on board if it becomes useful elsewhere. Now, this one is a bit quirky, but it's as functional as they come. We're talking about repurposing your old, mirrored medicine cabinet into a piece of art with hidden storage. Just imagine how useful this could be in your entryway or mudroom with tiny hooks inside for things like your car keys and sunglasses.
To start, carefully remove the mirrored door and any outdated or damaged components. Then, add a fresh coat of paint. From there, you can either choose to adhere some type of art on top of the mirrored door (like a picture of your dog if you plan to store their collar and house keys in there) and keep it intact, or you can use wallpaper to line the shelves and forgo the door altogether. Either way, you'll have a fun and convenient way to store small items that your family loses on the daily.
While balancing style and sustainability may not always go hand-in-hand, you have the power to change all that. By adopting an upcycling mindset, you can reduce your environmental footprint and give your once-beloved items a newfound purpose — making it a win-win for everybody.