How to Expertly Incorporate Our Products in Your Shower and Bath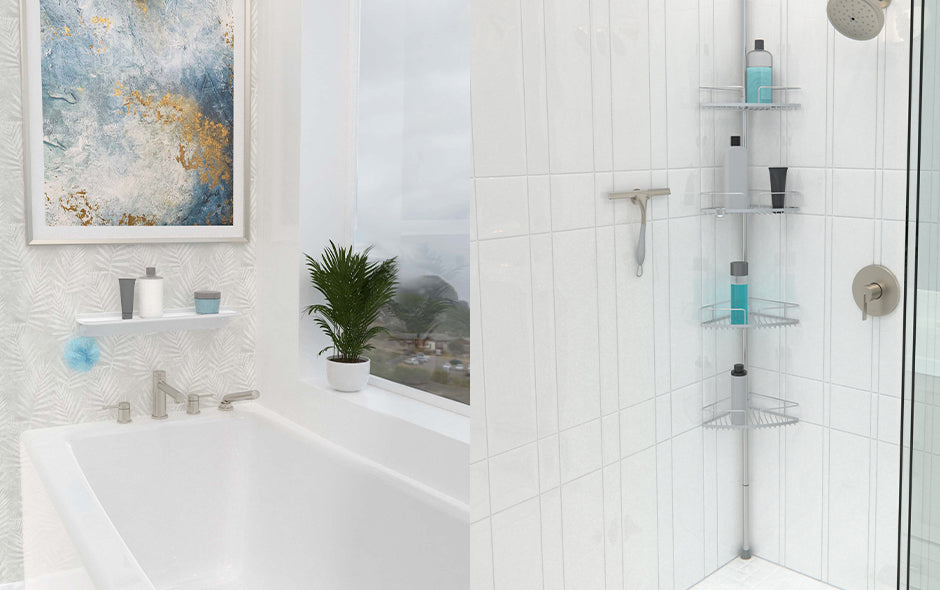 There are some debates that stand the test of time and people that stand firmly on either side. A few such debates exist between Twilight fans (Team Edward vs. Jacob), Riverdale fans (Team Veronica vs. Betty), and even tea and coffee aficionados (we're team coffee all the way). These ongoing debates got us thinking about the one that exists between bathers and showerers. On the shower side, we have those who value efficiency over comfort and would rather shower ten times over than sit in a bath. Then on the other side, we have the lovers of luxury and self-care who will happily cancel plans to relax in the tub. At Better Living, we think there's a time and place for both options. So, we're sharing how we've incorporated our products in both areas to help you up your game whether you're team shower or team bath.
Tips for Team Shower
Shower Dispensers: At Better Living, we are shower dispenser specialists and with that title comes great responsibility. So, instead of recommending a single dispenser for every bathroom, we're recommending them all! Whether your bathroom is outdated, freshly renovated, or somewhere in between our line of shower dispensers will drastically improve your shower organization game. Lovers of modern design will appreciate our streamlined Clever and Clear Choice dispensers while our more traditional customers will love our Aviva, Uno/Duo/Trio, and Signature lines. And for all you minimalists at heart, we even have all-in-one options with our Classic and Ultimate models. As we said, we're shower dispenser specialists, so if you have a bathroom, we have an option for you — go ahead and take your pick!
FINELINE 4 Tier Shower Caddy w/ Mirror: When it comes to optimizing your shower storage, nothing beats our FINELINE 4 Tier Shower Caddy with Mirror. With four adjustable shelves, utility hooks, and a fog-resistant mirror, it's your one-stop shop for all things organization. Simply extend the stainless-steel tension pole to the height of your shower, adjust the shelves and hooks to your liking, and you're good to go!
SOFT GRIP Shower Squeegee: One of the most important aspects of having a beautiful shower is keeping it clean and nothing does that better than a squeegee. The ergonomic grip handle and rubber blade make our SOFT GRIP Shower Squeegee particularly well-equipped for the responsibility. This model even has a loop-end handle and comes with its own hook, so you can easily store it after each use.
Tips for Team Bath
AVIVA Shower Dispenser: If you thought our dispensers were just for the shower, think again. Our AVIVA Shower Dispenser will perfectly complement your bathtub while remaining safe and easy enough for your whole family to use. Available in one, two and three chambers. Our 2 and 3 chamber models include integrated hooks to neatly store razors, loofah and other accessories. Simply fill these dispensers with your favorite shampoo, conditioner, body wash or bubble bath to fully enjoy your carefully curated relaxation space.
GLIDE Shower Shelf: Don't let the name fool you, our GLIDE Shower Shelf doubles as a modern bath accessory too. Use it to conveniently (and aesthetically) store your most beloved bath products. Not sure where to place it? Well, we personally think it functions and looks best when it's installed above your faucets — but it's ultimately up to you. Just remember to consider where you lay your head before installation to ensure it won't impede your relaxation space.
IMPRESS Suction Basket: Our IMPRESS Suction Basket is the perfect bathtub accessory for all you parents out there. Its suction design allows you to keep a handful of bath time toys nearby without displaying them for all to see. Simply attach the durable suction basket to the inside of your tub, fill it with said toys, and enjoy your freshly organized space.
Whether you're a lover of long luxurious soaks or a fan of the speedy morning shower, the right organizational products can drastically improve the functionality of your bathroom. So now that you know our products can be incorporated in both areas, which side are you on — team shower or team bath?