4 Luxury Design Elements That Are Worth the Splurge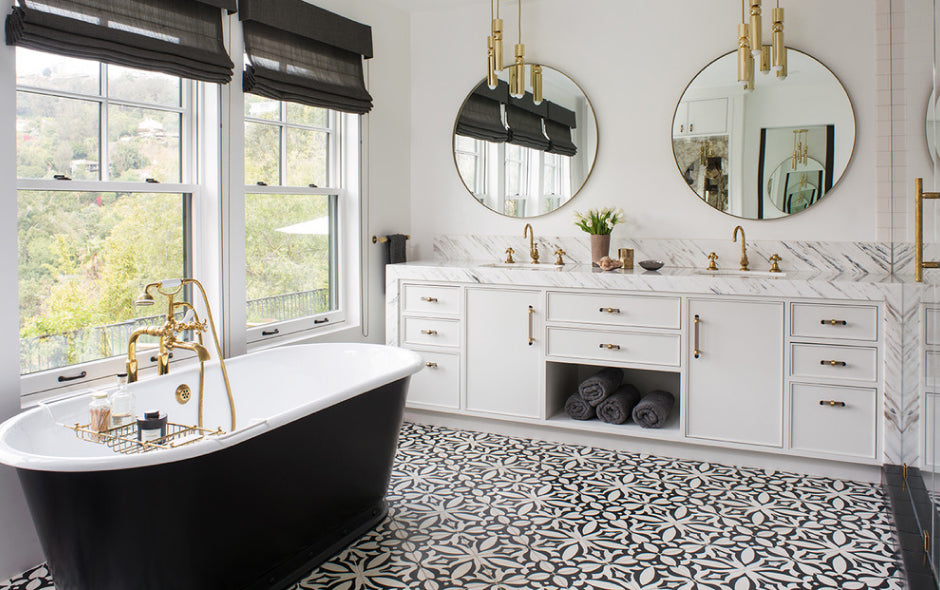 Next to the kitchen, bathrooms are one of the most expensive rooms to renovate in your home. Between costly materials, plumbing, and labor, the costs can add up quickly. So, before you even get started with the renovation process, figure out what is important to you and allocate your budget accordingly. That way, you can splurge on areas that matter to you while saving on those that don't. At Better Living, we're equal parts savers and spenders and today our spenders are sharing five design elements that are definitely worth the splurge.
Heated Flooring: Although this summer weather may have you dreaming of cooler fall temperatures, don't forget about those even colder winter mornings when planning your renovation. There are few things harder than willing yourself out of bed and into the shower when it's below zero outside, but in-floor heating makes it a lot easier. So, before you lay your new tile, consider installing electric heating coils or water-heated tubing to help you stay cozy long after you've left the comfort of your bed. Trust us, this one is 100% worth the splurge!
Entertainment System: Whether you're into shower karaoke or binge-watching your favorite television series in the tub, an integrated entertainment system will drastically improve your experience. Without one, your bathroom routine likely involves a bit of prep work like balancing your laptop on a bathtub tray and/or tediously setting up a Bluetooth speaker. Luckily a built-in entertainment system with an integrated television and speakers will change all that. While there are countless features to consider, adding voice activation gives you the ability to skip or replay songs without lifting a finger. Pair it with a high-end LED shower system and you can live out all your rockstar dreams from the comfort of your bathroom.
Statement Windows: Now this option will cost you a pretty penny since it requires a bit of exterior work, but it's well worth the splurge. Just imagine setting your bathtub against a wall of statement windows and taking in the tranquility of nature while you soak in the tub. Sounds pretty great, right? Of course, this option works best in homes that have a bit of privacy, but it can still be done in your typical residential neighborhood too. Simply install a privacy pane on the lower half of the window and keep the top half clear. This configuration allows you to enjoy views of the skyline from your tub without risking a peepshow every time you get into the bath. If you'd prefer to eliminate wandering eyes altogether, install skylights above your shower or bathtub instead. We love how this option floods the room with natural light and brings the outdoors in while maintaining your much-needed privacy.
Floor-to-Ceiling Tile: Another design splurge worth considering is statement floor-to-ceiling tile. This could be as simple as taking your subway tile to the ceiling or as extravagant as a single sheet of marble. When you take your tile all the way to the ceiling it draws the eye upward with it, which creates the illusion of a larger more luxurious space. Consider using this design element behind your standalone bathtub, dual vanities, or in the shower for maximum impact.
We know just how quickly bathroom renovation costs can add up and while we love a deal as much as the next person, some things are worth the splurge. It's all about to give and take. So, if in-floor heating is a priority for you, opt for a more cost-effective tile or vice versa. When you take the time to figure out which elements are (and are not) important to you, you can stay within budget while splurging on things that matter to you.