How to Declutter and Organize Your Bathroom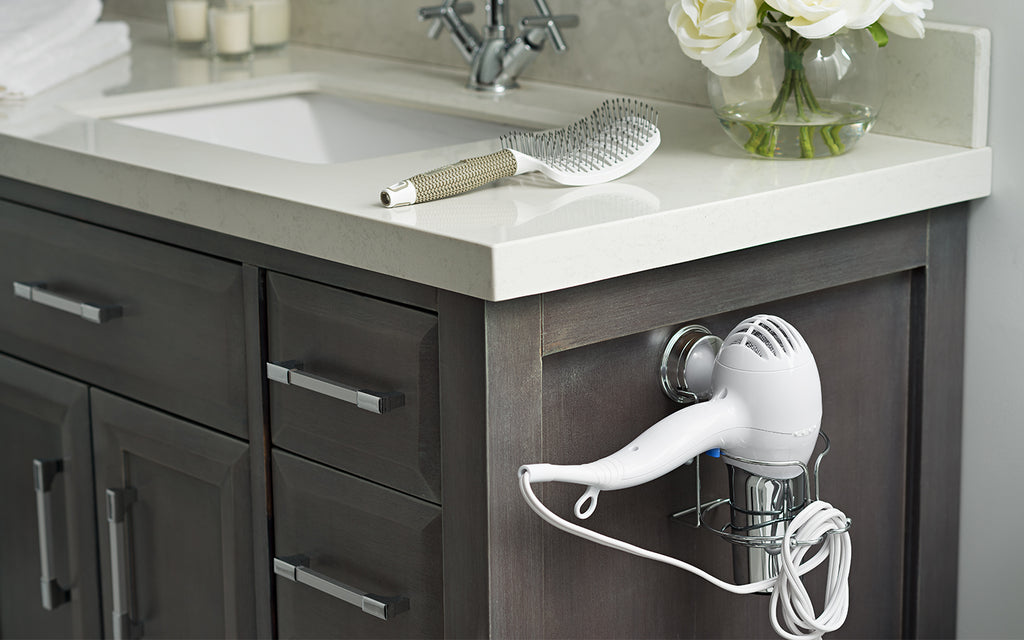 As we continue to spend most of our time indoors, many of us are completing household tasks we've put off for weeks, months, or maybe even years. While this has a lot to do with spending more time at home, there's also another reason many of us are turning to organization. Whether we realize it or not, clutter can impact our energy. Just think about how irritated you get when you can't find what you're looking for in a drawer because there is just too much stuff. Now imagine that same scenario, but this time the drawer is neatly organized into different sections and you find your favourite scrunchie in two seconds flat. It may seem like a small improvement but in times like these, the little things can make a big difference. You might just be surprised how much of a positive impact these organizational tips can have on your mental well-being.
Purge Your Products: The first step in your bathroom declutter should involve purging your products. While the cupboard space under your sink is an easy dumping ground for unwanted or discarded products, it's prime bathroom real estate and shouldn't be wasted on things you don't use. A good rule of thumb is to toss anything you haven't used in the past year. Why? Well as much as we'd like to believe products last forever, they do have a recommended shelf life. Once opened, many products should be used within six months to a year. So, if you're not using it get rid of it.
Organize Your Drawers: After you've finished your product purge, you'll have more space to work with so let's make sure you make the most of it. One of the best ways to keep your bathroom drawers nice and tidy is to use a tray organizer with different compartments. If you don't have one on hand and don't want to make an order right now, you can easily make your own by placing boxes of varying sizes in your drawer (think: small jewellery boxes). Depending on your needs, you can use this method to organize your makeup and brushes or oral hygiene products. Regardless of what is in your drawers, a little compartmentalizing will clean it up in a jiffy.
Get Creative with Cupboard Organization: Just like drawers, your cupboards are capable of neatly housing more products with the right organization system. Our favourite way to organize a cupboard is by utilizing upcycled containers. Consider using a (cleaned) glass candle jar to house products like makeup remover pads, hair ties, or bobby pins. You can also make use of old and/or chipped mugs to house hair and makeup brushes. Boxes can also make a world of a difference for vanity cupboards under your sink. Group products that you generally use together. Then, when you need them (for example your makeup), you can just grab the entire box and place it on the counter for easy access. Perfect at your vanity or inside a cupboard, the STICK 'N LOCK+ KROMA Hair Dryer Holder will keep your blow dryer close at hand and your cupboard or counter free of tangled cords.
Minimize Countertop Clutter: Perhaps the most important area to declutter is your countertops. We can't help but look down at it each time we wash our hands, which is currently more than ever before. The best rule of thumb for countertop organization is this: if it doesn't have to live on your counter, it shouldn't. With this in mind, the only thing that should permanently live on your bathroom counter is hand soap. If you want to make sure your soap is as aesthetically pleasing as possible, swap out that jumbo antibacterial soap container you just bought with a streamlined soap dispenser like our TOUCHLESS Soap Dispenser. Its hands-free infrared technology minimizes the spread of germs and its stainless-steel design complements nearly every space. Along with hand washing, hand drying is an important step in the fight against germs, so you'll want to make sure your hand towel is as dry as possible. The KROMA STICK 'N LOCK+ Towel Holder keeps your favorite hand towel within arms reach. Utilizing superior waterproof tape, this product can be installed safely and securely anywhere! Simply Stick, Twist and Lock for a strong, dependable adhesion. The bottom line here is the fewer products that are on your countertop, the better. All of your other products can find a home somewhere else.
While organizing may not be the most thrilling way to spend your time in self-isolation, it is one that can positively affect your mental well-being and we're all for a little self-care right now. Go ahead and give these tips a try – it'll feel better than you think!