6 Steps for the Perfect At-Home Spa Day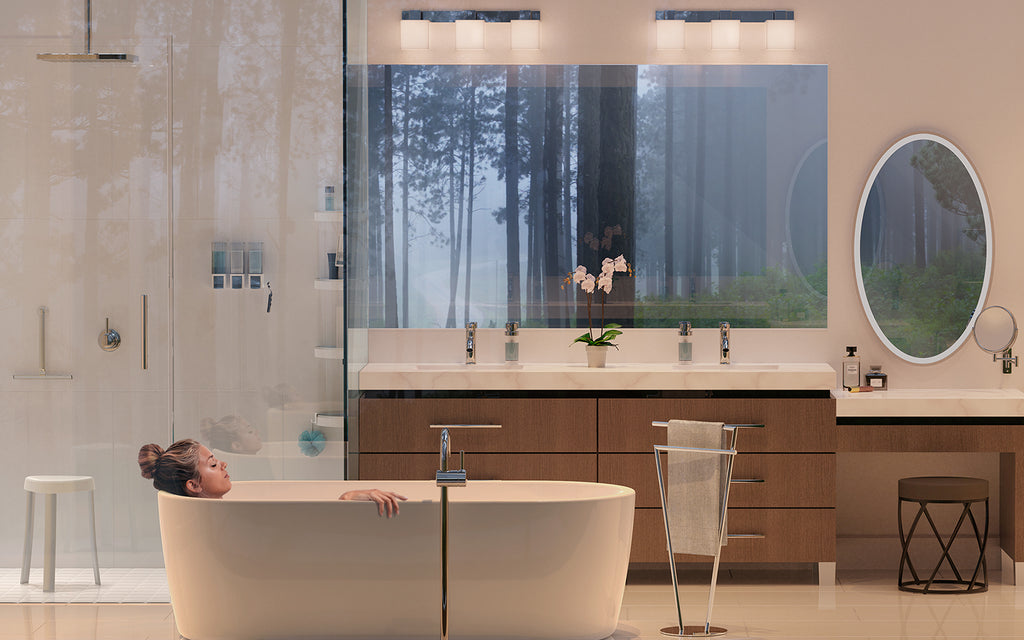 As we settle into April in our homes, it's pretty safe to say that 2020 hasn't quite been the year that we'd been expecting. With everything that's happened, it's easy to feel down and focus on everything that we're missing. However, our time is much better spent focusing on the positives, especially when they are hard to find. While it may seem trivial to some, missing our beauty appointments because of social distancing has been on a lot of our minds. Although we can't provide you with a fool-proof way to cut your bangs or touch up your roots, we can help you carve out a little bit of joy by creating the perfect at-home spa day.
Step 1: Set the Mood: Without a doubt, one of the best things about spas is their tranquility. So, if you want to emulate the same type of atmosphere at home, you'll need to set the tone by focusing on two key senses: sound and smell. Light your favourite candle or pop in your favourite essential oils into a diffuser and let it circulate the room for ten minutes before you get started. For optimal relaxation, try something with lavender or eucalyptus. If you don't have either of those, a vanilla candle will always do the trick too! Next up is music. Don't worry if you don't have spa soundtracks on hand. YouTube has tons of options that will work perfectly for your DIY spa day. Just make sure to pick one that will last the duration of your treatments.
Step 2: Prep for Your Treatments: Next, you'll want to make sure you have everything you'll need for your treatments on hand. Nothing kills spa day vibes faster than popping into the kitchen for a forgotten ingredient only to see that it's been destroyed (by tiny humans or a messy partner) in your absence. Grab your essential oils, any kitchen ingredients you'll need, and your mani/pedi tool kit. While you're in the kitchen you might as well whip up some spa water with cucumber and lemon or brew a mug of your favourite decaffeinated tea too. Step
3: Get Comfortable: Once your bathroom is teeming with tranquil vibes and your spa items in place, you'll want to slip into something luxuriously comfy. This is a bra-free zone, ladies. Slide into your robe and slippers or your favourite loungewear set and make sure to grab your fluffiest towel. This is also a great time to grab any extras like a bath pillow, eye mask, a book, or headphones if your family isn't quite getting the chilled-out memo.
Step 4: Relax and Indulge: The best way to start an at-home spa day is with a warm bubble bath. Warm water helps relax tense muscles and the steam helps open up your pores, which will make any facial treatments more effective. While everyone has their own preference for bath temperature and bubble scent, we have one universal rule for bath time – there is absolutely no time limit. Stay in there as long as you want. Once you've started to unwind, it's time to apply some masks. If you aren't a hoarder of beauty products like us, there are tons of DIY facial and hair masks that utilize ingredients you probably already have on hand. Then once everything is saturated in a mask, sit back, relax and soak in all that spa-like ambiance.
Step 5: Mani/Pedi Time: Since all of us are missing our regularly scheduled appointments, now is the perfect time to brush up on our mani/pedi skills. After soaking in the tub your hands and feet will be perfectly prepped to be exfoliated, moisturized, filed, and painted. Pick a colour that makes you feel happy and get to work. Better yet, enlist your partner, roommate, or child so that you can continue to sit back and relax. That sounds much better, doesn't it?
Step 6: Soak It All In: At this stage, you'll have relaxed in a bath, masked your face and hair, and brought your finger and toenails back to life. Luckily for you, the end of spa time doesn't mean the end of relaxation. Keep the tranquility going by slipping back into your robe, pouring yourself a glass of wine and watching a TV show or movie that makes you feel happy. Try to limit any time on your phone during this time to avoid getting stressed out again before you go to sleep.
Although we are all living through an incredibly stressful and unpredictable time, it is still possible to find joy in the little things. Even if at-home spa treatments aren't your thing, we encourage you to find a little bit of joy in your day and if possible, share it with others.