5 DIY Bathroom Design Tips to Keep You Busy and Sane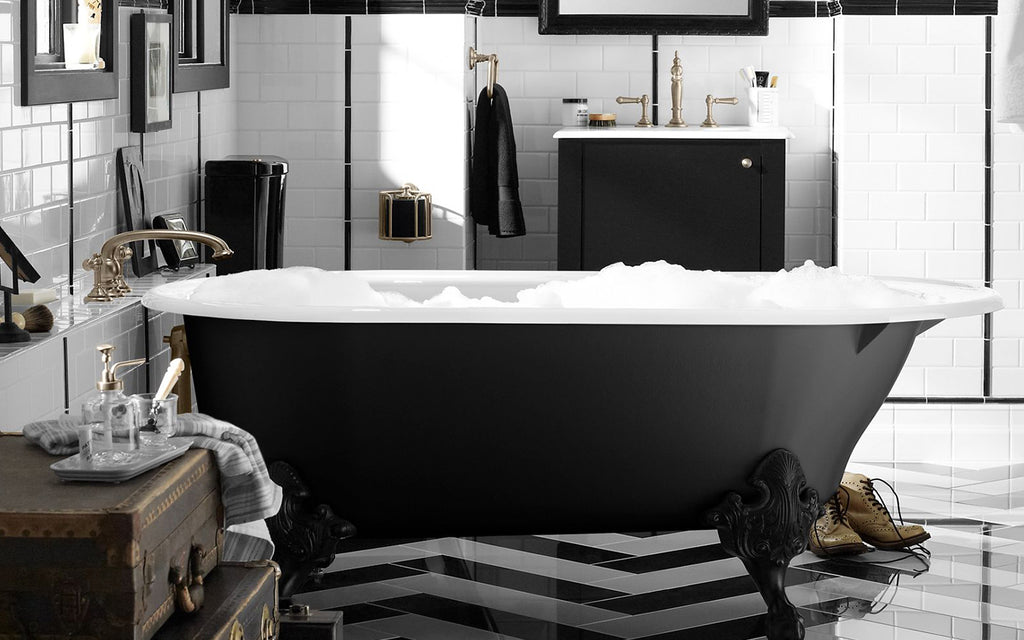 If like us, you are in the midst of social distancing, you've probably found yourself puttering around the house more than usual. Perhaps you're even on your second or third week of isolation and have effectively run out of things to clean and closets to organize. After all, you can only watch so much Netflix, or so they say. If you're looking for another task to keep your mind and body occupied, why not tackle your bathroom? Although now is certainly not the time to call in a contractor for a remodel, you can revamp your bathroom with items you have at home and a few home deliveries.
1. Refinish Your Claw-Foot Tub: Count yourself very lucky if you have a claw-foot tub, even it's in dire need of repair. Whether you like bold or subtle design, a fresh new glaze will make your tired tub shine like new again. We love the bold contrast of a deep navy exterior set against the white porcelain interior. That being said, you also can't go wrong with the softer contrast of a muted sky blue exterior either.
2. Refresh Existing Tile Work: One of the most effective ways to make your bathroom sparkle is to give your grout work a bit of attention. You can find amateur and eco-friendly acid etcher that removes built-up dirt from the surface and between grout lines. It's one of the most inexpensive ways to make your old tilework look like new. You can also take this one step further and re-grout your existing tilework to make it truly shine.
3. Swap Out Your Lighting Fixtures: Okay, this is a fun one and may not even require a single delivery. Take a walk around your home and make note of all of your lighting fixtures. Perhaps you have an outdated chandelier in your rarely-used dining room or retro sconces in your basement. Although these fixtures may look tired in their current location, they can be an unexpected design feature in your bathroom. For instance, that vintage chandelier would provide unparalleled elegance over that claw-foot tub you just refinished. And those retro sconces would provide the perfect mid-century modern vibes to an otherwise monotonously white bathroom. Feel free to be as creative as you'd like – you can always swap it right back if it doesn't work out.
4. Rethink Your Existing Vanity: Updating your existing vanity can make a massive difference in the overall look and feel of your bathroom. The easiest way to update your vanity (assuming it's made of some type of wood), is to repaint it. Again, contrast is key here. Choosing a bold colour will make a big statement, without the permanence of choosing a bright shower or floor tile. If your existing vanity needs more than a simple paint job and you have a couple of tools on hand, it might be time to repurpose an old dresser. Whether it's exquisitely vintage or run-of-the-mill Ikea, with a few simple cut-outs it can quickly become a one-of-a-kind vanity.
5. Try Out Some Wallpaper: Add colour, texture, and/or pattern with a fun wallpaper in your bathroom (bonus points if it's coated and can withstand high humidity). Whether applied to a feature wall or an entire bathroom, wallpaper has the ability to completely transform a space. Some companies even allow you to create your own peel-and-stick designs, so it's easier than ever put your own stamp on your bathroom design.
While many of us struggle with being cooped up in our homes, it's important to remind ourselves that things could be much worse. Just like you, we miss our friends and family. But, if staying warm and toasty in the comfort of our homes is all that's asked of us, we're more than happy to oblige. To be honest, we're usually counting down the minutes until we can go home and see our dogs most days anyways. Stay home, stay safe, and get creative with design – this too shall pass.