Fresh for Fall: 6 Bathroom Cleaning Hacks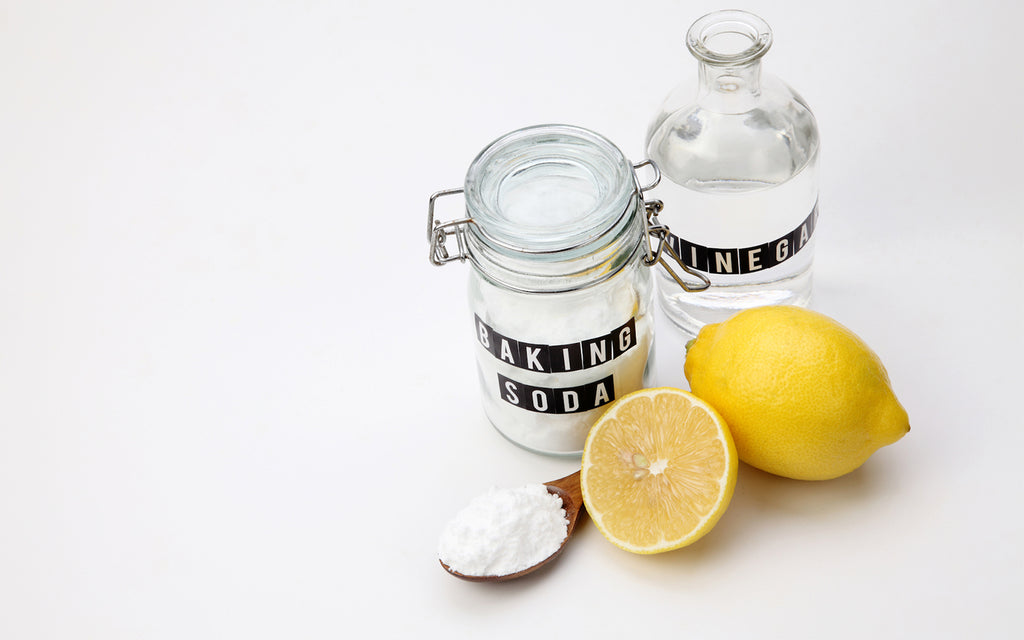 Whether the kids are heading back to school or you're heading back to work after summer vacation, our lives are about to get a bit more real. Although it's always a bit disheartening to say goodbye to summer, there's something refreshing about the cooling temperatures of fall. Our favourite way to begin a new season is with a fresh start and in our opinion, there's no better place to begin than a deep clean of the bathroom. If you're of the same mindset and want to deep clean your bathroom to prepare for the looming flu season, this article is for you. Here are our top cleaning hacks for a brighter, cleaner, bathroom:
1. Deep Clean Your Toilet Bowl: While there are plenty of toilet bowl cleaners on the market, it doesn't take more than a little baking soda and vinegar to get your toilet looking and smelling clean. Simply toss some baking soda into the bowl, spray on some vinegar, and let it sit. Once the mixture has had a chance to do its thing, go in with our antimicrobial LOOEEZ Hygienic Toilet Squeegee to make sure you've covered every square inch of the bowl.
2. Make Your Shower Sparkle: Nothing dulls your bathroom's sparkle quite like a spotty glass shower door. While chemical window cleaners may be your first line of defense, there's a more natural solution that you probably have in your kitchen cabinet. Believe it or not, the tannic acid in black tea works to dissolve dirt and water stains, leaving a spotless, sparkling surface. All you have to do is add a few bags of tea to a cup of boiling water, let it cool and apply. Of course, most of us don't have time to do this weekly, so we recommend using our ALTO Extendable Squeegee daily to reduce grime and limescale build-up. It only takes about ten seconds and will minimize how often you have to deep clean your shower.
3. Scrub Your Tub: Bathtubs have a funny of way getting dirty even when they're not being used. Fortunately, getting rid of soap scum is simple and you likely already have all the products you need under your kitchen sink. Grab an old dish-wand with a built-in soap compartment and add equal parts dish soap and vinegar. Splash on some water to get the mixture started and you're good to go. A dish-wand can make it easy to get into hard to reach areas and cuts down on scrub time – something we can all get behind.
4. Remove Hard Water Stains Naturally: This next bathroom hack is easy peasy lemon squeezy. Seriously, all you need is a lemon cut in half to remove hard water stains in your bathroom. Use it as a brush to go over chrome surfaces in your bathroom and they'll be sparkling in no time.
5. Sanitize Faucet Handles: This step is one we often forget, but it's one of the most important to truly de-germ your bathroom. The faucets in your bathroom go through a lot and most of the action follows a trip to the loo. We won't go into the details, but there are some pretty nasty things lurking there, which makes deep cleaning your faucets an absolute must! For the deepest clean, you'll want to remove the faucet handles to soak in a vinegar solution. However, if your faucet is difficult to detach, thoroughly cleansing with vinegar and a cloth should do the trick too. While you're cleaning the faucet, don't forget about your germy soap dispenser. We like to eliminate this step altogether by using our TOUCHLESS Soap Dispenser. One less surface to clean is always a good idea in our books!
6. Don't Forget the Details: Last but certainly not least, your toothbrush holder. It's likely full of grime and a hassle to clean. That is unless you toss it in the dishwasher and let it do the work for you. It's a simple step that should be performed regularly to eliminate any germs from coming into contact with your toothbrush (and your mouth).
Bookending the season with a deep clean provides the fresh start we all crave and a sparkling bathroom is a great place to start. What are you waiting for? You have everything you need to get started right in your kitchen – let's get crackin'!