Unique Design Inspiration for your Bathroom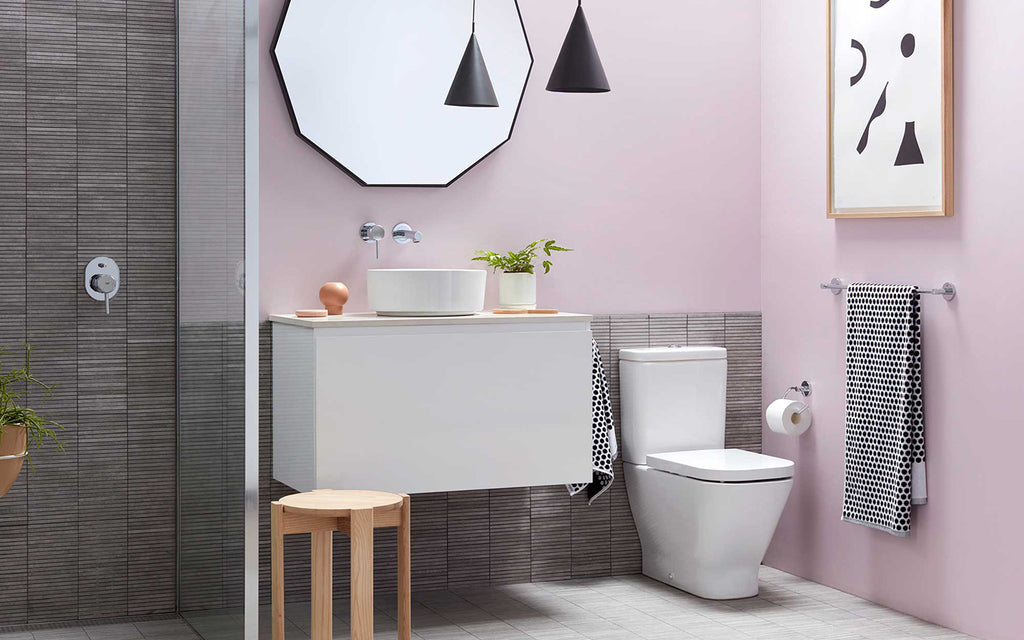 While it's relatively easy to accessorize your home with accent pillows and knickknacks, it's a bit more difficult when it comes to bathroom design. First and foremost, you want your bathroom to function and you certainly don't want clutter -- but that doesn't mean you can't add a bit of flair! Whether your style is minimalist, modern, bohemian, or somewhere in between, we've rounded up some of our favourite design elements so that you can add a bit of glamour to your everyday routine.
Industrial Chic: Industrial design is all about clean lines and bold statements. Think swanky New York loft with floor-to-ceiling windows, sparse functional furniture, and neutral colour scheme. Our favourite industrial design elements include floor-to-ceiling windows, doorless showers, and two-tone tile. Admittedly, floor-to-ceiling windows won't work for every bathroom or every budget. However, for those who do choose to invest, floor-to-ceiling windows make a major impact and can transform a tired bathroom into one fit for a magazine cover. If a window overhaul doesn't work for you, a doorless shower is another design element that screams industrial chic. Not only does it open up the bathroom and make it look bigger, but when paired with wood and metal materials it will also provide a modern, industrial feel. Our last industrial-inspired design element involves two-tone tile. We're talking black and white subway tiles that mimic that of an industrial kitchen. When paired with wood accents and brass fixtures, you might just find yourself forgetting you live in suburbia and not Lower Manhattan.
Mid-Century Modern: Mid-century modern design pays homage to the style of the mid-1900s. It's part minimalism, part retro and is almost always in style. Perhaps it's the low-lying furniture, straight lines and geometric shapes that instantly emit cool vibes. The boldest way to pull off this look in your bathroom is with floor-to-ceiling geometric tile in a dark colour. By creating a dark backdrop with the tile, your white bathroom fixtures pop, which adds dimension to your space. Although we love classic penny-round tile, selecting a hexagon pattern will pull your bathroom even deeper into the mid-century design. For those who want to test out the mid-century style before committing to a complete bathroom overhaul, we recommend going for a fun geometric wallpaper (bonus points if it has a bit of metallic).
Scandinavian Simplicity: Minimalism is all the rage right now and no one does it better than Scandinavians. Characterized by white colour palettes, functionality, and natural lighting Scandinavian design is simple and understated, yet anything but boring. This design style incorporates fewer pieces, which leaves you room to experiment with a singular bold piece such as a bright countertop or feature wall. The key is to maintain a neutral base so that your design elements pop. We love the idea of a white-washed bathroom with a turquoise marble countertop or wood-inspired feature wall behind the bath. Regardless of how you implement it, Scandinavian design is clean, simple, and always in style.
Breezy Bohemian: While Bohemian style generally conjures up images of long, flowing dresses and flower crowns, it's become much more than a fashion statement. Light and carefree, this eclectic style is all about doing what you want. This means breaking traditional design rules and making your home work for you. Sounds pretty great, right? Our favourite way to implement this design style is by mixing old and new pieces with lots of worn-in textiles. Picture a vintage chandelier hanging above a clawfoot tub and handwoven rug. You could even toss in a mid-century modern chair or items you've purchased from your travels. There's only one rule when it comes to bohemian design; if you love it, show it off.
For most of us, our bathroom bookends our day, we groggily greet in the morning and sleepily wash the day off of our faces at night. Given this prominent role in our daily routine, it makes sense that our bathrooms should spark a bit of joy in us. So, why not add a bit of your own style and make it truly yours? We can't wait to see what you come up with!