Enhance Bathroom Accessibility and Safety with These Must-Have Products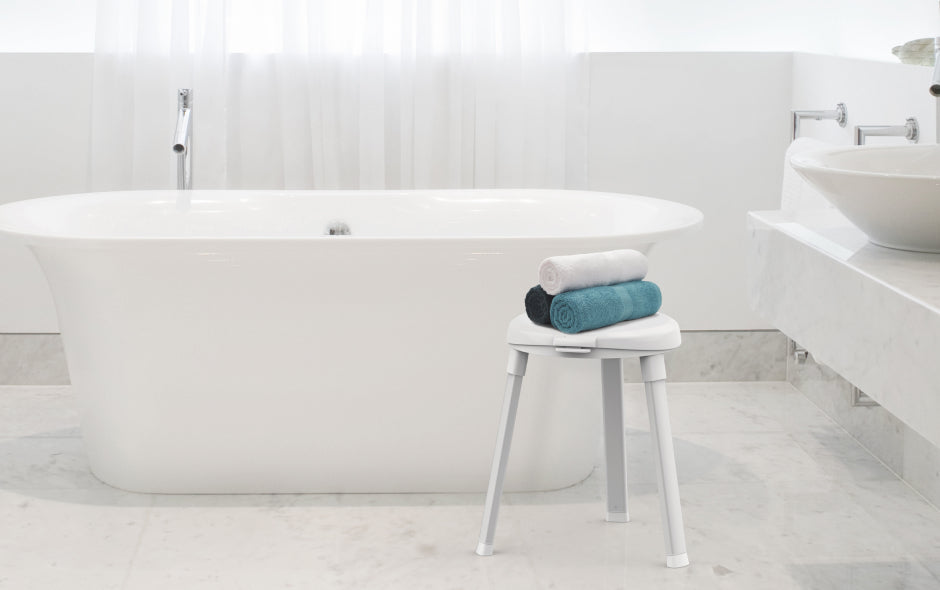 Did you know that your bathroom is the most dangerous room in your entire home? Yes, even your kitchen with all its heating elements (and literal fire on gas stovetops) doesn't surpass the number of injuries caused simply by using the bathroom. While the reasons for bathroom-related injuries vary, most incidents happen while getting in and out of the shower and using the toilet. And although the frequency of these incidents does increase for those sixty-five and older, slips and falls can happen to anyone.
Regardless of your age, improving the safety of the most dangerous room in your home should be a top priority. So, with that in mind, we're sharing a few products that will enhance the accessibility of your bathroom — making it safer for everyone who uses it.
Shower Seat: While it's no secret that water can make surfaces slippery, we were surprised to find out that more than two-thirds of emergency room visits are caused by injuries sustained in (or near) the bathtub or shower. And that's not even a senior-specific statistic! Fortunately, there are products specifically designed to make shower time safer for the entire family, like our Swivel 360 Shower Seat. The stable tripod design and non-slip textured surface make it an ideal safety solution for slippery shower floors. With its 360-degree rotation, you can securely turn while seated for optimal mobility or remain firmly in one of its six lockable positions. So, whether you simply need a non-slip surface to rest your foot while shaving or a secure place for Grandma to sit while washing her hair, this seat will ensure your shower remains safe and comfortable for the entire family.
Soap Dispensers: Seniors and children alike are especially at risk of losing their balance in the shower while stretching for objects that are out of reach. For children, this often involves standing on their tippy toes to access items on a shower shelf while seniors are more likely to struggle with bending over for items stored on the bathtub ledge. Being mindful of where you place your family's shower essentials can help you avoid these unnecessary slips and falls. Although you may not be able to change the height of your built-in shower shelf, our line of soap dispensers can be installed at any height, giving you the freedom to place them exactly where they are needed.
For most children and seniors, installing a soap dispenser at (or a bit above) counter height is usually a safe bet, but this will vary slightly based on your family's height. So, before you make any assumptions enlist the help of those involved to ensure your dispenser is placed properly for optimal shower safety.  
Extendable Squeegee: While your children and their grandparents may not be responsible for squeegeeing the shower, it never hurts to have an extendable option for those hard-to-reach areas. With its ergonomically curved handle that extends up to 18 inches, our Alto Extendable Squeegee allows you to reach every square inch of your shower glass, without the risk of standing on your toes to get to the very top. Believe it or not, even those of us in our prime aren't immune to the slick combination of soapy water and porcelain. So why risk it when there's a product that does the reaching for you?
Multi-Purpose Stool: Last but not least, we have the MVP of bathroom accessibility, our Multi-Purpose Bathroom Stool. With a weight capacity of up to 300 lbs, non-skid rubber feet, and a non-slip surface, this little guy is safe for the entire family. Use it as a footrest, stepping stool, or comfortable seat to supervise bath time. When placed next to the toilet, its innovative curved design acts as a discrete (and effective) squatting stool too — we promise not to tell if you don't!
Whether your bathroom needs to cater to the short, tall, young, old, or somewhere in between, these products will improve its accessibility and safety for all — giving you one less thing to worry about in the day.