Don't Forget to Pack These Dynamic Duos for Your Summer Vacation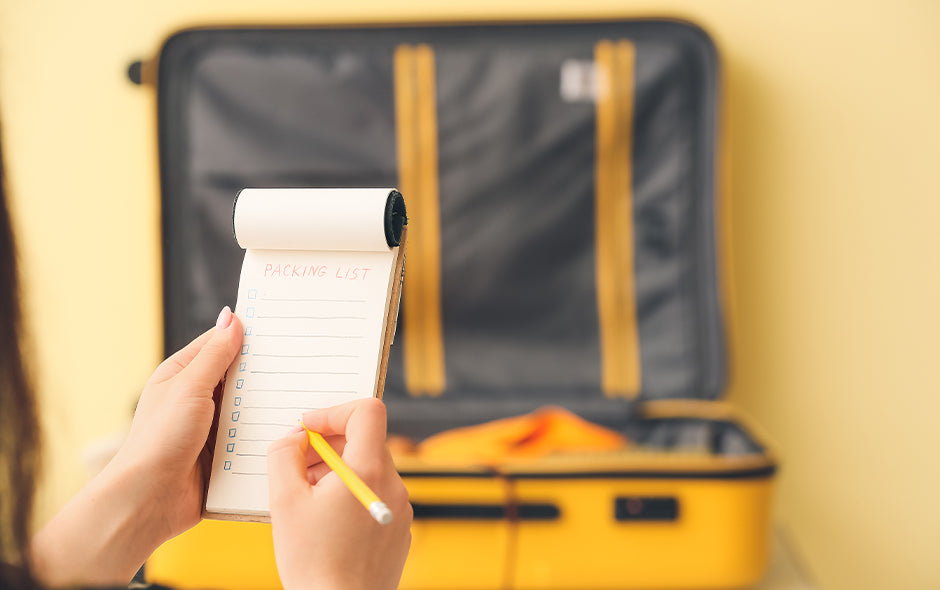 With the July long weekend behind us, summer is officially in full swing! That means families across the country are beginning to head off on their much-anticipated summer vacations. While vacations are all about fun for the kids, every parent knows there's a lot of not-so-fun prep that goes on behind the scenes. Everything from packing to passports to road trip snacks needs to be organized for a smooth travel day. But, what about once you get there? Although you can likely pick up a missed item or two, vacations are supposed to be about relaxing not running errands. So, let's make sure you're prepared before you hit the road this summer. Whether you are flying across an ocean or driving a few hours from home, these vacation essentials will ensure you are prepared for anything — bites, bumps, and bruises included!
Sunscreen & Aloe Vera: Since you'll be spending more time than usual outside, it's important to protect your skin from the harsh summer sun. Pack sunscreen with at least SPF 30 to apply in the morning and throughout the day, especially if you'll be in and out of the water. While spray-on sunscreens are the easiest to apply, they're also easiest to apply unevenly, which can lead to sunburns So, toss in a cheap makeup brush if your kids hate having sunscreen rubbed all over their faces (and most kids do). You can use it in lieu of your pokey fingers to blend the sunscreen onto their little faces.
Sometimes, even with careful application, sunburns can sneak up on you. This is especially true if you're outside in the middle of the day when the sun is at its strongest. Adding a small bottle of aloe vera to your toiletry kit will ensure you're prepared to soothe sunburnt skin, should they sneak their way into your summer vacation.
Travel Mirror: Packing a travel mirror is a must, especially when you're planning a getaway. Our VISO is the ideal companion for your travels! Designed to fit in a carry-on or purse for on-the-go grooming and primping. VISO is waterproof and fog-free in the shower, and it comes with a suction cup to keep it in place. You can keep your razor, makeup and other essentials in the handy travel pouch.
Band-Aids & Ibuprofen: Next up, we're prepping for the cuts and bruises that can accompany those priceless summer adventures. Empty a small box with different sizes of band-aids into your toiletry bag to ensure you have some nearby. It's also a good idea to have a small bottle of anti-bacterial spray to help clean the wound before applying the band-aid. And, just in case someone has a painful accident (or heat-related headache), it never hurts to have a bottle of ibuprofen or acetaminophen on hand too.
Bug Spray & Benadryl: Now, let's ensure you've got a good defense against the buzzkills of summer, those dreaded mosquitoes! Pack a family-safe bug spray (or make your own with essential oils) to defend against pesky summer bugs and prevent that dreaded itch. Unfortunately, being heavily coated in bug spray won't always guarantee you'll get off bite-free. Prepare for the inevitable bite or two by packing Benadryl cream or medicine to reduce the swelling and itching from driving you and your family crazy. We recommend both options, especially if you're vacationing with your pet. Benadryl pills can safely be given to dogs (in reduced doses) if they have an allergic reaction to a bug bite too, which can literally be a lifesaver if there isn't a veterinary hospital nearby. Don't forget to pack for your pet too!
Gravol & Pepto Bismol: For kids (and adults) with sensitive stomachs, even a bumpy ride in the back of an RV can lead to queasiness. If your vacation involves loading up the family motorhome or hitting the water on a boat, have some Gravol on hand to prevent nausea before it starts. Just in case someone gets a tummy ache unrelated to motion or seasickness, a bottle of Pepto Bismol is a must too. Something as simple as swallowing too much lake water while swimming can lead to some pretty severe stomach issues, so it's always best to be prepared.
Regardless of where your vacation takes you, preparing for these summer-related hiccups will help you make the most out of your summer vacation — after all, your kids shouldn't be the only ones having a good time!