5 Must-Have Products for Busy Family Bathrooms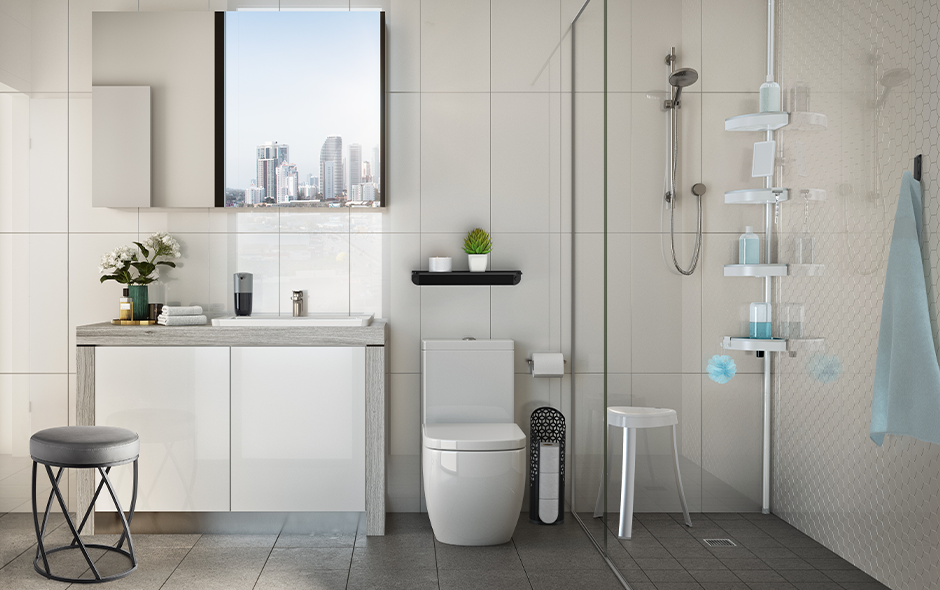 From your baby's bath time to your teenager's makeup studio and everything in between, your family bathroom plays host to a wide array of activities and is likely the most fought-over room in your home. So, we thought it would be a great time to share some of our favourite products that will help your bathroom function better for the whole family.
HiRISE 4 Tension Shower Caddy with Mirror: With multiple people using different products, one of the biggest problems in any family shower is the clutter, so let's fix that! Our HiRISE 4 Tension Shower Caddy with Mirror is the perfect organizational solution. The four large adjustable baskets provide ample storage while the inverted bottle holders allow you to squeeze every drop out of your favourite products. With its spring-loaded tension pole designed to be installed from a height of 5' to 9', this versatile model can be used in shower-bath combos and standalone showers. But that's not all! This model also comes with an adjustable fog-resistant mirror, making in-shower shaving and facials easier than ever – and eliminating those post-shower mascara raccoon eyes that we all loathe.
ULTI-MATE Shower Dispenser 3 Chamber: Our ULTI-MATE Shower Dispenser 3 Chamber is perfect for those looking for a more compact storage solution. This all-in-one dispenser holds up to three liquids and comes with a top shelf, soap dish, anti-fog mirror, and storage hooks. Like all our dispensers, this model is easily installed without tools, so you can sit back and enjoy your newly organized shower within minutes!
ROLLO Toilet Tissue Reserve Hexacube: If there's one universal truth about family bathrooms, it's that they go through a ton of toilet paper. While we don't have a solution for that, we do have a stylish way to store those extra rolls. Available in Matte Black or White, our contemporary ROLLO Toilet Tissue Reserve Hexacube holds up to four toilet paper rolls without taking away from your modern bathroom aesthetic. Now, if only we had a way to ensure your kids refilled it.
FACET 2 Hook Set: With multiple towels, housecoats, and discarded pajamas, there's always something in need of a bathroom hook. Our FACET 2 Hook Set includes one FACET Robe Hook and one FACET Double Hook for this very reason. You can easily place each hook on any flat, finished surface with the help of our superior waterproof tape. Available in Polished Stainless Steel or Matte Black, their rust-resistant finish means you can even place these in your shower for added storage options.
FOAMA Touchless Foaming Soap Dispenser: While you can't go wrong with any of our soap dispensers, our FOAMA is particularly suited for a family bathroom. A sensor-activated foaming soap dispenser with versatile multi-control settings helps reduce the spread of germs. Its simple, contemporary design with soft curves blends in with all the décor.
 Although we can't eliminate the morning battle for the family bathroom, our organizational products will help you host anything from makeover parties to toilet training, while keeping everything you need neatly in its place.