Common Design Mistakes You're Probably Making in Your Small Bathroom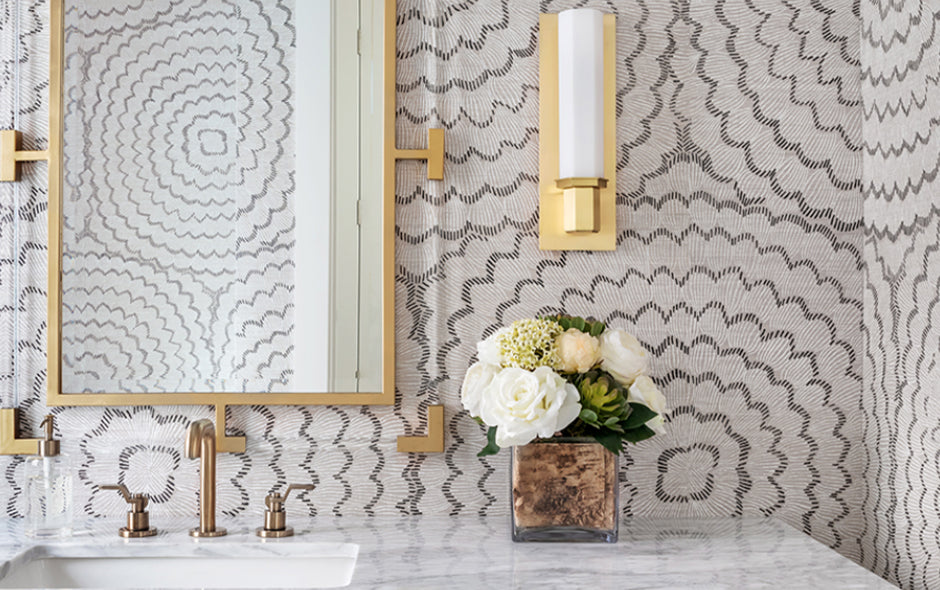 In the realm of interior design, few spaces are harder to style than tiny bathrooms. With limited square footage, storage, and wall space it can feel like your design choices are limited too. Unfortunately, this perceived lack of choice causes many of us to make the same design mistakes over and over again. But that stops today! Armed with a little creativity and the courage to defy a few outdated design principles, you'll be able to confidently style even the tiniest bathroom to absolute perfection — let's get to it!
Shying Away from Colour: Traditionally, designers have used white to bounce light around cramped spaces and give the illusion of more space. So, it makes sense that when tasked with designing a small space, most people immediately rule out dark or dramatic colours. Unfortunately, when you stick to an entirely white colour scheme, the lack of contrast can make the design of your bathroom fall flat. Flipping the script and using dark colours creates an intimate vibe that feels more inviting than an all-white palate. One of our favourite ways to incorporate dark colours is to pair a rich colour like a deep maroon or velvety dark green with the luxurious pop of brass hardware. Just remember to keep some lighter tones like your existing white door and toilet to avoid creating an overly dark space.
Choosing Décor Pieces Without a Purpose: We'll be the first to admit it's easy to get carried away with knickknacks, but you have to be really intentional about every piece of décor you bring into a small space. For this reason, decorative items with functionality are going to be your best option. For example, instead of buying a trio of tiny faux cacti, buy a trio of glass storage containers instead. You can fill them with anything from cotton balls to potpourri, as long as each jar is styled with purpose. Keep in mind that the reverse can also be true, so avoid functional items that don't complement the styling of your space — remember, every piece counts!
Assuming Small Spaces Require Small Design: Oftentimes, homeowners think that small spaces are only capable of carrying off small designs, but that can make your bathroom appear cluttered and even smaller. While you do have to be mindful of the scale of large fixtures, you can go big and bold with tile, wallpaper, and art. Consider using a large tile or printed wallpaper behind your vanity to create an air of grandeur and add some much-needed personality too. And while it's rarely top of mind in bathroom design, don't forget to utilize empty wall space with a statement piece of art. We often see sets of smaller pieces of art in bathrooms, but a singular large piece creates a bolder statement, so don't be afraid to embrace the contrast!
Keeping Your Products on Display: Although open shelving may be trending in home décor, when used in small spaces they create more clutter than calm. So, unless you're committed to pouring your products into visually pleasing containers, stick to closed storage solutions. Otherwise, your eye will instinctively be drawn to the clutter rather than the beautiful design elements you carefully selected.
Doing Nothing at All: Leaving your bathroom in all its builder-grade glory not only looks bad, but it can actually bring down the entire value of your home. Just picture your ideal home for a moment. Visualize the open floorplan, chef's kitchen, and cozy family room. Now, imagine that joy slowly fall away as you step into the bathrooms and realize they are completely basic without even an ounce of character or style. What a wasted opportunity, right? Luckily, a few minor upgrades can help you avoid this design faux pas and elevate your bathroom to match the rest of your carefully curated home. One of the easiest ways to make an impact is to replace your frameless builder-grade mirror with an ornate vintage piece or a more modern option. Remember, a little goes a long way in small spaces — you don't need much to make a big difference!
While there's no denying the unique complexities of small-scale design, it's entirely possible to create a showstopping bathroom even when you're short on square footage. Consider this your permission slip to toss those outdated design rules out of the window and get to work planning the bathroom you've always wanted!