4 Better Living Products Your Dad Will Love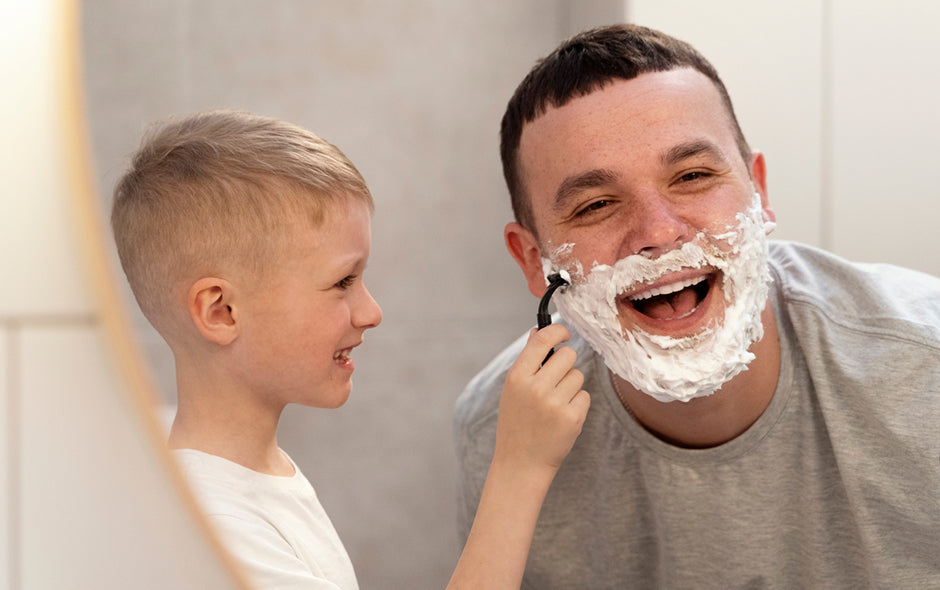 With Father's Day right around the corner, you probably know (or are) someone scrambling to come up with a great gift idea. While there's no disputing that our dads are notoriously difficult to shop for, if you're reading this blog, you're definitely too old to get away with a "Best Dad Ever" mug. Instead, get him something he'll use daily and wouldn't think to buy for himself. Still drawing a blank? Don't worry, we've hand-selected five products your dad is sure to love, and right now they're all 20% off with the code GIFTDAD20 (expires June 19, 2022).
*Psst the code also works sitewide, so you can pick up something for yourself while you're at it.
Glide Shower Shelf with Mirror: Give the gift of a more convenient shave with our Glide Shower Shelf. Its contemporary design will conveniently store all your dad's favorite products and comes with integrated hooks and a movable fog-resistant mirror for the perfect in-shower shave. On the off chance that your dad isn't 'wowed' by its design, we know he'll appreciate its strength. This little guy can hold up to 20lbs and your dad won't even have to get out his power tools to install it. A little silicon glue and double-sided tape are all you need to keep this guy nice and secure — and they're both conveniently included with your purchase.
Clever Double Shower Dispenser and Shower Shelf: If your dad has specific haircare that he loves our Clever Shower Dispenser and Shelf is the perfect gift. This complete organization kit includes two product dispensers, a shower basket/shelf, and up to 6 storage hooks. Plus, the unique Clever Flip Shower Shelf design allows your dad to choose whether he prefers basket or shelf storage, all it takes is a simple flip. So, whether your mom has lovingly encouraged your dad to try some hair-thinning products or he just really likes haircare himself, this unit will keep everything he needs neatly organized in one space.
HiRISE 4 Tension Shower Caddy with Mirror: Now this one is for the product-enthused dads who like to mix it up. Our HiRISE Tension Shower Caddy with Mirror is the Cadillac of shower caddies, so we know your dad will approve. It comes with four adjustable baskets, inverted bottle holders (for the budget-conscious dads who insist on getting every drop out of their products), storage hooks, and a fog-resistant mirror. Pretty fancy, right? But unlike an actual Cadillac, this all-in-one storage solution doesn't take up a ton of space. Its unobtrusive design fits neatly in the corner of most showers and tubs and even extends up to 9ft in height. With this shower caddy on hand, even the most product-obsessed dad will have a spot for everything he needs to get ready for the day.
Spa Shower Seat: This last product is for our beloved lazy dads. You know, the ones who would rather lounge in their lazy boy all day watching golf than play a round themselves. Unfortunately, we haven't quite figured out a way to waterproof a lazy boy, but our Spa Shower Seat is the next best thing. Its large comfortable seat and sturdy legs make it perfectly suited for all your dad's sitting needs. So, whether he likes to sit back and enjoy nice steam or needs a place to perch while washing his feet, this is the restful spot for just that.
Our dads know they're tough to shop for, and most of the time they don't even know what they want for Father's Day. So, this year instead of stressing yourself out trying to find the perfect gift, go with a functional gift that he'll get to use every day. Because if we know one thing about dads it's that regardless of their unique interests, every one of them has to shower, and these products make it so much simpler!