7 Must-Have Design Elements for a Luxurious Master Bathroom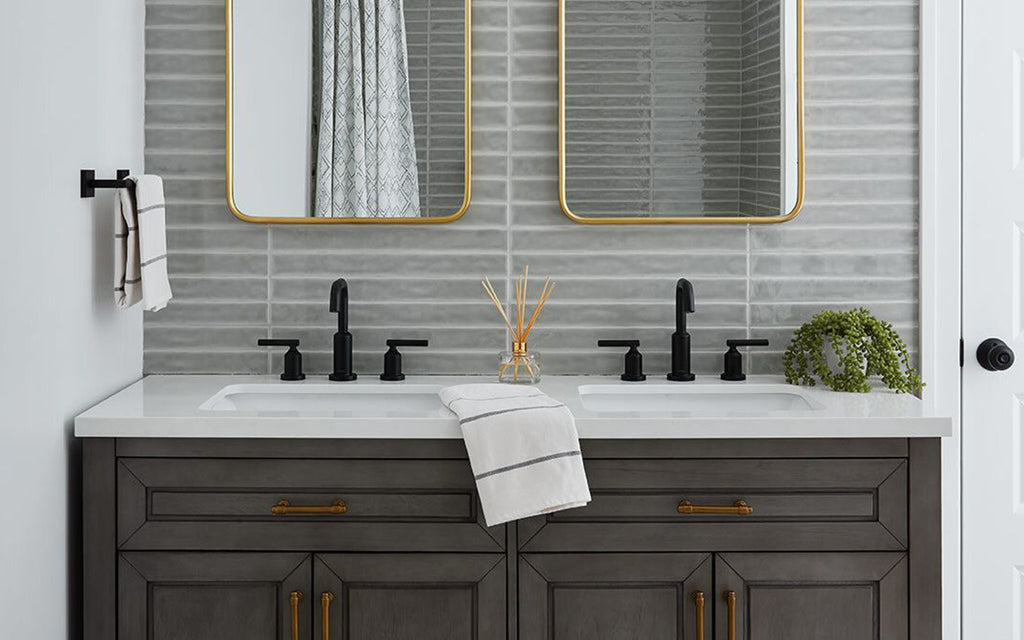 When it comes to real estate, everyone knows that kitchens and master bathrooms sell homes. So, it makes sense to splurge when renovating these areas (within reason, of course). If you've been saving up to remodel your master bathroom, this article is for you! We've rounded up several design elements that will add a luxurious feel to your master bath, so you can sit back, relax, and pretend your kids aren't anxiously waiting for you to finish up on the other side of the door.

1. Freestanding Bathtub: If you have the space and want a truly show-stopping focal point, a freestanding bathtub is an absolute necessity. Whether you're into a drool-worthy vintage clawfoot tub or an indulgent porcelain soaker with integrated jets, a high-end bathtub will instantly transform your bathroom from drab to fab. Bonus points if you make it a feature by adding ornate wallpaper or a chandelier nearby. Even if you're not into taking baths, we're of the mindset that the right tub can convince anyone to ditch the shower and opt for a long, luxurious soak!

2. High-end Finishes: With strategically chosen finishes, you can transform an ordinary bathroom into something truly breathtaking. So, if you like the layout of your bathroom but are looking for a bit more oomph, why not try on some high-end finishes for size? While your budget will ultimately guide your design direction, we have a soft spot for the timeless elegance of marble tile with brass accents.

3. Statement Double Shower: Although a double shower won't work for every bathroom layout, we simply had to include it on our list. Nothing is quite as indulgent as an oversized double shower. It's a truly luxurious addition with maximum design impact. Plus, it means you'll never have to wait for your significant other to get out of the shower again, which might just be worth the price tag — especially if your partner is particularly pokey in the mornings.

4. Heated Floors: With luxury comes unparalleled comfort, and that certainly doesn't include being cold. So, if you're planning out the bathroom of your dreams, heated floors are an absolute must! Not only are they super cozy, but the targeted heating can actually save you money on your energy bill. Talk about a win-win! Add in a heated towel rack and you can say goodbye to those post-shower shivers. We're feeling cozy already!

5. Luxury Light Fixture: Another sure-fire way to up the ante in your master bathroom is by adding a show-stopping light fixture. The possibilities are truly endless, but we're a bit partial to chandeliers and expansive modern fixtures. It may seem like a small swap but trust us when we say that a new light fixture can make a world of a difference.

6. Customized Storage: Nothing is truly luxe without a bit of customization, and we're suckers for customized storage solutions (shocking, right?). Built-in shelving for your bathroom necessities will give your bathroom a high-end hotel feeling while also ensuring all your clutter stays perfectly in place. Is it even possible to say 'no' to high-end design and function? We didn't think so.

7. Double Vanity: Let's be honest, there's nothing lavish about sharing a sink – especially with someone who decorates it with discarded toothpaste (we're looking at you, husbands). Not only does a double vanity up-level your bathroom design in the very best way, but it can also be a gamechanger for your relationship. And if you think that statement may sound a tad dramatic, you've clearly never tried to wash your face in a sink full of stubble. Having the ability to keep your sink as clean as you like is the definition of luxury – and we know our fellow neat freaks will agree.

While there are certainly times to be economical, now is not one of those times. You've waited long enough for the bathroom of your dreams – make sure it's been worth the wait!