4 Reasons Your Kitchen Needs a Countertop Soap Dispenser (and a few of our favourite models)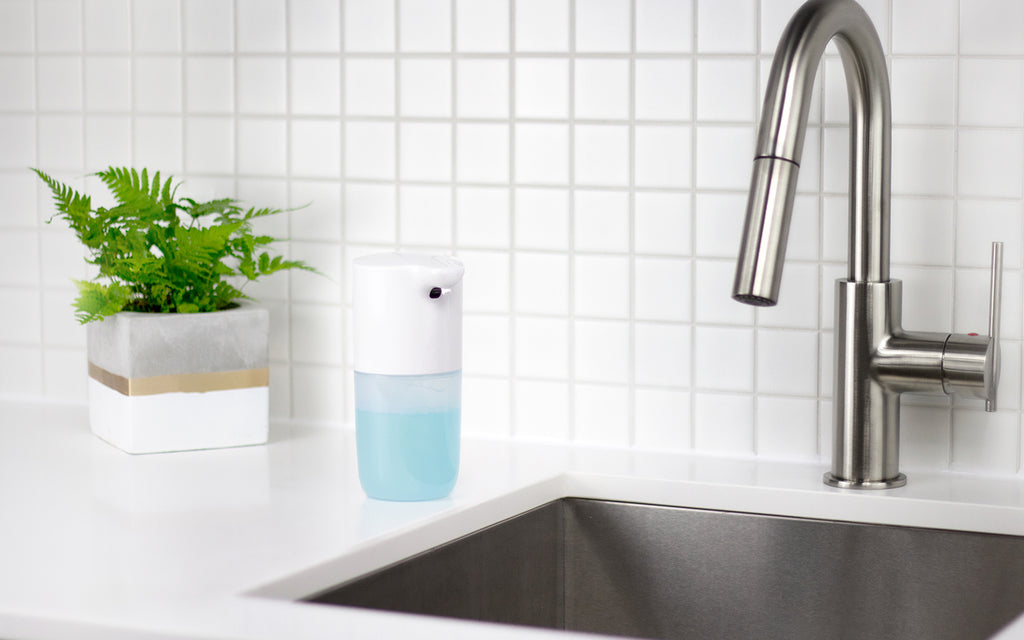 At Better Living, we're all about the organized bathroom (it's even the name of our blog), but it wouldn't be fair to limit our beautiful dispensers to one area of the home. So, we're venturing into the kitchen to tell you all about the benefits of countertop dispensers and sharing a few of our favourite options — let's get started!
Complements Your Existing Design: While most store-bought soap containers add a sense of clutter to your countertop, a refillable dispenser will complement your existing design. Whether you're into sleek and modern lines or elegant and functional design, there's a dispenser for you.
Saves Money: Most bottles of hand soap cost around $5 apiece. If you wash your hands as obsessively as we do while preparing raw meat, that $5 bottle rarely lasts more than a few weeks. But, if you buy in bulk and choose a foaming dispenser you can save loads of time and money since our foaming dispensers use up to 70% less soap!

More Eco-Friendly: The soap you buy from the grocery store comes in a single-use plastic bottle – and we all know how bad plastic is for the environment. A single soap dispenser can prevent you from buying dozens of single-use plastic containers a year. Imagine how massive that impact could be if everyone switched to a reusable soap dispenser. And, if you're wondering how the heck you refill it without purchasing more plastic, simply head to your nearest bulk or container-less store with a reusable glass container (the bigger the better) and store it beneath your sink. Then, when you run out of soap (which will be less often with a foaming dispenser), you can just refill it rather than running out to the store to get a replacement. Easy, peasy!
Kid-Proof: It's no secret that kids are clumsy and tend to spill any liquid that crosses their path. While regular soap containers can easily tip over and spill (especially when they are nearly empty), refillable soap dispensers stand their ground. So, if your kid has knocked the soap into the sink or onto the floor one too many times, one of our countertop soap dispensers could save you loads of clean-up time.

Here are a few of our favourite dispensers for kitchen use:
FOAMA Touchless Soap Dispenser: The simple, contemporary design of our newest touchless dispenser will complement nearly any kitchen design. Its automated, touchless technology and splash-resistant design make it one of our absolute favourite dispensers for kitchen use. It even comes with three adjustable volume settings so you can dispense the exact amount of soap you desire — making washing away harmful traces of raw meat and other contaminants a breeze!

FOAMING Soap Dispenser: We're currently obsessing over our FOAMING Soap Dispenser in Black. Its sleek modern design makes it a showstopper on any countertop. Plus, its integrated foaming technology uses up to 70% less soap, which saves you money and is easier on the environment.

CLARA Foaming Soap Dispenser Large: Ah, the crème de la crème of our countertop dispensers, the CLARA. Its elegant and modern design makes it perfectly suited for your carefully styled kitchen countertop. Available in medium (200ml) or large (250ml), its ergonomic pump creates a rich foam while using a fraction of the soap of a regular dispenser — saving your pocketbook and the environment simultaneously. Pretty impressive feat for a handy little dispenser, right?

While the kitchen can be one of the messiest rooms in your home, it doesn't have to be. With carefully selected accessories your kitchen can be both beautiful and functional – and what could be better than that?