5 Tips to Keep Your Skin Happy and Healthy All Summer Long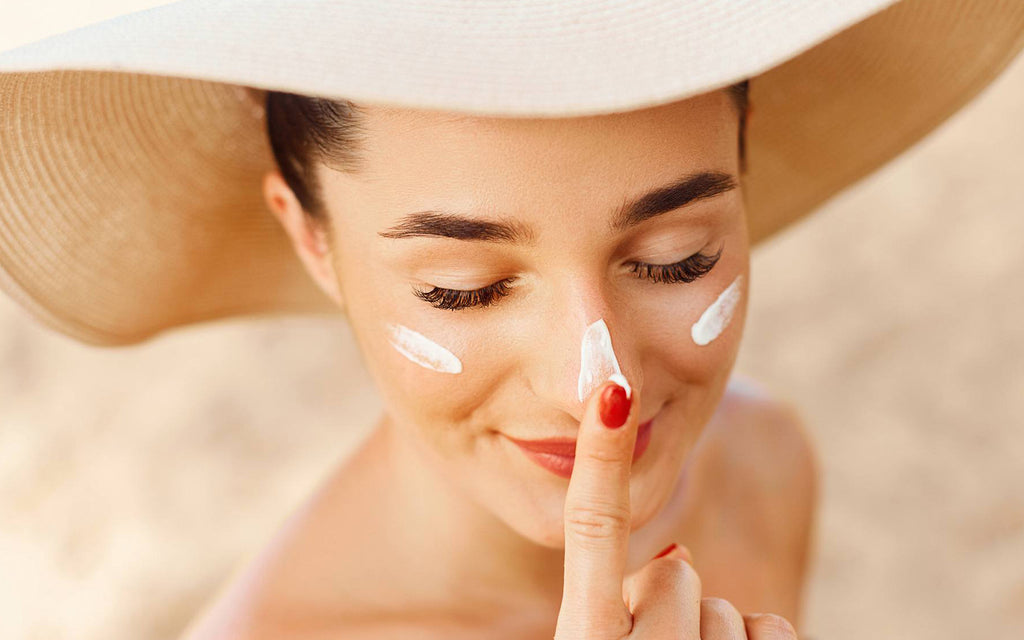 There's just something about summer that hits different than the rest of the year. Maybe it's a combination of the longer days, outdoor adventures, weekend BBQs, and the warmth of the sun on our skin. We all have different reasons to love the summer months, but one thing holds true – no matter who you are, you likely spend way more time outdoors in the summer than any other time of the year. And while being outdoors is great for boosting your mood, it's not always the best for your skin. As much as we are devoted to our five-step skincare routines, we are just not willing to give up those long summer days to protect our skin. So, instead of hiding inside until fall, we're playing defense with skincare tips that protect our skin while we enjoy the great outdoors!
1. Sunscreen, Sunscreen, and more Sunscreen: Now, sunscreen is an obvious summer skincare tip, but its importance cannot be overstated. Sunscreen is without a doubt the number one way to protect your skin and that rings true all year round (yes, even when it's cloudy). So, as you spend more time outdoors remember to apply before you go and to keep a bottle in your bag to reapply every two hours or so. For optimal protection, you should be using sunscreen with UVA and UVB protection and SPF 30 (at minimum). We know sunscreen can be a pain but trust us when we say that your youthful-looking skin will thank you.
2. Stay Hydrated: Although you may not need your heavy-duty winter moisturizer in the summer months, you do need to keep your skin hydrated from within – especially during those sweaty summer heatwaves. It's suggested that the average person should drink roughly 2.5 liters of water daily during warmer months. Now, this may sound like a lot (and it is), but it makes sense when you consider excess sweating and time spent in direct sunlight. Drinking water keeps your body healthy which in turn keeps your skin happy, so don't forget to drink up – and remember, iced coffee doesn't count!
3. Seek Out Shade: While we enjoy having a golden tan as much as the next person, it's simply not healthy to stay in the sun all day long. Since the sun is the most intense midday, try heading indoors for a lengthy lunch or seek out shade between 12:00 – 2:00 p.m. Not only will this help prevent sunburns, but it will also limit your chances of experiencing symptoms of heatstroke like that dreaded summer headache. Don't worry, your tan won't notice that you've taken a brief break from the sun.
4. Cover Up: As it gets hotter, most of us naturally wear less clothing to try and beat the heat. And while this makes sense, covering up can actually keep you cooler by preventing sunburns and heatstroke. Our go-to summer essential is a wide-brimmed hat, which protects the face, chest, and scalp from sunburns and looks particularly fabulous while doing it.
5. Stick to your Routine: This summer has flown by and you're probably busier than ever trying to fit all the summer activities in before fall makes an unwelcome entrance. However, just because you're busy (or on vacation) doesn't mean your skincare routine should take a back seat. The extra sunshine, heat, and time spent in the water (especially chlorinated pools) can be hard on our skin, so it needs all the TLC it can get. At minimum, your skincare routine should include a cleanser, moisturizer, and sunscreen, but you get bonus points for including a hydrating serum and exfoliant. Just remember to take extra precautions after using exfoliants as they can make your skin more susceptible to sunburns.
With less than eight weeks left of summer, let's make a pact to protect our skin while exploring the great outdoors, so we can all enjoy youthful skin for years to come! Who's with us?