6 Tips to Consider Before Installing a Steam Shower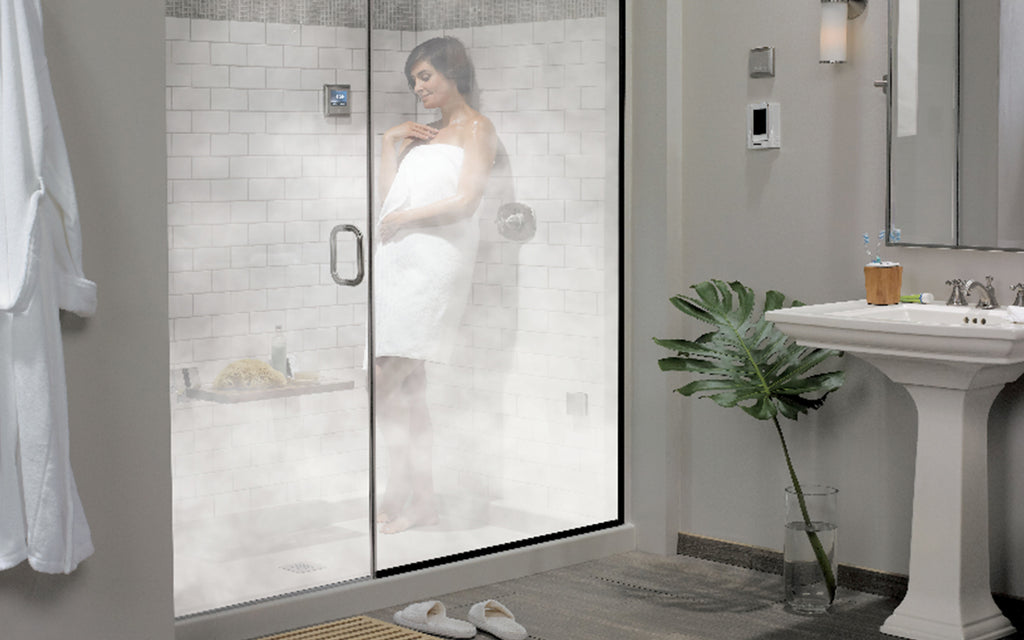 Let's be real for a second, 2020 has been a lot. Expansive health regulations and economic uncertainty have touched us all in different ways and as a result, we're dealing with more stress than ever before. Unfortunately, many of the places frequented for stress relief such as spas remain closed, which has left us with no place to truly unwind. With that being said, there has never been a better time to invest in one of the most relaxing aspects of any spa-day – the steam room. While installing a steam shower may seem a bit extravagant, it's entirely attainable and needed now more than ever. Before you rush online to hire a contractor and order supplies for your new oasis, read through these tips to ensure a steam shower is suitable for your existing bathroom.
1. Measure it Out: Our first tip is an obvious and easy one – measure your bathroom. Although steam showers can be a variety of shapes and sizes, some specific requirements need to be met to ensure it functions properly. Ideally, the height of your steam shower will be 8ft or lower. Anything higher will require you to invest in a more powerful (expensive) steam generator to fill the extra space. Experts recommend that a steam shower should measure no less than 3ft x 3ft x 7ft. If you have that kind of real estate available in your bathroom or an adjoining room, you're off to a good start, but the measuring doesn't stop there. You'll also want to measure out the location of the steam head and shower panel. Generally speaking, the steam head should be located 6-12 inches above the floor, on the opposite side of the seating area, and a good distance away from your shower door. For safety and convenience, the control panel should be placed away from the steam head and about 4-5ft above the floor line.
2. Choose the Right Materials: As with any bathroom installation, it's important to select quality materials that can withstand heat and moisture. Choose a non-porous material such as ceramic tile to ensure that the walls don't absorb any moisture. The type of shower door you choose is also extremely important as it must be water-tight to ensure all of the moisture stays within the confines of your steam shower. Similarly, if there are any windows in your steam shower, they need to be double-paned. Lastly, any lighting fixtures within the steam shower must be vapour sealed and approved for use in steam showers. Light fixtures with a ground fault circuit interrupter (GFCI) are ideal as they shut off if any moisture is detected in the fixture. Remember: safety, first.
3. Consider The Logistics: In addition to measuring the space and selecting materials, there is a slew of electrical and plumbing logistics that need to be carefully assessed before installing a steam shower. A qualified plumber and electrician must be utilized to ensure all codes and regulations are met. While we're huge proponents of DIY, you don't want to DIY when it comes to electrical and water.
4. Research Proper Sealants: Not to sound like a broken record, but when it comes to steam showers, using proper sealants is critical to avoid leaks and contain the heat. As we briefly mentioned, any windows within the shower should be double-paned. This prevents cold outside air from entering the steam shower and contains the steam and heat within the confines of your shower. Some experts also suggest that homeowners use cement backer board, a waterproof membrane, and high-quality silicone caulk for extra barrier protection.
5. Choose a Seating Option: Don't forget to consider your seating options. You'll likely spend more time in a steam shower than your average shower and that will include a lot of sitting. For built-in seating, make sure it is slightly sloped for optimal comfort. If your shower is short on size, you may want to consider a seat like our SMART 4 Shower Bench that is portable and requires no installation. It features an extra-large seat and non-skid rubber feet, perfect for an area with a lot of moisture. 
6. Don't Forget About Safety: Last but certainly not least, consider any and all safety precautions that need to be in place. Always comply with electrical safety regulations, especially when moisture is nearby. You may also want to consider additional safety measures such as non-slip flooring and a cool-to-touch steam head (to avoid accidental leg burns).
While there's no denying that a steam shower is a luxurious bathroom addition, in times like these we need all the comfort we can get. So, if you've been dreaming of a steam shower of your own, we wholeheartedly support it! Fall is right around the corner and there's nothing quite like a steam on a brisk fall day.