5 Products That Will Simplify Your Beauty Routine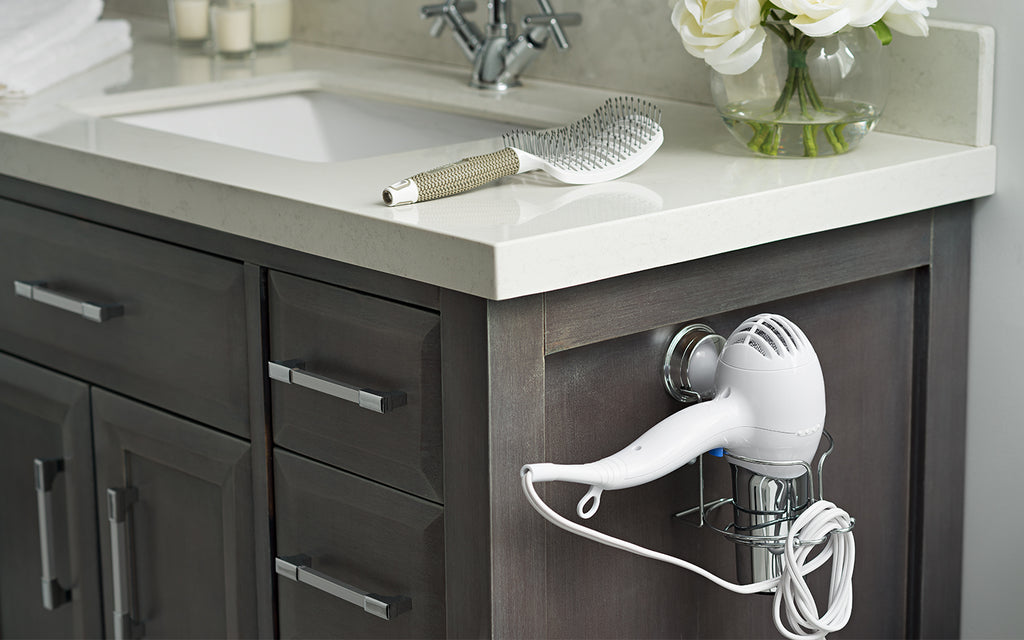 While our morning routines may look a bit different these days, they are still pretty chaotic. Whether you're working from home with the kids or rushing out the door to work, we all could benefit from a simplified morning. Although we can't offer you any tips on how to cook breakfast, unload the dishwasher, and blow-dry your hair simultaneously, we can help you shave off a few extra minutes in the bathroom. The key is to use organizational products that ensure all of your most-used products are easily accessible – which just so happens to be our specialty.
1) Shower Shelf & Mirror: Any woman will tell you that her shower routine entails much more than simply getting clean. Although we may occasionally have the luxury of a long drawn out shower or bath, most of the time we have to multi-task. While we'll humbly admit that we're pretty good at multi-tasking on our own, it doesn't hurt to have a little help. Our GLIDE Shower Shelf w/ Mirror is your one-stop-shop for all your shower needs. The 18inch shelf has integrated hooks and a fog-resistant mirror, so you can store your products, hang your bathroom accessories, and conveniently give yourself a mini-facial. Just remember to avoid using hot water when washing your face, as it can damage your skin's moisture barrier.
2) Shower Seat: If you think shower seats are just for senior citizens think again. Our SMART Foot Seat will make you a shower seat person for life. No longer will you have to haphazardly balance with your foot against the wall or bend yourself into a pretzel to get the perfect shave. Its corner-fit design provides the perfect height to rest your foot or take a seat. Regardless of how you shave, this shower stool will allow you to say goodbye to your shower acrobatics and the injuries that go with it!
3) Vanity Seat: When it comes to weekday routines, it's safe to say that everyone is in a hurry. That means we should be comfortable while we rush to get ready! The MODERNA Extra Wide Vanity Seat is a luxe addition to your bathroom or bedroom vanity. This modern vanity seat provides comfort and convenience while complementing all types of décor. The wire rack provides storage for frequently used items, like towels, slippers and storage containers. With comfort at your fingertips, your morning routine will go so much smoother and may even leave you enough time to grab that coveted iced latte before work.
4) Mirrored Medicine Cabinet: There truly isn't a more convenient bathroom product than a mirrored medicine cabinet. It allows you to discretely and conveniently store your beauty products while also providing a mirror for seamless makeup application. Our Mirrored Medicine Cabinet comes with adjustable shelving, so you can organize your products as you see fit. While there are tons of makeup organizers on the market, the convenience of seeing all of your products neatly stacked in a cabinet just can't be beat. Plus, it gives you an opportunity to channel your inner beauty blogger and snap a "shelfie" of your beautifully organized products.
5) Hair Dryer Holder: Last, but certainly not least, our STICK 'N LOCK PLUS Hair Dryer Holder is perfect for anyone who enjoys a daily blow-out. Its stick-and-lock design allows you to easily install it on any flat, finished surface. So, whether you want to hide it inside a cupboard or place it on the side of your vanity for easy access – it's good to go. Don't blow dry your hair that often? No problem. The holder can also be used to hang a hair straightener! Give it a try. We'd be willing to bet you won't go back to storing your styling products in a tangled mess of drawers ever again.
Whether you've adopted a 7-step skincare routine or are a minimalist at heart, everyone can benefit from an extra few minutes in the morning. With a little help from these organizational products, your morning routine can become something you look forward to rather than a chaotic race to get out the door.