How to Design a Bathroom That's Easy to Clean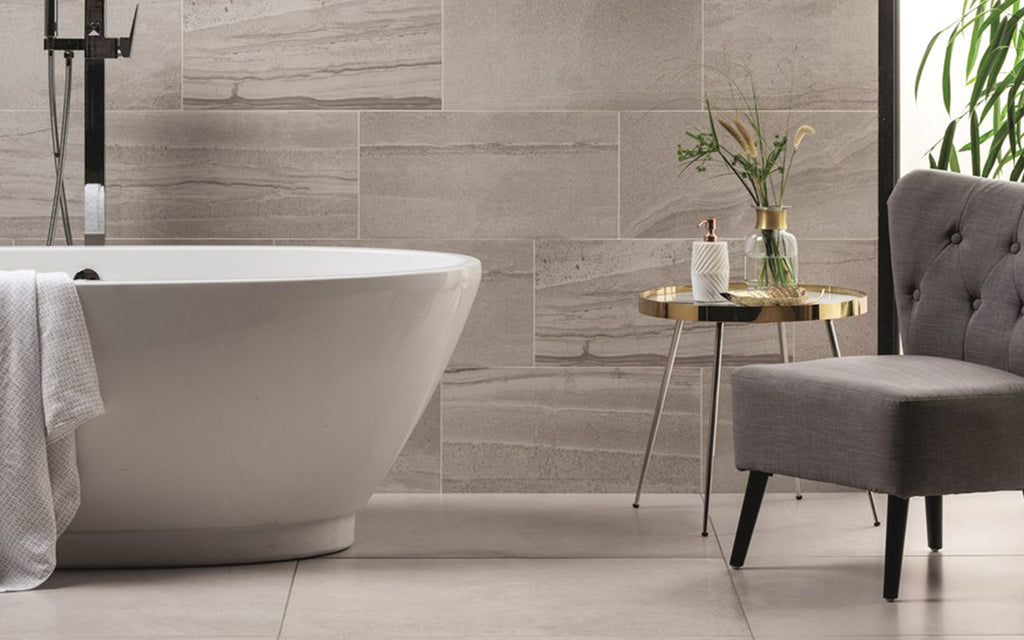 Let's face it, nobody likes cleaning their bathroom. While the clean-obsessed may tout the meditative benefits of cleaning, the 'ick-factor' of bathrooms makes it more stomach-turning than mind-clearing. Trust us, we've cleaned plenty. Unfortunately, as much as we loathe certain chores, like cleaning the toilet and scraping soap scum off our showers, it's a job that must be done. So, aside from rocking out to a killer playlist while we clean, is there anything that can be done to make this dreaded task easier? We're so glad you asked. Selecting the right fixtures and finishes can drastically reduce your cleaning time and we're here to help you get there.
Channel Your Inner Minimalist: Hands down, the best way to minimize cleaning time in the bathroom is to live by the minimalist mantra 'Less is more'. Just think about it, the fewer corners, crevices, grout lines, and clutter – the less there is to clean. So, when you're shopping for new fixtures and finishes look for clean lines and seamless design. Here are a few tips to get you started:
• Streamlined Toilets: Unless you've renovated your bathroom in the past five years, chances are pretty good that you have a traditional toilet. You know the one that has a curved base with teeny tiny crevices and that impossible to clean gap between the back of it and your wall? Don't worry we hate it too. The good news is that modern toilets are all about sleek design. Our top picks for easy-to-clean toilets are wall-faced or back-to-wall toilets that sit parallel to or against the back wall (eliminating that pesky crevice). Within those categories, look for toilets with straight, seamless sides so that you can wipe the base down nice and quick. The less time you have to spend cleaning a toilet, the better.
• Frameless Showers: Another area that can save you loads of cleaning time is the shower. A good rule of thumb is to choose an option with minimal chrome framing or brackets. The more glass the easier it is to spray and hose down with your shower head. It's also possible to apply a coating to the glass that reduces the build-up of soap scum, dirt and prevents fogging. Investing in a great shower squeegee is another way to keep your glass doors spotless and streak-free. Check out our selection of Shower Squeegees Here. 
Choose Your Materials Wisely: While it's easy to let high-end finishes get the best of us, function and durability will outlast the latest design trends. Take that white subway tile that's in everyone's bathrooms and kitchens. At first glance, the white is absolutely stunning, but the grout lines collect grime, soap scum, and can even stain. Yuck! Instead of choosing a small subway tile with even smaller grout lines, opt for large tiles with fewer grout lines (to clean, seal, and protect). Remember, when it comes to tile – bigger is better.
You should also keep function in mind when it comes to choosing your countertops. Look for options that are easy to clean, designed for wet areas, and non-porous. Both ceramic and hybrid quartz-based stones are great options for style and durability. Plus, ceramic stone has the added benefit of high heat tolerance, so some of us don't have to worry about leaving our hot straighteners on the countertop!
Embrace Open Space: This can be a tough one if you're dealing with a small footprint, but if you have extra space, embrace it! Resist the urge to decorate or fill every spare inch of your bathroom. Too much clutter adds on to your cleaning time and makes your bathroom look much smaller than it is. If you're not sure how to do this, start with your vanity. Although vanities serve many purposes (mainly storage), they also take up a large chunk of real estate in your bathroom – not to mention they're annoying to clean around. Floating vanities leave the space underneath nice and open so you can vacuum and mop with no issues. Floating vanities also require less upkeep than their legged counterparts. Why? Well, you don't have to worry about water collecting around wooden legs and causing cracks and mould. Like we said, the simpler the better. If you're short on storage but still want to embrace the space in your bathroom, consider a Mirrored Medicine Cabinet. Everyone needs a mirror in the bathroom, so you might as well get one that neatly stores all your favourite products, right?
Although we won't claim to make cleaning your bathroom fun, it is pretty fun to design a bathroom that will limit the time you spend cleaning it. Keep these tips in mind during your next renovation and your future self will be sure to thank you.