6 Fresh Design Trends for Your 2020 Bathroom Renovation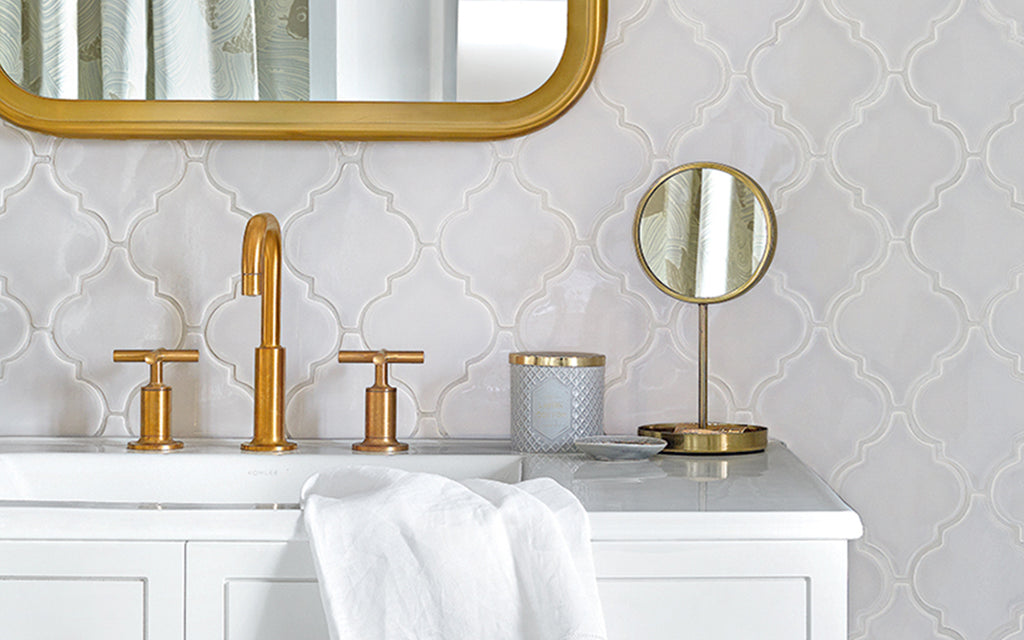 Each year brings with it new trends, whether it be in fashion or home décor. This year, designers are finally stepping outside of their beloved white subway tile box and stepping into the land of colour. So, if you're looking for a bathroom design that's a bit unexpected, listen up. We've got you covered with our favourite design trends for 2020.
Showstopping Showers: Move over freestanding bathtubs, it's time for showers to take center stage. While an oversized glassed-in shower is nothing revolutionary, this year is all about making it a work of art – and why not? It's the perfect spot to inject a bit of personality in an otherwise whitewashed space. We love the idea of installing a feature wall with a colourful or patterned tile in the shower. Designing a feature wall in the shower creates a focal point without the hefty price tag of something like an antique clawfoot tub. Simply use a more affordable tile (subway works great for this) on the remaining walls.
Oversized Tile: If you're not into bright colours or patterned design, this might be the trend for you. Oversized tiles are making waves in 2020 and we are all for it! Although oversized tile may feel like the wrong choice for a relatively small space such as your bathroom, it can actually make it feel bigger. Not only that, but minimalistic grout lines and large-scale tiles give off a feeling of luxury that even the most pristine subway tile can't match. We know it's not the norm, but you'd be surprised at the impact an oversized tile can make in your bathroom. Go ahead, dare to be different!
Brass Fixtures: Yes, you read that right, brass is back! While brass was all the rage in the 1980s it has been enthusiastically replaced by stainless steel and chrome – until now that is. Brass is set to make a major comeback but in a slightly different tone. So, if you've put off renovations since the '80s, you'll still need to replace your fixtures as the new brass is much warmer than the shiny fixtures of the past. The brass of 2020 is raw, warm and antique. It's all about complementing your existing design and brass pairs perfectly with warm wood accents, navy tiles, or marble countertops.
Pops of Colour: Everyone loves a clean white bathroom, but if we're honest, it can get a little boring. That's why this year designers are bringing in some much-needed colour. If you're partial to clean crisp lines, consider a deep navy tile paired with buttery brass fixtures. Or, if you're into retro vibes, an aquamarine subway tile looks amazing with vintage tropical wallpaper. Regardless of your style, when you bring in a pop of colour, a whole load of personality comes with it.
Zen Vibes: If bright and bold isn't your forte, then pay attention to these next two subtle trends. Designers are loving all things Zen this year. That means embracing a more neutral color scheme that emulates the serenity of a spa. Think earthy tones, like a sand-coloured tile coupled with wooden accessories and minimalistic fixtures. We feel more relaxed already.
Natural Woods: This stripped-back design celebrates nature in its most natural state, so forget about dark stains or high-gloss treatments and look for sawn and treated grains instead. Utilizing natural woods in the bathroom creates a tranquil spa retreat by bringing the outdoors in. There's just something about the stark contrast of natural woods and shiny porcelain fixtures that creates a stunning backdrop for the perfect spa day. Trust us.
Design trends may come and go, but your personality and taste will stand the test of time. So, while trends are nice to keep in mind (especially for resale value), stay true to what you love when renovating your bathroom. After all, you're the one who has to see (and use) it every day.