5 Ways to Aesthetically Organize Your Bathroom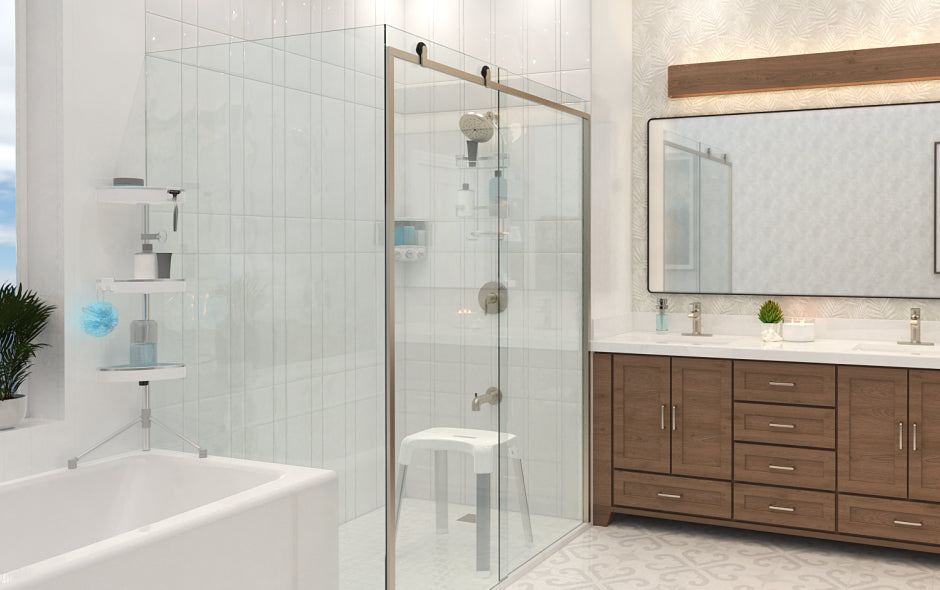 Tired of bathroom clutter causing frustration? You're not alone. From damp towels strewn on the floor to toothpaste tubes left open on the sink, a disorganized bathroom can be exasperating, especially when living with others. Apart from considering evicting the messiest culprits (often our children), the secret to bathroom organization lies in assigning every item a designated spot and ensuring that spot is easily accessible. These five organization tips could be your solution to the perpetual rush caused by a cluttered bathroom.

Streamline Your Shower Space: Showers and bathtub surrounds often become hotspots for clutter in bathrooms. With various hair products, bubble baths, and razors, the mess can escalate quickly. To reclaim your shower space, installing a caddy such as the ARIES 3 Tier Shower Caddy can be a game-changer. This caddy offers three shelves and two utility hooks, providing ample space for everyone's essentials, leaving the floor open for those impromptu shower dance sessions. In addition, the versatile HiRISE 3 Standing Shower Caddy can be used either in the corner of a shower or on top of most tub ledges. Standing 3-feet tall, this organizer has three large adjustable shelves with integrated upside-down bottle holders and 2 movable accessory hooks for razors and loofahs. The adjustable feet levelers and suction wall attachment ensure this shower caddy remains balanced and stable, even on uneven surfaces, like a sloped shower floor.

Repackage Products: Even with a shower caddy, your space might still feel cluttered. A solution is to bid farewell to mismatched product bottles. However, don't toss your products; instead, repackage them for a more aesthetically pleasing look. Consider the TRIO Shower Dispenser, equipped with three dispensing chambers to accommodate your frequently used products. This small change can transform your bathroom from a chaotic scene into an elegant haven.

Embrace Labels: A critical aspect of organization is clarity. Make it easier for everyone by labeling storage spaces. Utilize a label maker along with clear containers to divide your cupboard space. Transparent bins can house items like makeup pads and Q-tips, while functional bins categorize products like haircare, skincare, and dental items. By having designated spaces for everything, your bathroom will maintain its neat appearance effortlessly.

Maximize Cupboard Space: Though cupboards can easily hide messes behind closed doors, an organized cupboard is far more efficient. In addition to labeled containers, try using a lazy Susan to store frequently used items. This not only grants easy access to products but also prevents an avalanche of items when you reach for something in the back.

Tidy Up Your Drawers: Drawers also deserve attention in the organization process. Searching through layers of makeup for that perfect lipstick shade while an Uber waits outside isn't ideal. Make use of drawer dividers to categorize products, ensuring everything has its designated place. Reserve drawer dividers or lazy Susans for your most-used items, while clear bins are excellent for less frequently used products. Organizing your drawers will save you time and frustration in the long run.

Bathroom organization may seem daunting initially, but once everything finds its rightful place, maintaining order becomes a breeze. Try implementing these tips and encourage your family or roommates to join in, creating a bathroom that brings joy instead of irritation.