6 DIY Bathroom Improvements for under $100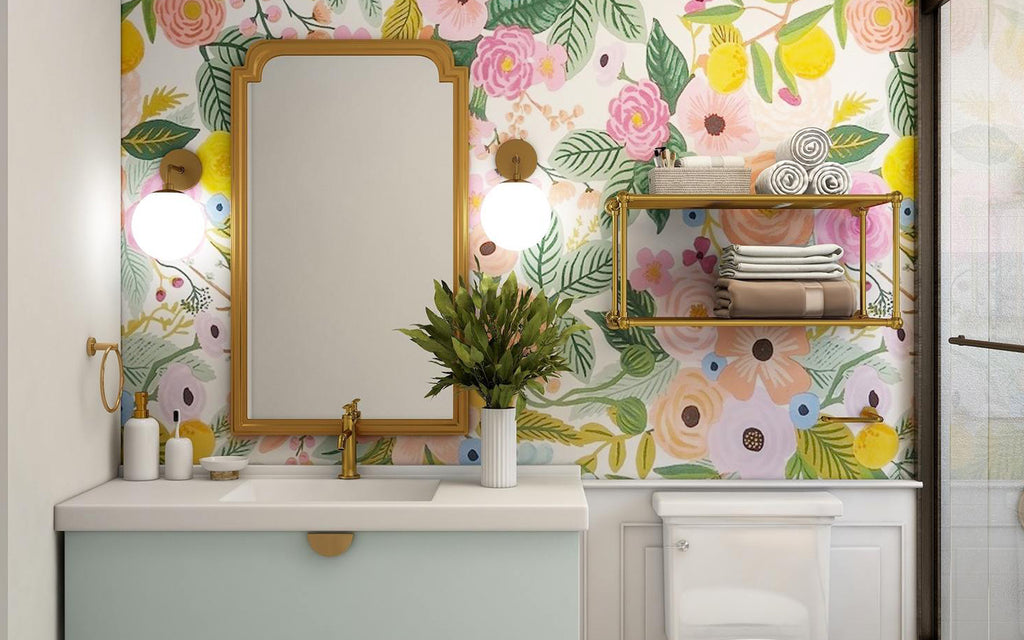 It's no secret that bathroom renovations are expensive, but that doesn't mean you can't make design changes on a budget. While replacing your bathroom fixtures may be out of reach, you can make some seriously impactful changes with a little elbow grease and less than $100.
Here are a few tips to get you started:
1. Fresh Paint:
Springing for a can or two of paint is undoubtedly the most affordable and easiest way to redesign your bathroom. It's almost magical how a fresh coat of paint can instantly transform a space, and that magic extends far beyond your bathroom walls. For an even bigger transformation, consider painting out the ceiling or refinishing your existing vanity. With a bit of sanding, elbow grease, and patience your entire bathroom can look brand new — and it'll cost you less than your weekly trip to the grocery store.
2. Rethink Your Storage:
When it comes down to it, most of the extra space in our bathrooms is dedicated to storage. So, if you want to transform your bathroom on a budget, consider replacing your existing storage solutions with something new. We love using floating shelves to showcase and store our ever-expanding skincare collection. They're super on-trend and can be found for under $100 at most hardware stores. Or, if floating shelves are a bit too modern for your taste, a
Towel Stand
is a beautiful way to store towels while adding a touch of glam to your bathroom design.
3. Swap Out Your Shower Curtain:
If you have a shower/tub combo, this tip is for you. Replacing your bathroom curtain with a more modern design is one of the easiest and most impactful swaps you can make. You'll be shocked with just how quickly your bathroom goes from drab and dingy to fresh and modern. What are you waiting for? Go make the switch!
4. Embrace the Outdoors:
It felt like 2020 was the comeback year for houseplants and we are still here for it. If you've already jumped on this trend, then you know that being a plant mom (or dad) is a bit of an undertaking and like real parenting requires involves trial and error. That said, our bathrooms are one of the best places for tropical plants to thrive. The humidity and warmth give them everything the rainforest would. Just be sure to avoid selecting a plant that requires direct sunlight. Adding even one plant will literally breathe life into your outdated bathroom and might even help you feel a bit less groggy in the morning — well that and your morning cup of coffee.
5. Create a New Focal Point:
If you're looking for a bit of drama on a budget then a feature wall is definitely for you. Pick a wall with the least number of fixtures (you'll thank us for this later) and select a bold wallpaper or paint colour to really make it pop. Think dramatic florals for tropical vibes or a bold monochromatic pattern for a more modern touch.
6. Accessorize:
Even small changes can make a big difference when it comes to bathroom design. So, if you're not ready to commit to a new colour or wallpaper, go accessory hunting. Look for cute shelf décor, elegant air fresheners, candles, and even toothbrush holders. By simply focusing on your vanity game, you can elevate your bathroom design to that of luxe spas and hotels — all it takes is the right accessories!
Whether you're a seasoned DIYer or a newbie renter aiming to make your condo feel more like home, a little sweat equity and creativity will save you a lot of money — and it might even turn out better than you ever imagined!