How Touchless Soap Dispensers Can Help You Combat Back-to-School Germs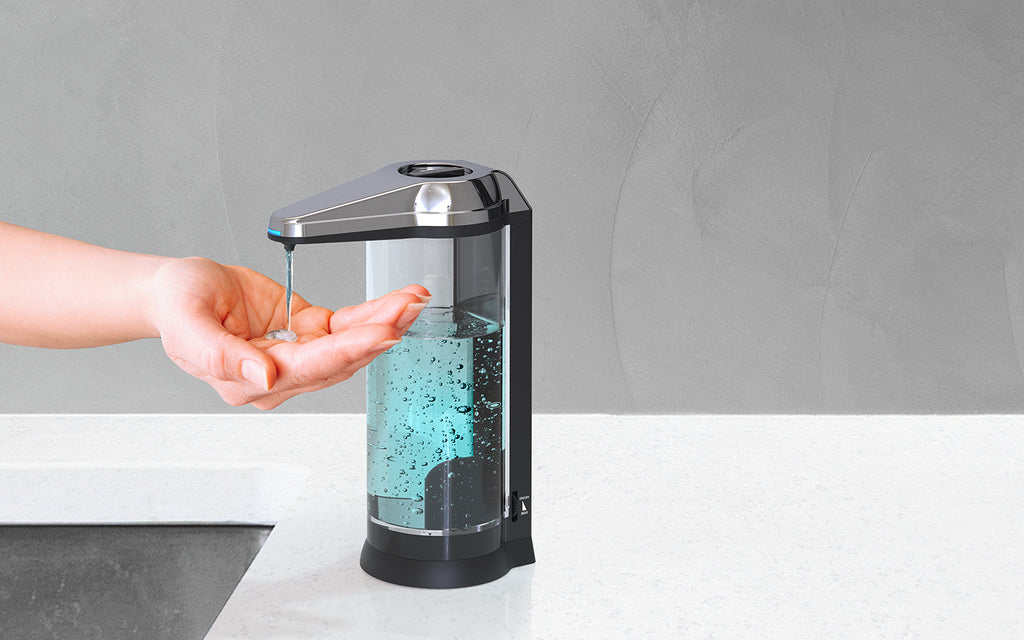 As schools begin to welcome back students to in-class learning, our homes will soon be bombarded with an onslaught of schoolyard germs and viruses. While back-to-school has always kicked off the start of the cold and flu season, this year might feel a bit worse. After a year and a half of physical distancing, our immune systems have been on an extended vacation, which means we might not be able to fight off infections like we once could. If you've been unfortunate enough to have your first post-Covid cold, you know exactly what we're talking about. Although we can't prevent our kiddos from picking up these germs on the playground, we can help keep them out of our homes with good hand hygiene and with the help of hands-free technology.
Why Hands-Free is Best
Have you ever noticed that most of the hand sanitizer dispensers in hospitals and doctor's offices are usually touchless? That's not a coincidence, it's to prevent the spread of germs. You see, common viruses and bacteria can live on surfaces for days if not properly disinfected and soap/sanitizer pumps are no exception. In fact, many viruses can live on plastic surfaces (like sanitizer pumps) for up to 72 hours. Yuck! When you factor in the number of sick patients using these dispensers in medical buildings, the potential for cross-contamination is huge. That's why the medical industry trusts touchless soap and sanitizer dispensers to reduce the risk of spreading germs in their facilities.

If you're thinking to yourself, "I'm touching the pump before washing or sanitizing, shouldn't that get rid of the germs anyway?" You certainly have a valid point. Unfortunately, many of us don't wash our hands or rub the sanitizer in for long enough to kill 100% of these germs. So, why risk it if there's a better option out there? Touchless technology allows us to safely cleanse our hands without the risk of contracting new germs and our touchless soap and sanitizer dispensers provide that same technology (that hospitals trust) for household use.
FOAMA Touchless Foaming Soap Dispenser: Now available in graphite, our FOAMA Touchless Foaming Soap Dispenser is an all-time favourite for form and function. Its automated touchless technology is coupled with a unique splash-resistant design, making it the perfect model for all our messy little hand washers. It even comes with three adjustable volume settings so you can control just how much soap your kids are using. Although this model is not suited for gel hand sanitizer, it will work with a foaming sanitizer. So, mix up your favourite hand soap with a bit of water, pop in 4 AAA batteries, and get lathering!

TOUCHLESS XL Soap & Sanitizer Dispenser: 18 ounces and stainless-steel, our TOUCHLESS XL Soap and Sanitizer Dispenser utilizes hands-free infrared technology, so you don't have to worry about all those pesky little germs on the pump. Simply place your hand in front of the sensor and a pre-selected amount of soap (or sanitizer) will be dispensed, with absolutely no contact required! While this sleek model is an obvious choice for bathroom use, we also love the idea of keeping one filled with hand sanitizer in your entryways to kill germs before they can infiltrate your home. All you need is 4 AA batteries, some liquid soap (or sanitizer) and those schoolyard germs are as good as gone!

Whether your kids are heading back to elementary school or venturing off to high school, germs will always be a part of the back-to-school deal. So, before you (happily) usher your kids back onto the bus, make sure they brush up on their hand hygiene – and pick up a few handsfree dispensers as backup.