5 Ways to Make Your Bathroom More Festive for the Holidays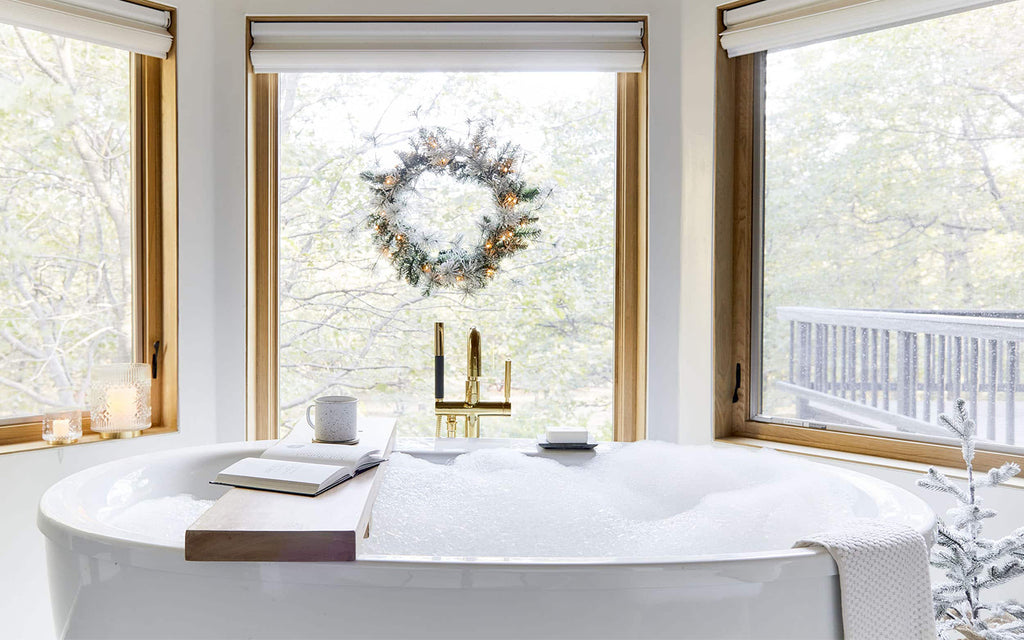 With festive eggnog, mulled wine, and a glass of prosecco or two, it's likely that most of your guests will visit your bathroom at some point this holiday season. So, why not spread the holiday cheer a little bit further than the family room this year? As bathroom specialists, we have a few tips for festively decorating your bathroom and since it's the holidays we're feeling generous enough to share them with you.
Bring in Holiday Scents: Nothing brings back holiday memories like the smell of freshly baked gingerbread or a freshly cut Christmas tree. While you're more than welcome to add both to your bathroom, we're going to go out on a limb and wager that you'd rather not put freshly baked cookies in the loo. Worry not, scented candles and hand soaps have you covered. Swap out your usual hand soap for a seasonal scent and/or light a festive candle half an hour before your guests arrive and their inevitable trip to the bathroom will feel all the merrier.
Make Festive Décor Swaps: While festive bathroom accents can quickly turn from merry to tacky, there are a few ways you can incorporate the holiday spirit with elegance. The best way to do this is to swap out your regular décor for some holiday items so that your bathroom doesn't appear cluttered with extra decorations. One of the easiest swaps to make is with your hand towels. A sprinkle of red and green can go a long way in a small space. The same goes for replacing existing artwork with a simple holiday sign. As we said, a little goes a long way so there's no need to go all out. A few touches here and there will do the trick.
Introduce a Few Seasonal Plants: Since Christmas is the only time of year that many of us lug an entire tree into our living spaces, why not add some extra plants to your holiday-inspired bathroom too? If you have the space for a miniature Christmas tree, absolutely go for it. Whether you place it on a chair near your bathtub or the vanity countertop, it will instantly breathe a bit of Christmas (and fresh oxygen) into your space. However, if your bathroom is on the smaller side a festive poinsettia or a home-made wreath with holly can add the same holiday cheer without taking up as much space.
Play Classic Holiday Tunes: One of the best ways to add ambiance to any space is with music. Think about the last time you were in the bathroom of a nice restaurant. Chances are they were playing music. Although most of us don't have the luxury of bathroom surround sound, an iPod or a musical Christmas ornament will work just fine. We're partial to a musical snow globe, but we also love a singing snowman if you need something a bit less breakable for your smaller holiday guests.
Don't Forget the Extras: With all of the tasty treats that we only get to enjoy once a year, it's easy to understand why many of us overindulge and find ourselves feeling a bit off. With that in mind, stock your bathroom with a few essentials to help your guests feel their best. Try putting out a decorative dish filled with mints to help your guests freshen their breath and reset their pallet. Or go one step further and construct a holiday "first-aid kit" with anti-acids for guests whose eyes are bigger than their stomachs and ibuprofen for those who may have had an extra glass of wine or two. By subtly providing these 'extras' for your guests, you can ensure that your party won't be cut short by anyone's indigestion or overindulgence.
The holidays are considered the most wonderful time of the year for a reason. They bring out a cheery, happy, and even childlike feeling in us all. Our biggest tip this holiday season? Spread the cheer far and wide and don't forget your bathroom!