5 Ways Design Can Transform Your Powder Room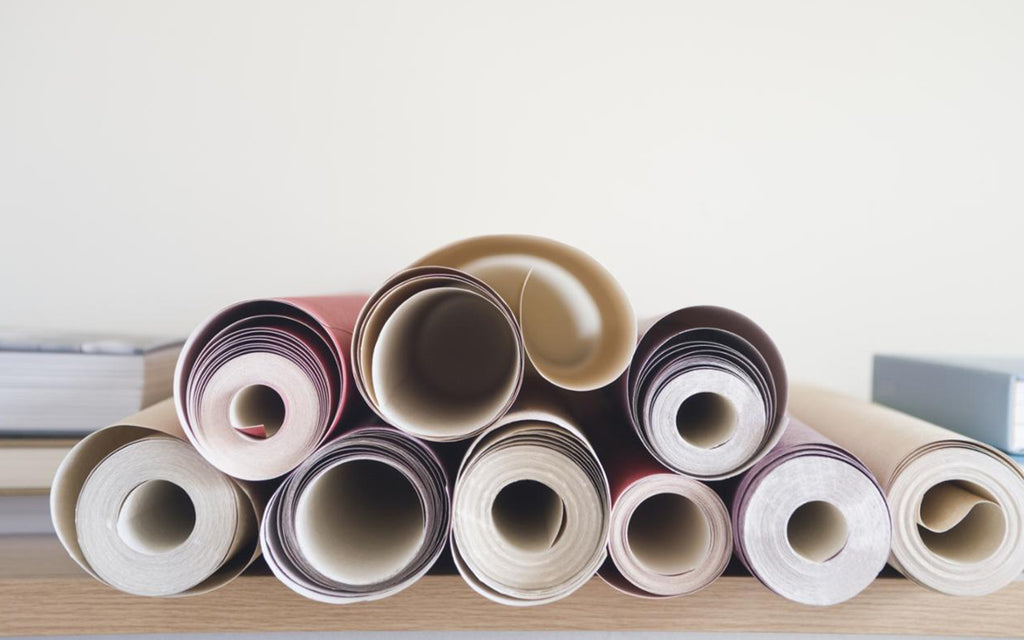 The 'Wow' factor is generally reserved for stylish kitchens, luxurious master ensuites, and jaw-dropping front foyers. However, that doesn't mean that the smaller rooms in your home can't pack an equally stylish punch. Take for instance your main floor bathroom. It's usually the smallest, darkest, and most used room in your home, yet it's also the most overlooked when it comes to design. With so little space to work with, is it even possible to make it a design feature in your home? The answer, absolutely! By utilizing a few key design tricks your tired and outdated powder room can become one of the most beautiful rooms in your home.
1. Wallpaper: Since powder rooms usually don't take up a lot of square footage in your home, it's the perfect place to experiment with a playful wallpaper. Whether it's used as a feature wall or engulfs the entire space, wallpaper is guaranteed to make a statement. Keep in mind that the design of your powder room does not necessarily have to mimic the rest of your home decor. As one of the smallest rooms in your home, it's the perfect place to experiment with design choices. Feel free to step outside of your comfort zone and let your creativity run wild. The bolder the better!
2. Mirrors: If your powder room lacks natural light, mirrors are your new best friend. They reflect light, which makes even the smallest and darkest spaces feel bright and airy. This is especially true when mirrors are paired with light paint colours and design accents. Give it a go, you'll be surprised by just how impactful a few well-placed mirrors can be.
3. Go Bold with Bathroom Fixtures: One of our favourite (and easiest) design tricks for quickly transforming an outdated bathroom is to update the fixtures. By swapping out brass or stainless-steel fixtures for a sleeker design, you'll instantly modernize the space. We love the contrast of a matte black fixture on top of a white countertop. Or, if black is a bit too bold for your taste, gold faucets pair effortlessly with rich navy-blue accents. Regardless of the finish you choose, going bold will quickly up the 'wow' factor in your powder room.
4. Bring in Vibrant Textiles: Okay, listen up because we're about to let you in on a little secret. If your powder room doesn't house a bath or shower, there is no need to use a bath mat. A bit radical, we know. But, without the need to mop up after freshly showered guests, your rug choices expand tenfold! This provides you with the perfect opportunity to introduce a bit of colour, texture, and personality to the space. We're a bit partial to the bohemian vibes of a Persian rug, but the opportunities are truly endless.
5. Swap Out Your Door: One of the biggest complaints we hear about powder rooms is that they are short on space. Fortunately, there is one design trick that will instantly make your bathroom feel twice the size, swapping out the door. Traditional swinging doors have a tendency to get in the way. Whether they are positioned to swing into the bathroom and hit the sink or out into the hallway, they take up a lot of space. Swapping out your existing one for either a pocket or a barndoor will give you back some much-needed space in your powder room. Not only will this upgrade provide style and function, but you can do-it-yourself for less than $150! It doesn't get any better than that!
While it's easy to overlook the design of your powder room, redesigning it can be a lot of fun. It's one of the few rooms in your home where you don't have to worry about cohesiveness or design longevity. If you're eager to let your creative juices flow, the powder room is the perfect place to start. What are you waiting for? Hop on Pinterest and get inspired. We can't wait to see what you come up with.