How to Accessorize Your Bathroom Like An Interior Designer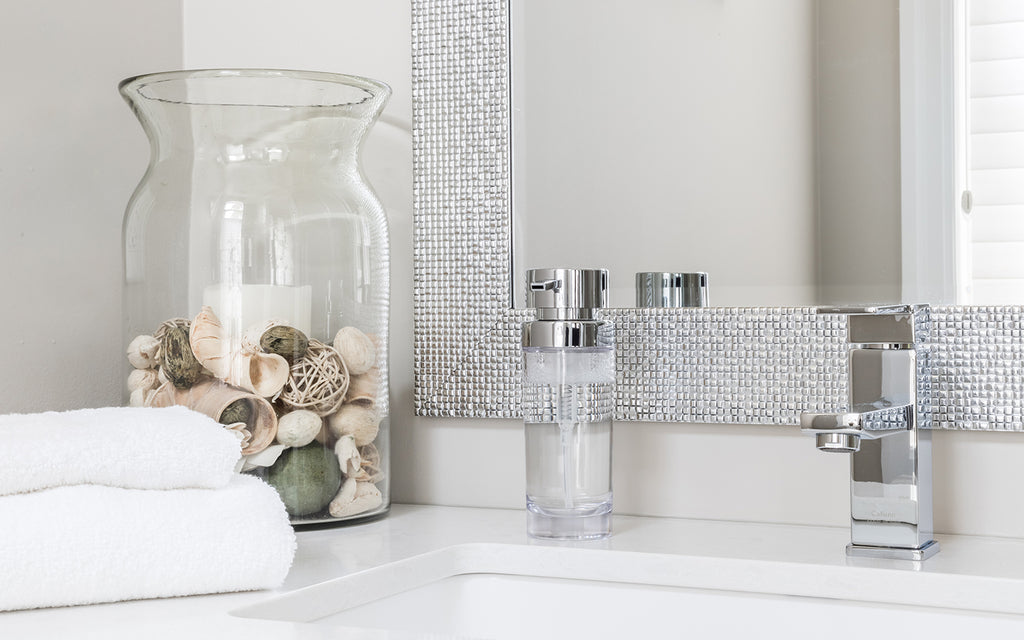 Imagine you've just finished a bathroom renovation. All the dust has settled, all the contractors have moved on to other things, and you take a step back to admire your glorious new space. But, it's not quite right. What could possibly be missing? You've chosen a stylish subway tile for the shower, beautiful granite for the vanity, and even splurged on luxuriously plush towels. So why doesn't your bathroom match up to the ones you envy on Pinterest? They say, "the devil is in the detail" and this is certainly true when it comes to bathroom design. Luckily, we're sharing a few tricks of the trade so that your bathroom shines just as bright as your most enviable Pin.
Give Everything a Home: The number one difference between your bathroom and the drool-worthy ones online is that yours is actually being used. People need products, but those products don't always have to be on display. Hide away the majority of them in easily-accessible cabinets or drawers and keep only what's absolutely necessary out in the open. Once you've hidden most of your products away, you'll be left with only the essentials. Unfortunately, a family-sized container of soap can just as easily ruin the aesthetic of your bathroom, but that's an easy fix. All you have to do is ditch the bottle for a sleek liquid soap dispenser like our CLARA Foaming Soap Dispenser, which comes in Medium and Large. It stretches the lifespan of your liquid soap, and won't take away from the beauty of your carefully-curated space. With everything in its place and the family-sized hand soap container safely in the recycling bin, your vanity will be well on its way to being Instagram-worthy.
Make a Statement: The bathroom is one of the best rooms in your home for bold statement pieces that massively impact design. With a single purchase, you can instantly transform an average bathroom into a showstopper. Space-permitting, we're a bit partial to the grandeur of a full-length oversized mirror propped against the wall. But you also can't go wrong with a statement chandelier (bonus points if it has mid-century modern vibes).
Embrace Your Style: While it's easy to stick with what's safe, adding a bit of flair might be just what your bathroom needs. Don't be afraid to go with your gut and choose accessories that speak to your personal style. This can include artwork (yes you can hang art in the bathroom), antique wall sconces, a vintage rug, or an oversized light fixture. Your bathroom can be so much more than its finishes and fixtures. Give it a glow-up with accessories that add just the right amount of personality and depth.
Remember Less is More: It's important to remember less is more, especially when it comes to your vanity. We love keeping accessories and products organized in one space with a stylish marble tray or wrought iron basket. Style it with candles, fresh flowers, and your most beautifully packaged products for instant boutique hotel vibes. Be sure to keep in mind that stylish accessories can also turn to clutter, so start small and see what works best in your space.
Don't Forget About Function: Whether we like to admit it or not, home accessories often serve little purpose beyond aesthetic appeal, but that doesn't always have to be the case. Many useful bathroom products can also add to the design of your bathroom. For example, rather than installing a generic wall-mounted towel rack, you could opt for a sleek towel stand. Our ONDA Towel Stand adds a bit of modern flair to your bathroom while keeping your towels dry and on hand.
While many of our bathroom designs begin and end with tile and porcelain fixtures, your bathroom can be so much more than that. The right accessories can transform your bathroom from ordinary to extraordinary. All it takes is a little bit of imagination, trial and error, and some serious online shopping.