5 Ways Design Can Instantly Modernize an Outdated Bathroom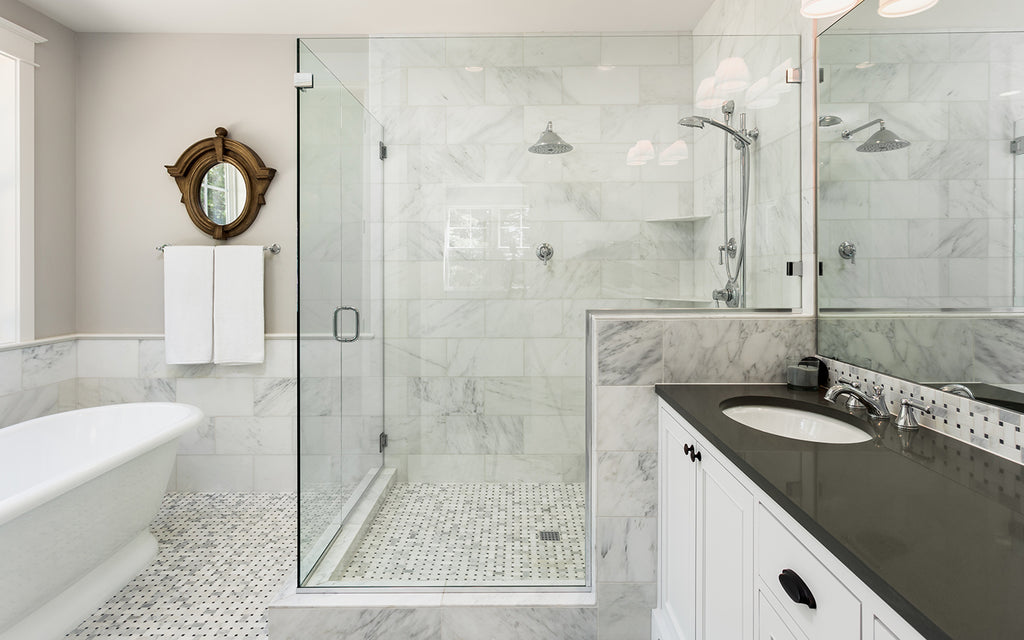 When it comes to home renovations, it's easy to put your ensuite or family bathroom on the backburner. It's one of the rooms in your home that visitors rarely see and it's a pain to have your main bathroom out of commission. Unfortunately, this means that most of us have at least one outdated bathroom that is in need of a bit of a pick-me-up. Luckily, modernizing your bathroom doesn't necessarily entail a full remodel (although we live for a good before and after photo).
With a few key design swaps, you can easily bring your bathroom into the twenty-first century for a bit less money and a lot less hassle!
1) Replace Builder Grade Fixtures: Nothing says outdated quite like 90s builder-grade fixtures. Fortunately, swapping out these fixtures is a pretty easy fix and can completely transform your space without the expense of a remodel. For example, replacing a frameless mirror for a more ornate design or installing two separate framed mirrors above a double vanity can help to define and modernize the space. Swapping out your hardware is another easy design upgrade. Most of the time it isn't actually our cabinets that date a space, but the colour and style of the hardware. Consider replacing outdated round brass handles with long brushed black ones to completely refresh your tired bathroom cabinets.
2) Convert Your Bathtub into a Luxurious Shower: Now, this design upgrade requires a bit of an investment and only works for those who rarely use their bathtub. However, when it comes to sleek bathroom design, an oversized shower is definitely the way to go. Installing a glass shower can instantly brighten a dark bathroom and make it feel larger than it did with a bulky bathtub. Another great design aspect of installing a new shower is that you get to play with the tile. Whether you decide to go with classic subway tile or a geometric design your bathroom will look fresh, clean, and completely brand new. Maintain the condition of your new shower with the help of a shower squeegee; keep mildew and water spots at bay.
3) Update the Lighting: Most women will agree that household bathrooms typically don't have the best lighting, which isn't great for relaxation or make-up application. Replacing overhead florescent lighting with wall-mounted fixtures will eliminate unflattering shadows and simultaneously modernize your bathroom. While you're out shopping for fixtures, it's also a great idea to make your bathroom a more versatile space by purchasing dimmer switches. Installing dimmers will provide the brightness necessary for makeup application, while also allowing you to enjoy a low-lit evening bath (if you haven't replaced it quite yet).
4) Replace Your Toilet: Even when homeowners completely renovate a bathroom, they sometimes choose to sneak their old toilet back in. For unknown reasons, we tend to hold onto our toilets until they are no longer functional. This is a problem for both efficiency and style. New toilets conserve more water, save you money, and are much easier on the eyes than their older counterparts. Try swapping out your traditional toilet for a tankless wall-mounted toilet like those found in upscale hotels. Or, if you feel like splurging, opt for a smart toilet that is customizable to your personal bathroom preferences. We won't get into the details, but a smart toilet can truly be life-changing – we promise!
5) Bring on the Technology: What says modern more than a smart bathroom? (We'll give you a hint: nothing). You may have seen examples of this in hotels with smart mirrors that display the time, weather, or even act as mini-televisions. While most of us don't have the budget for a mirror-television, there are a number of ways you can implement technology in your bathroom. For example, voice-command smart speakers can amp up the 'WOW' factor in your bathroom and make getting ready for work a bit more fun. Alternatively, for those of us who routinely sing in the shower, a Bluetooth-connected shower head might be just what you need to ramp up your daily concert.
Between showers, baths, make-up application, and our less glamourous bathroom activities, we spend a lot of time in our bathrooms. While it's easy to put them on the backburner, updating your bathroom is always worth the investment. Give some of these design upgrades a whirl – we think you'll be surprised just how much a small change can improve your bathroom and the mood of those who use it!