Why Transitional Design is Trending in Interior Design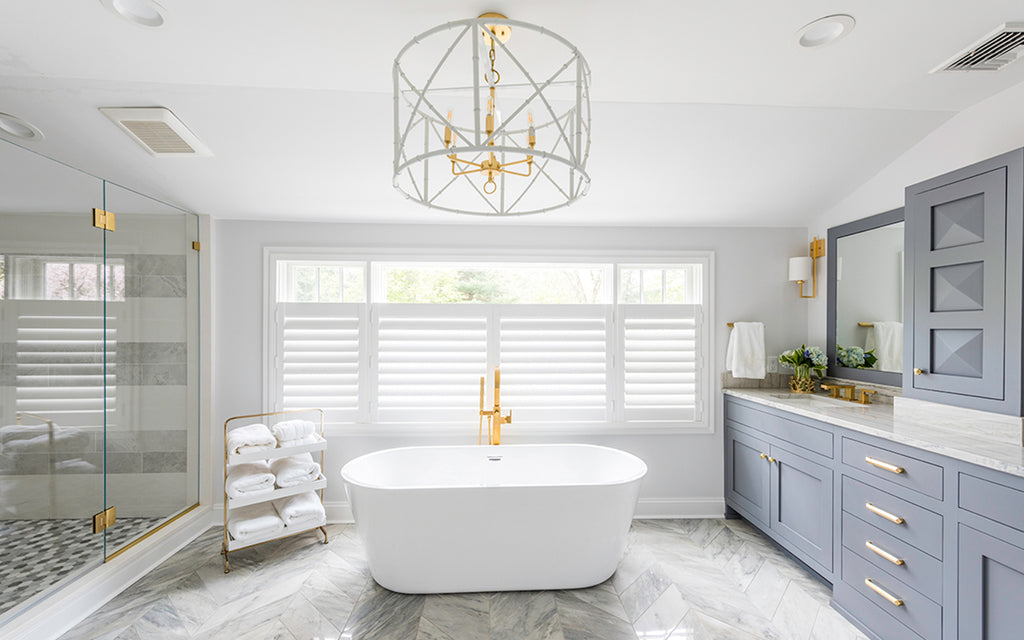 Turn on HGTV at any given time and you'll likely see transitional design at play. It's that special something that gives homes the lived-in, comfortable vibe that says "Come on in, you are welcome here" – and honestly, who doesn't want that? Transitional design transforms the generic to the extraordinary and is one of our absolute favorite design styles. But let's back up a bit because you're probably a bit confused and want to know what transitional design entails.
So, what exactly is transitional design? If you've never heard of the term transitional design, you're not alone. The term can have many meanings, but for the most part, it's a cohesive design that combines elements from different eras and styles. Think, traditional comfort meets contemporary convenience. Recently, transitional design has been gaining momentum with young homeowners as both an economical and sustainable solution to interior design. The style allows homeowners to keep existing fixtures while adding in new design elements that suit their modern preferences – benefiting the environment, your bottom line, and your bathroom aesthetic.
How to Implement Transitional Design in your Home: Whether you've heard of the term or not, you've likely seen examples of the trend on Pinterest or HGTV. Although we're huge proponents of a sleek, modern bathroom, there's something "homey" about the eclectic nature of transitional design that we absolutely love. So, how exactly can you achieve this trending design? It's best to start with the showstoppers in your bathroom such as your shower, tub, or even a really impressive vanity. The key is to select a show-stopping fixture that you love and build the rest of your bathroom design around it.
Let's consider a few examples: Let's say you're lucky enough to be the owner of a vintage claw-foot tub. Boom, you've got your starting point. Now, it may be tempting to go all-out vintage to honor the era of your bathtub, but that would be a mistake (at least according to transitional design). Instead of scouring the web for vintage (read: expensive) inspired pieces that 'match', opt for a bit of contrast with contemporary cabinetry or modern accent furniture. While the pieces may not feel cohesive on paper, when curated together in a home they blend perfectly. How? Well, when you blend pieces from different eras, it gives the illusion that vintage items were passed down and added onto over generations, which is exactly what it gives it that "homey" feel.
Already have a bit of a modern bathroom? No problem. Let's assume you recently renovated your bathroom and have a beautiful fully glassed-in shower, with a modern feel to it. To channel transitional design, all you have to do is balance out the modern with select traditional or vintage pieces. For example, you could use the vintage claw-foot tub discussed above, coupled with a vanity that plays off both modern and vintage elements. Think modern, clean cabinetry paired with a more ornate, vintage mirror. The key isn't to choose completely opposing design styles, but rather to play off the stylistically pleasing elements of each era to create a cohesive, lived-in vibe.
Flooring and beams are another great way to bridge the gap between old and new. You've seen this done countless times on home design shows, where homeowners intentionally add rustic, exposed beams to an otherwise modern design. Without these curated pieces, modern homes lack character and can feel a bit cold. So, if you're not entirely pleased with a recent renovation, in the bathroom or otherwise, try adding in a bit of history to warm up the space – it works every time.
Whether you're environmentally conscious, worried about budget, or simply like things with a bit of character, transitional design is for you. It bridges the gap between old and new and will make your new house feel just like home.