4 Organization Hacks for Your Family Bathroom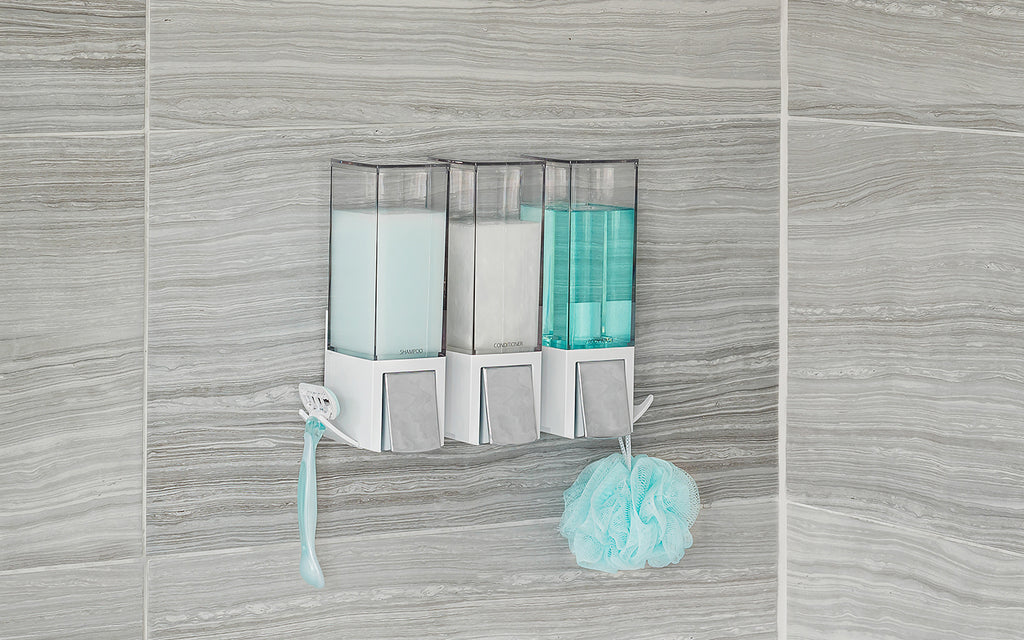 Ah, the family bathroom; a tranquil space filled with bath toys, cluttered shower floors, and a perpetually empty toilet roll. Wait a second, that doesn't sound very relaxing. If we're honest, a family bathroom will never be an elegant completely clutter-free zone, but that doesn't mean it has to be a war-zone either. With clever organization and a bit of family cooperation, your bathroom can work effectively for the entire family, while also looking presentable for the occasional unannounced guest.
Shower Organization: If there's one place that will become cluttered in a family bathroom, it's the shower. Whether you have a bath/shower combination or a stand-alone shower, there is simply never enough space to put all of our shower accessories. This is precisely why we love shower caddies so much and although we don't like to play favourites, our HiRISE 4 Tension Shower Caddy with Mirror can't be beat when it comes to organizing a family shower. The four rust-proof, adjustable baskets allow you to designate a basket for each member of your family and get those scattered shampoo bottles up off the floor. Worried this might not be enough? We've got you. The HiRISE goes great with our wall mounted soap dispensers, specifically our CLEVER Shower Dispensers, which neatly store your families favorite body wash, shampoo and conditioner. With these two products, each family member can have their own basket and hook, which means your shower can finally be a clutter-free zone.
Colour-Coded Organization: While making a mess will always be more exciting than tidying up, there are a few tricks that can make it a bit more fun (well at least for the little ones). Our favourite way to get the whole family involved in organization is by assigning each member of your family their own colour. Don't worry, this doesn't mean that your bathroom has to morph into a rainbow. We're talking about subtle additions like colour-coded hooks, toothbrushes, and baskets. It can even be as simple as adding a coloured ribbon onto existing bathroom products so that your family members know where to put their stuff. Another benefit to colour-coding? It reveals exactly who isn't hanging up their towels or putting their bathroom accessories away!
Storage Solutions: We've said it before and we'll say it again, a bathroom can never have too much storage! This is especially true when it comes to a shared family bathroom. One of our favorite storage solutions for families with small children is baskets (bonus points if you color code them). Placing small baskets under a floating sink or near the bathtub makes it easy for children to put away their belongings, which eliminates one step from your bathroom tidy routine, try our IMPRESS Large Suction Basket. Another storage solution we absolutely love is freestanding storage, which gives you the flexibility to move it around your space until you find the perfect spot. Freestanding storage also provides you with the invaluable bonus of rolling it down the hall and into a closed bedroom when guests pop by for a visit. Out of sight, out of mind, and out of the way of guests!
Double Up on Necessities: There's simply no skirting around the fact that families use a lot of toilet paper. Yet, even though everyone uses it, changing out the roll generally lies on one or two members of the family (ahem: Mom and Dad). There are few things worse than noticing a second too late that there isn't even a square of toilet paper left on the roll, so why not reduce the chances of this happening? Our OVO Toilet Caddy is the ultimate toilet tissue dispenser, it includes a tray for your electronic device or personal wipes and provides storage for two additional rolls with one in use. It may not be ground-breaking for some, but for busy family bathrooms, it's often the little things that make the most difference.
While the family bathroom has traditionally been a bit of a war zone, keeping it tidy doesn't have to be a lost cause. These simple additions will ensure everyone knows where to put their belongings and limit clutter in the family bathroom  making it just a touch more relaxing for when the adults finally get to use it.