Warm Up Your Bathroom for Fall with these Cozy Design Ideas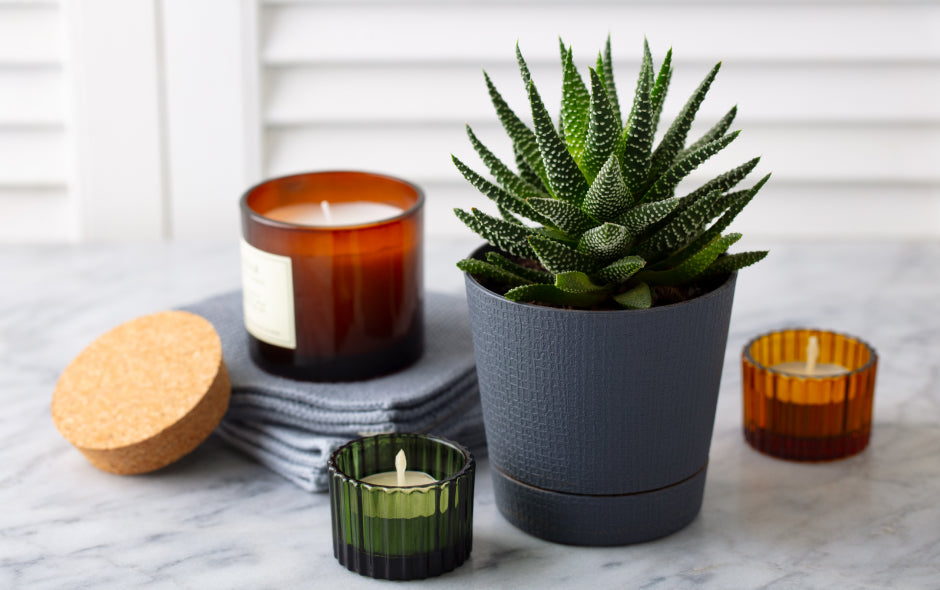 Pumpkin spice lattes have launched, the kids are back in school, and cool crisp mornings have made their appearance — which means fall is officially upon us. Whether you desperately cling to the last days of summer or cheerfully welcome the relief of cooler weather, now is the perfect time of year to make a few changes. This can include anything from swapping over your wardrobe, committing to a new workout routine, or simply making your home cozier for the looming cold weather. Unsurprisingly, we like to focus on the latter and there's no better place to start than the first room you step into each morning. So, we're sharing a few design elements that will warm up your bathroom to help you stay nice and cozy all season long.
Mood Lighting: While the darkest days of winter may still be a few months away, there's something about fall that calls for a bit of mood lighting. Now when it comes to bathroom lighting, you should always be mindful of adding electrical options, especially around the tub. Remember, safety always comes first (yes, even before design). Instead, opt for battery-powered candles and string lights for all the ambient vibes with none of the safety risks. Just imagine yourself fully emerged in a warm bath, watching your favourite fall television series (did somebody say Gilmore Girls?) with nothing but a slew of flickering candles and string lights illuminating your space. Sounds pretty dang cozy, doesn't it?
Fall Foliage: Before you know it the lush green leaves of summer will give way to the warm colours of fall, so let's emulate that shift in your bathroom. Swap out your existing greenery for warmer options like burgundy eucalyptus and autumnal garland, or simply arrange a few spare fall branches in a vase. With just a few easy swaps, you can bring the outdoors in and transition your bathroom along with the seasons.
Autumnal Colours: Those who prefer to keep their plants outdoors can utilize the colours of the season to create a similar autumnal vibe. Just remember to choose your colour pallet wisely. Otherwise, your earthy, autumnal design may take on more of a Halloween vibe, which is absolutely not what we're going for. When in doubt, step away from anything pumpkin-coloured and choose rust and/or mustard tones that emulate fall foliage for a more sophisticated colour pallet.
Warming Scents: Nothing screams fall quite like the smell of cinnamon and pumpkin pie, so don't forget to bring fall scents into your bathroom too. Regardless of whether you prefer candles, reed diffusers, or essential oils, there's a cozy fall-scented option for you. Focus on one scent rather than trying to layer on all the smells of the season to avoid a perfume-induced headache. Remember, we're going for relaxation, not overwhelm — so less is definitely more here.
Cozy Textiles: When it comes to all things warm and cozy, textiles reign supreme. Although your chunkiest knit blankets may be best suited for the couch, you can utilize textiles in the bathroom too. Budget permitting, swap out your existing bathmat for a high pile option and grab a few fluffy hotel-grade towels for all the cozy fall vibes. If you have a stool or chair in your bathroom, you can also style it with a small knit throw to make your bathroom even more cozy and inviting.
With a few easy design swaps, you can transition your bathroom from summer to fall and create all the cozy vibes you crave. And, while you're out shopping for supplies, celebrate the change in season with a pumpkin spice latte — because basic or not, they're just plain delicious!