5 Bathroom Essentials You Need for a Functional Fall Upgrade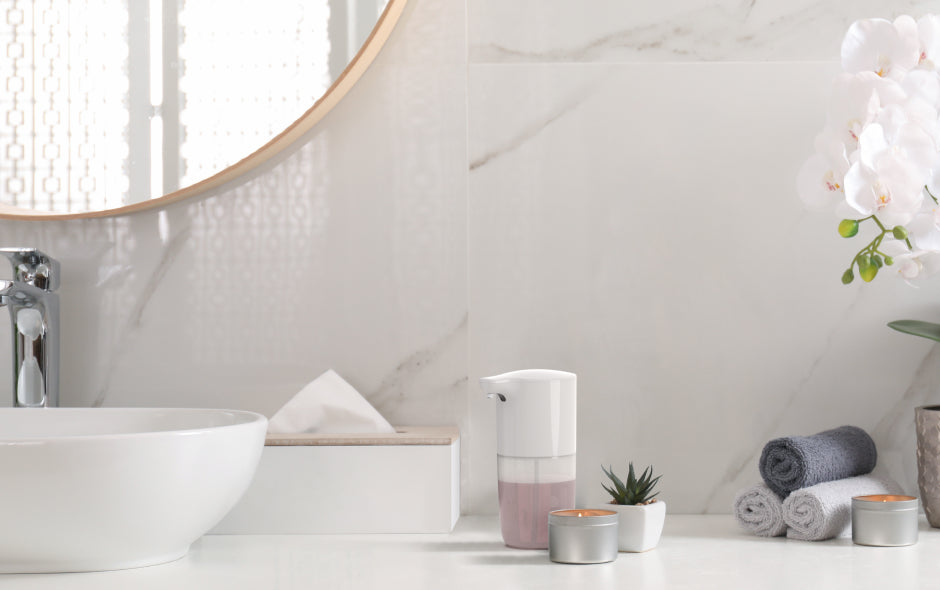 After the relatively carefree months of summer, the onset of fall can feel a bit abrupt. So, many of us head to our local home goods store to ease the pain of the transition with cozy fall décor. While we certainly enjoy a good seasonal refresh, there's a unifying rule here at Better Living that function comes first. That means, we'll always choose a stylish organizational item over a strictly decorative piece. So, before you head out to grab a bit of seasonal décor, we're sharing a few bathroom essentials for the functional fall upgrade you need — no baby pumpkins included.
FOAMA Touchless Foaming Soap Dispenser: First up, we have your back-to-school bestie, the FOAMA Touchless Soap Dispenser. This little cutie will help you kick those schoolyard germs to the curb with its sensor-activated touchless technology. It even has three adjustable settings and a 'drop to stop' option for extra-dirty kiddie fingers, making it the perfect option for your powder room or kitchen — whichever is closest to your kids' point of entry. Simply dilute your favourite liquid soap and you're good to go! Pair your new touchless dispenser with a 'shoes off, hands wash' policy to reduce the germs that enter your home and keep your family healthy this fall.
Astra 2 Tier Shower Caddy: If there's one universal annoyance regarding shared bathrooms, it has to be the inevitable shower clutter. With multiple people comes multiple products and most showers don't come with enough built-in storage solutions. Enter, the Astra 2 Shower Caddy. This all-in-one storage solution has two shelves, integrated hooks, and even comes with a bar to conveniently hang your washcloth. It also has an anti-slip collar and rust-resistant design to ensure it stays securely in place and maintains its appearance for years to come. Simply hang it over your shower head, organize your products, and utilize the extra floor space for a mood-boosting dance sesh!
Swivel 360 Shower Seat: If dancing is not your thing, then you may want to consider using that extra floor space for a new shower seat. And no, shower seats are not just for the elderly. Our Swivel 360 Shower Seat is the perfect ledge to rest your foot for shaving or filing down those pesky cracked heels. As the name suggests, this model even allows you to swivel so you can take a load off while you shave your legs and avoid the water washing away your luxurious shaving cream. It's also handy to have in the shower during cold and flu season so you (or your kids) can sit and breathe in the steam without exerting too much energy. See? Shower seats can come in handy, regardless of your age.
Loo Toilet Caddy: Now, don't forget about the most neglected corner of your bathroom while performing your fall refresh (psst, we're talking about your toilet). Add a bit of style and functionality with the Loo Toilet Caddy. Just like your toilet, this model is simple and to the point — no bells and whistles here. Just a sleekly designed toilet caddy that holds up to three jumbo toilet paper rolls while dispensing another. Trust us, this one is a must-have for busy family bathrooms.
While the onset of the busy school year always feels abrupt, refreshing your home with functionality in mind can help you eliminate those little annoyances that inevitably become overwhelming. So, if you find yourself in the fall décor section this season, choose function first. Because regardless of how cute those tiny baby pumpkins are, they aren't going to help keep your house organized this fall — so proceed with caution!