This New Cleaning Tool is Making People Say 'Goodbye' to their Toilet Brush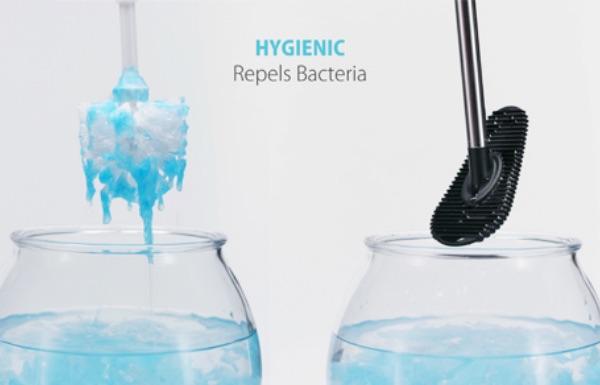 How clean is your toilet? The porcelain throne is pretty clean, you say? Well, my friend, it's time for an intervention. Yes, I know. You scrub it every week. And it looks clean. But, is it really?
The real issue here is not your cleaning ability, but the outdated, dirty toilet brush you're using! It's doing a terrible job. Bristle brushes clog up with bacteria and rust after continued use. How can you clean your toilet with a brush that's always dirty? Are you sick of your toilet brush retaining contaminated water that drips on your toilet seat and floor constantly?
Better Living decided it's time for a change and has developed the LOOEEGEE Hygienic Toilet Squeegee. Instead of brush bristles, it has a flexible, non-stick silicone pad that swipes your toilet clean and repels bacteria. Here's why people are saying 'Goodbye' to their dirty, old toilet brush and saying 'Hello' to LOOEEGEE:
No more dirty bristles, germs or drips – get your LOOEEGEE now.
1. It makes the job easier
LOOEEGEE's flexible nature lets you get into all the nooks and crannies a bristle brush never could, even under the rim! Get off your hands and knees and let LOOEEGEE do the work. You probably think that the toilet bowl needs a great deal of scrubbing to get it clean (and not to mention a lot of wasted cleaner and water from excessive flushing). While this may be the case with a conventional toilet brush, LOOEEGEE rids you of the hassle.LOOEEGEE's powerful ribbed design means that the 30 micro squeegee blades, which are integrated into the non-stick silicone pad, quickly and easily swipe away stubborn stains without all the scrubbing.
2. No drips!
Here's another big reason to ditch the brush: the dripping! Your current toilet brush's cluster of bristles hold a lot of water that ends up dribbling on your floor, almost every time. As water collects in the bottom of your brush holder, it turns into a disgusting little vat of dirt and bacteria — yuck!
Guess what — LOOEEGEE's water repellent silicone quickly dries and prevents drips! With a couple of quick shakes, the suspense of possible drips is gone and so is the bacteria. No spills to clean up and no dirty water buildup in the holder!
3. It actually stays clean
The bristle head of your toilet brush can catch a lot of unwanted, dirty little friends. After repeated use it can become clogged and filthy, needing to be replaced or washed — if you dare to go there, EEK! With the flat surface of LOOEEGEE and hygienic, non-stick silicone material, clogging is prevented. There are no crevices or hiding places on the bacteria-resistant silicone pad, leaving you with a gunk-free cleaning tool that actually stays clean!
4. It saves you money
Does your current toilet brush do that? We bet it doesn't!In addition to all the clean and hygienic benefits of LOOEEGEE, it is also long lasting and sustainable! The durable silicone pad will outlast a regular bristle brush, which means you won't have to replace disgusting brush heads every other month. The stainless steel handle is rust proof and LOOEEGEE comes backed with Better Living's 5 year warranty!
LOOEEGEE swipes away the competition and will make your life a little easier! Are you ready to stop scrubbing and start swiping your toilet clean?