Revamp Your Bathroom with Better Living: Summer Edition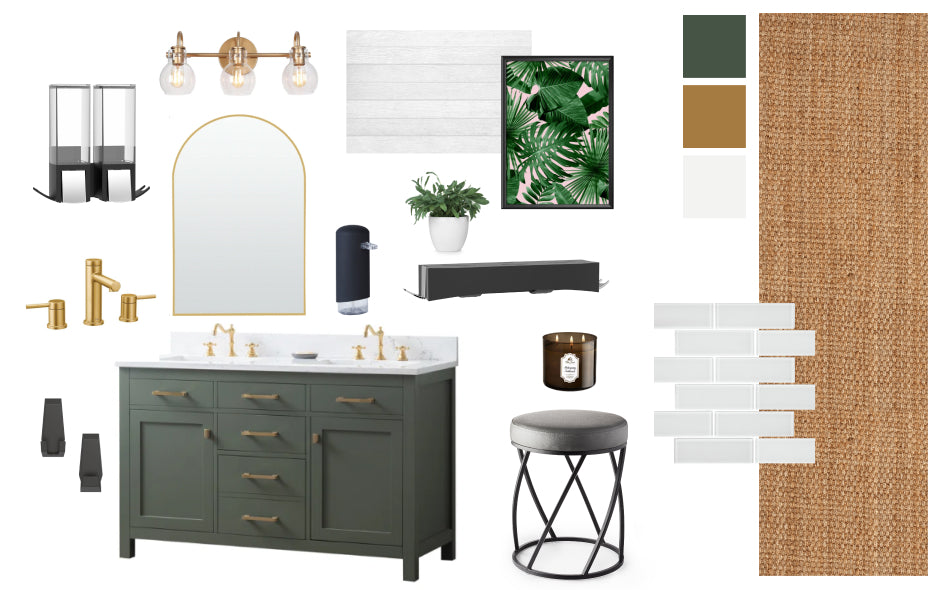 Have you ever noticed the energetic shift that accompanies the last day of school? If we had to describe it in three words, it would be freedom, fun, and joy. Now, unless you're a teacher, this amazing feeling doesn't typically accompany you into adulthood. But we think it should. Although our first choice would be to establish a summer break for adults, we'll have to settle for helping you create those same chill summer vibes at home. So today, we're sharing our favourite summer trends and a few products that pair with them as perfectly as an icy glass of Rosé on a hot summer day.
A Minimalists Match Made in Heaven: Black and White
We love the colour just as much as the next person, but white tile has a hold on us for good reason. Perhaps it's the way it reflects light and makes bathrooms appear larger, how its sheen makes your bathroom look spotless, or maybe it's just our millennial wiring that can't let it go. Regardless of the reason, we love white tiles. And do you know what pairs perfectly with white tile? The sleek black design of our CLEVER Double Shower Dispenser.
With its large capacity and easy-to-use pump system, you can conveniently store (and dispense) your favourite bathroom products while embracing millennial minimalism. Simply stick it on, fill it up, and enjoy the crisp clean lines of minimal design.
The Three Amigos: Gold, Green, and Black
Summer is all about the outdoors, so why not incorporate that into your bathroom for all those fresh summer vibes? Pair your white marble countertops with deep forest green cabinets and gold fixtures like faucets and mirrors for a fresh and inviting bathroom atmosphere. Take it a step further by layering in functional and luxurious black accents like our FOAMING Soap Dispenser. Its elegant black design will add depth to your gold, white, and green colour palette while providing a luxuriously rich lather with 70% less soap. Sustainability never looked so good!
Two is Better Than One: Comfort and Convenience
While showstopping showers, clawfoot tubs, and statement vanities may get the most attention, don't forget to style the less glamorous fixtures in your bathroom too. You guessed it, we're talking toilets. For those who like bold contrast, a deep green accent wall behind your toilet is the way to go. Now for those who are still dipping their toes into the world of colour, a more subtle, white-washed wood paneling might be a safer choice. Whatever your preference may be, both wall treatments will benefit from a little accessorizing, and we have the perfect recommendation.
Our CLEVER Flip Shower Shelf Black adds style and functionality to this frequently used space. Use it to conveniently place your phone or display bathroom accessories like candles and small plants. Alternatively, you can flip it over and use the basket to store bathroom goodies like matches, personal wipes, or nail polish — hey, you never know what you'll wind up doing in the Lou (especially when you forget your phone in the other room).
Streamlined and Stylish Storage:
Regardless of the season, messy bathrooms are never in style. Focusing on streamlined and stylish storage will ensure your bathroom stays tidy all year round. Since soggy towels and bathroom tools seem to be a common complaint, let's start there. Our FACET 2 Hook Set Black includes a Facet Robe hook and a Facet Double hook, so you can conveniently store your towels and bathroom accessories (like your razor) within reach. With rust-resistant, polished stainless-steel construction, these hooks are made to last. So, your family can keep their wet towels off the ground for years to come.
Elegant Seating for One:
Now no bathroom upgrade would be complete without at least one timeless piece of furniture. Luckily, our stylish and comfortable TWIST Vanity Seat is all that and more. Its compact yet elegant design makes it a versatile seating option that complements any decor style. Whether you need a spot to sit while getting ready or want to enhance the overall aesthetic of your bathroom, this vanity seat is both functional and chic. Pair it with a wicker rug and gold fixtures for a warm, inviting, and comfortable space.
Just like a new summer wardrobe, a bathroom refresh creates a new vibe and energy that you can't help but get excited about. Incorporating trending features like gold fixtures, green cabinetry, white-washed wood paneling, wicker accessories, and a few Better Living products, will ensure you achieve a stunning and functional bathroom transformation. So, take a page out of your kids' book and embrace all that summer has to offer — we promise, you won't regret it!