How to Use Practical Bathroom Accessories to Improve Your Bathroom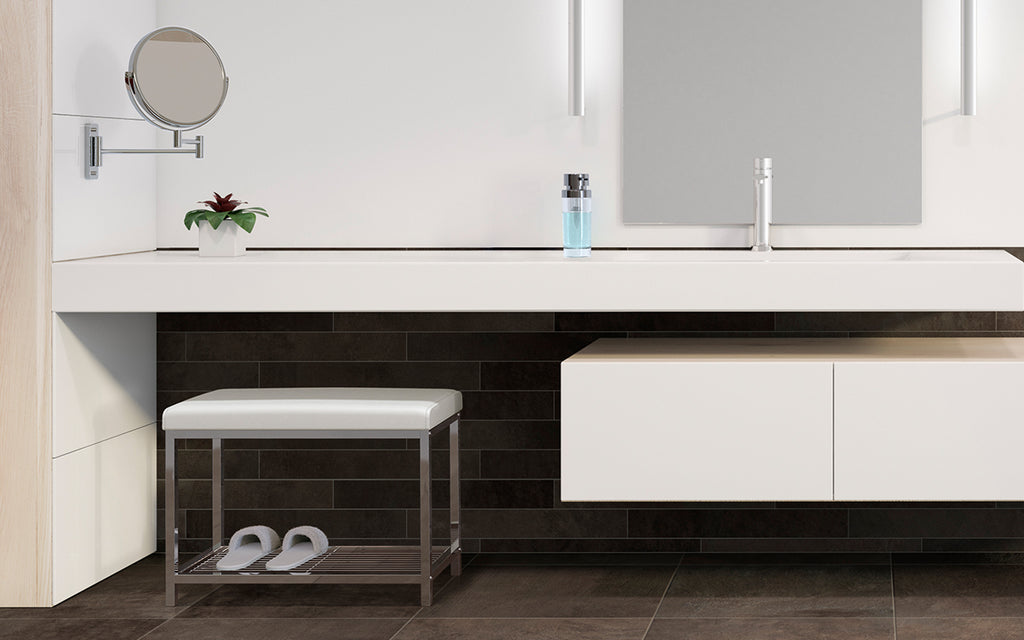 Have you ever found yourself purchasing bathroom items solely because they caught your eye with their aesthetic appeal, only to later discover them gathering dust? We can relate to that experience too. When it comes to bathroom design, simplicity reigns supreme. Above all else, your bathroom needs to be functional. Therefore, it's crucial to select accessories that not only align with your style but also enhance the usability of your bathroom. Whenever you're uncertain, ask yourself if a particular item will genuinely improve your bathroom's functionality. Fortunately, if you're on the lookout for functional and stylish bathroom accessories, you're in the right place. We specialize in just that, and we've put together a straightforward guide to help you enhance your bathroom with some of our favourite products.
Begin with Your Vanity: Whether it's littered with toothpaste, hairspray, or makeup brushes the vanity easily acquires the most clutter in your bathroom. The key to transforming this high-traffic area is all about stylish storage accessories. Everything looks better when it has a designated spot, which is why we love the KROMA STICK 'N LOCK+ Hair Dryer Holder. It provides stylish storage for your hair dryer and cord, while allowing easy access at your vanity or inside a cupboard. Once your counterspace is cleared up, you'll have space to sit and do your makeup at your vanity, so you might be in the market for a new chair. Our new MODERNA Extra Wide Vanity Seat can't be beaten when it comes to style with a side of practicality. The luxurious vegan leather cushion is probably one of the comfiest things we've ever sat on and the wire rack underneath is perfect for storing extra bathroom towels or slippers.
Simplify Your Shower Storage: Coming in at a close second for bathroom clutter, is the family shower. Who knew a family of four could use so many products? Well, not to brag, but we did. Which is why we created a range of shower caddies and storage solutions. Regardless of your needs, this range will help you get multiple products off your bathroom floor and into a stylish, caddy, or dispenser. If the sheer number of products is your top concern, you can't go wrong with our HiRISE 4 Tension Shower Caddy with Mirror. It features a sturdy aluminum pole that is designed to accommodate most tubs and showers, extending up to 9 feet. Four adjustable baskets provide plenty of storage space and feature inverted bottle holders that will ensure you use up every drop of your favorite soap or shampoo! An adjustable shower mirror makes grooming in the shower easier and two hooks conveniently hang razors and accessories. On the other hand, if your family uses the same products and you simply want a more stylish and efficient storage solution, our AVIVA Shower Dispenser 3 Chamber is the product for you. With three 11-ounce chambers, your family will have everything they need at the touch of a button. It doesn't get much simpler than that. To complete the organized and stylish look of your bathroom, add the ONDA Towel Stand. This elegant towel stand not only keeps your towels neatly hung and easily accessible but also adds a touch of sophistication to your bathroom décor.
Don't Forget about the Toilet: While no accessory can transform the look of your toilet entirely, you can make it more stylish and functional with the right products. Now, we're not talking about useless accessories that just look pretty. Aside from toilet paper, a toilet brush, and some reading material, accessories have no business being near your toilet. So, the best way to style your toilet is with functional products. Our OVO Toilet Caddy stylishly stores two rolls while dispensing another. It also features a non-slip rubber top tray, because well, who doesn't take their phone to the bathroom these days? If Chrome and Polished Nickel isn't your taste, our TWIST Toilet Caddy in black stores three rolls in reserve and one in use, providing the perfect amount of contrast to a largely white bathroom. It'll make a statement while keeping your bathroom's most coveted item on hand.
While it can be tempting to pick up any accessory that adds a bit of flair to your bathroom, each item you add should serve a purpose. Never sacrifice practicality for the sake of design, especially in your bathroom. The easier you make it for everyone in your family to get the job done, the quicker they'll be out of the bathroom, so you have it all to yourself!