How to Keep Your Bathroom Bug-Free This Summer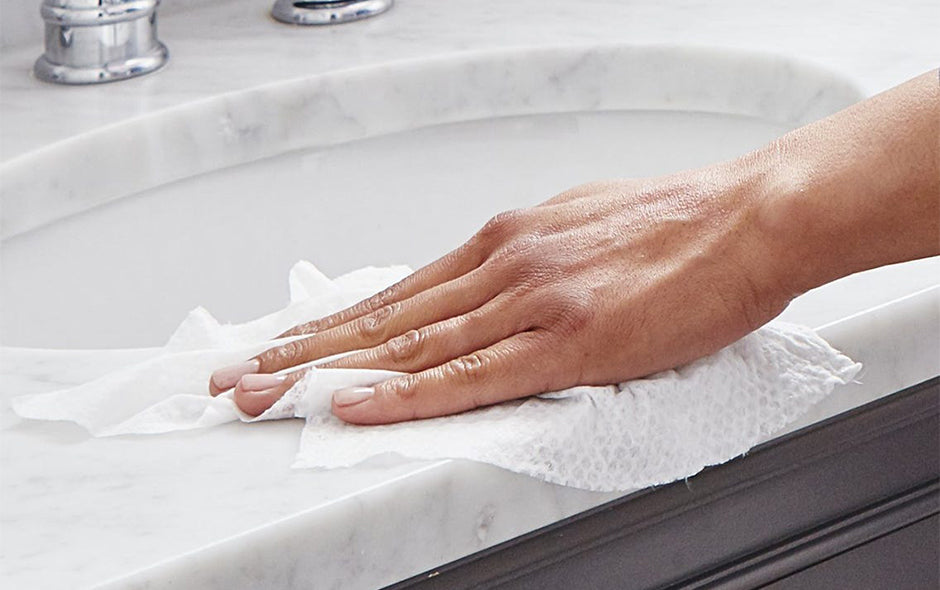 Every year without fail as temperatures rise, insects (quite literally) crawl out of the woodwork and into our homes. Although some of us may enjoy the same hot and humid climates that these insects crave, we draw the line when it comes to sharing our own homes with creepy-crawly houseguests. So, in preparation for the most insect-filled season of the year, we're sharing our top tips to keep your bathroom bug-free all summer long.
Keep It Dry: The first step to keeping your bathroom bug-free is to create an environment that they simply don't want to be in. Since bugs love moisture and heat, keeping your bathroom as dry as possible is your best defense. Of course, that's easier said than done (especially in family bathrooms), but there are a few steps you can take to help. The best way to keep your bathroom dry is to contain the moisture wherever possible. Although shower curtains prevent most water from spilling out onto your bathroom floor, glass shower enclosures do a better job at containing moisture. So, if you have the opportunity to choose between a shower/tub combo and a glass enclosure, always go for the glass enclosure. However, because you still want that water to evaporate as quickly as possible, it's also important to turn on your bathroom fan and/or open your windows every time you shower or bathe. Keep in mind that your textiles hold onto moisture much longer than hard surfaces, so washing regularly and hanging to dry between uses will also help eliminate the moisture that bugs crave.
Find and Seal Their Entrance: While you can do your best to reduce the moisture in your bathroom, it will always be more humid than the rest of your home (and even outside depending on where you live). To ensure those pesky bugs don't wander into your bathroom every time someone turns on the shower, you need to make it impossible for them to get in. That means scouring your bathroom top to bottom and sealing any nooks and crannies you see (yes, even the teeny tiny ones). Pay particular attention to your windows, floorboards, and cracked tiles as these tend to be the most common ways that insects can enter your home.
Routinely Deep Clean Your Bathroom: In addition to a weekly wipe down, aim to deep clean your bathroom every month or two. Many insects are drawn to the smell of mould (gross, right?). By routinely deep cleaning your bathroom you'll remove the mould and mildew that these bugs crave. So, grab your gloves and your favourite mould-killing spray (we're partial to a vinegar/water combo) and get scrubbing! 4)Apply a Family-Safe Bug Repellant: Once your bathroom is sealed and freshly cleaned, it's time to spray on an added layer of protection — but make sure it's safe for the whole family first (including your pets). Unfortunately, most bug repellants have a long list of ingredients that can be harmful to children and pets. So, we make our own concoctions with natural ingredients that we know are safe for our families. All you need is peppermint oil and a spray bottle to make your own DIY insect repellant. Simply dilute 10-15 drops of peppermint essential oil with about 500ml of water. Give it a quick shake and spray along floorboards, windows, and anywhere water tends to pool in your bathroom. While keeping your bathroom minty fresh, the peppermint works double-time repelling common household insects like ants, spiders, beetles, flies, fleas, and even lice. For added protection between sprays (and even more yummy smells), you can strategically place peppermint and/or lavender in loose-leaf tea bags around your home too!
Don't Forget the Drains: Now this is gross to think about but needs to be mentioned, nonetheless. Creepy crawlies like spiders, gnats, and even cockroaches (double ick) LOVE the standing water in our drains (and clogged drains are even more appealing). In addition to regularly clearing out any blockages with a drain snake, pouring a homemade solution down your sink twice a month will keep these drain-loving bugs out of your bathroom. Simply pour ½ cup of salt, ½ of baking soda, and 1 cup of vinegar down your drain and leave overnight. Flush the drain with boiling water (or as close to boiling as your fixtures will tolerate) the following morning and repeat weekly to keep your bathroom bug-free all summer long.
With these tips in your back pocket, you can relax knowing that your home is protected and get back to enjoying those luxurious summer days you waited for all winter long.